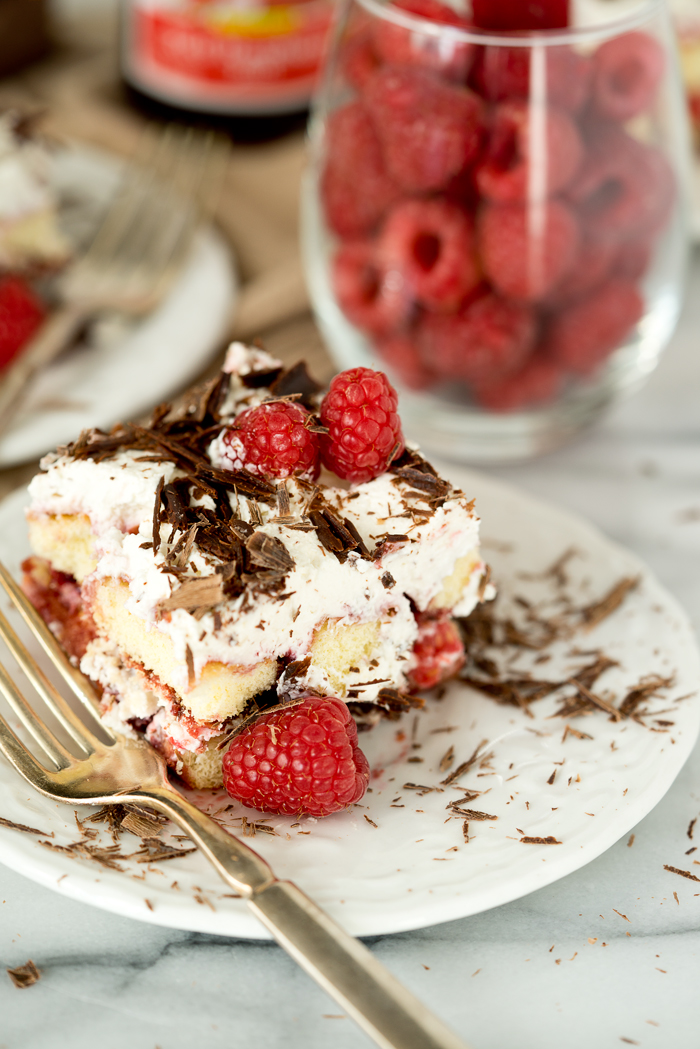 Raspberry Tiramisu. Delicate lady fingers, raspberries and whipped cream make for a wonderfully delicious yet simple no bake dessert.
[social_share/]Yum

This past weekend we topped 90 degrees. Needless to say we were hot and sticky. However, none of us wanted to be inside. Of course I am always thinking about food and my mind started to drift towards dessert, no surprise there 🙂 . There was no way I was turning the oven on, the central air was already running consistently.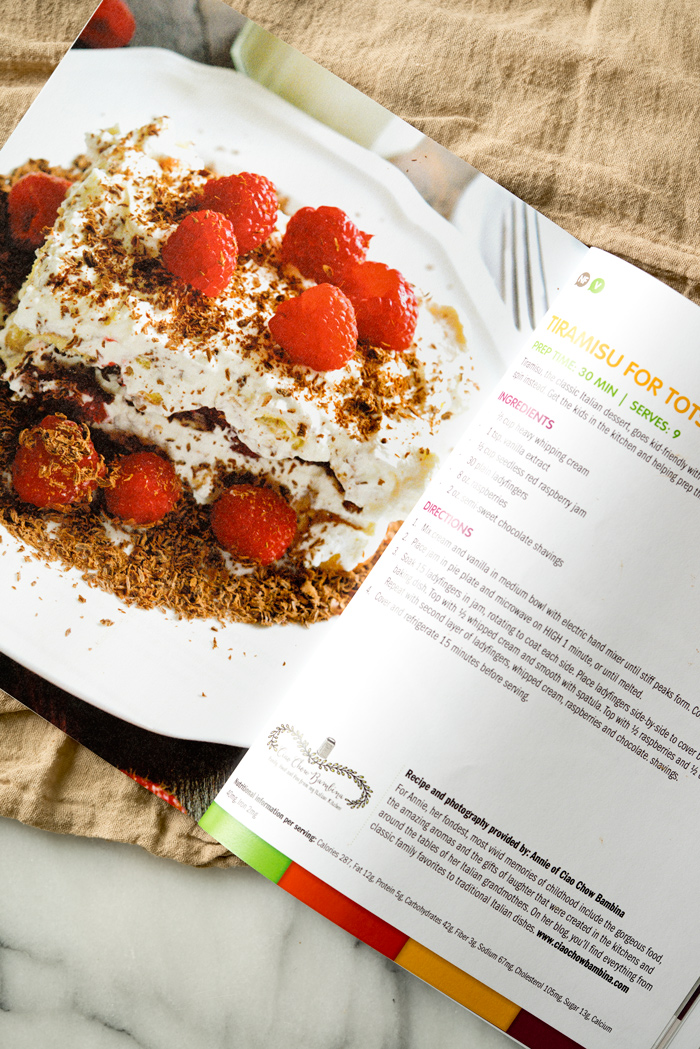 On my living room bookshelves I display my cook books. This may seem odd for some but I don't read novels, I don't want all our visitors to see my collection of "self help" books and I feel like my cook books are like old trusted friends. As I was looking at the binding of each book one started to shine, almost as if to say, "pick me". Do your cook books talk to you to? Maybe I need more than self help books 😉 .  I smiled as I pulled the cook book out because I had won it on a blog give away from my friend Annie at Ciao Chow Bambina.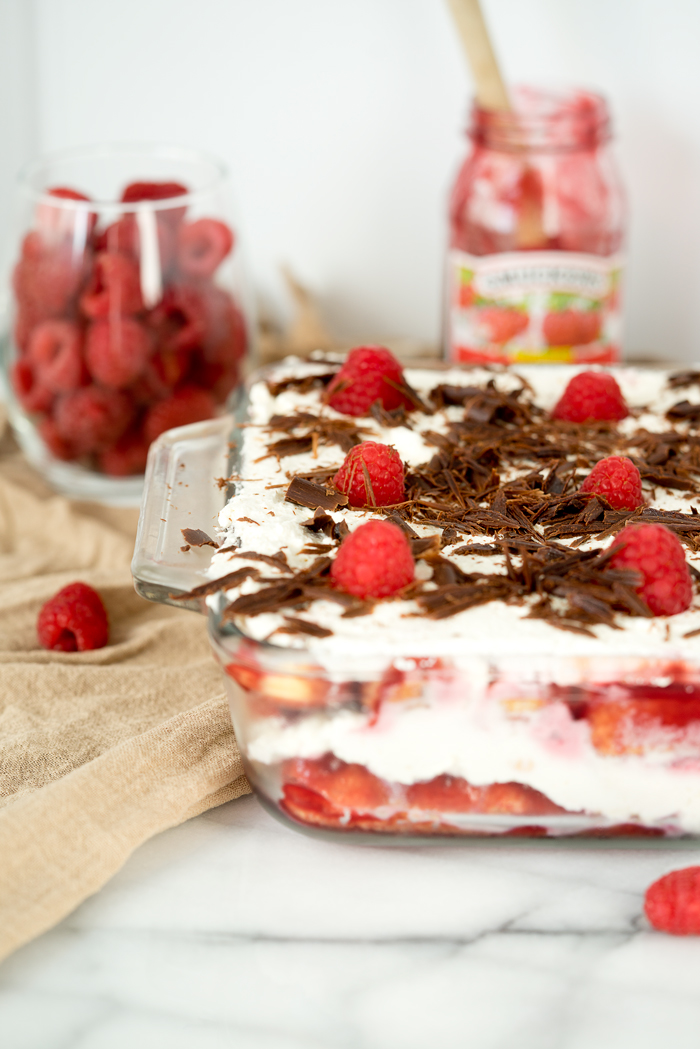 The cookbook, "Healthy Family Classics" is great collection of family and kid friendly recipes. Annie developed this super scrumptious Tiramisu For Tots. Its the very one I am presenting today as Raspberry Tiramisu. I remember when I first saw this tiramisu on Ciao Chow Bambina, I was thrilled to see a coffee alternative to Tiramisu. Nothing against coffee but I'm the only one in my immediate family that loves it.
The first layer calls for each lady finger to get rolled into raspberry jam, then arranged as the first layer in the pan. That layer is then covered in a fluffy cool blanket of whipped cream, chocolate shavings and fresh raspberries. But you know what the best part of tiramisu is? There's a second layer!! Just repeat the first layer of raspberry jam rolled lady fingers, more whipped cream, more chocolate shavings, more fresh raspberries and we're in business! Refrigerate.
Now I have a confession to make. I followed this recipe to the letter but I tend to be a little heavy handed when it comes to the whipped cream. I ended up needing to make more to fully cover the top layer. What can I say, I have no restraint when it comes to whipped cream.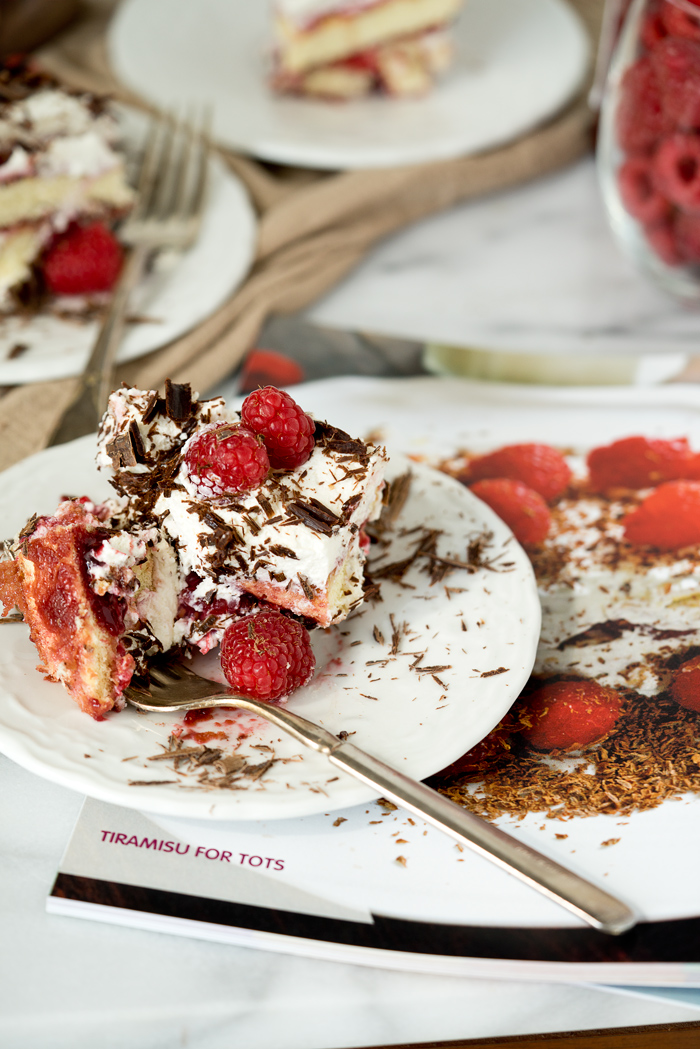 Thank you to Annie and Ciao Chow Bambina for such a wonderful recipe that was the perfect end to our hot summer weekend!!
Enjoy!
Stacey
FORGOT TO PIN IT? Here's your chance. Thanks!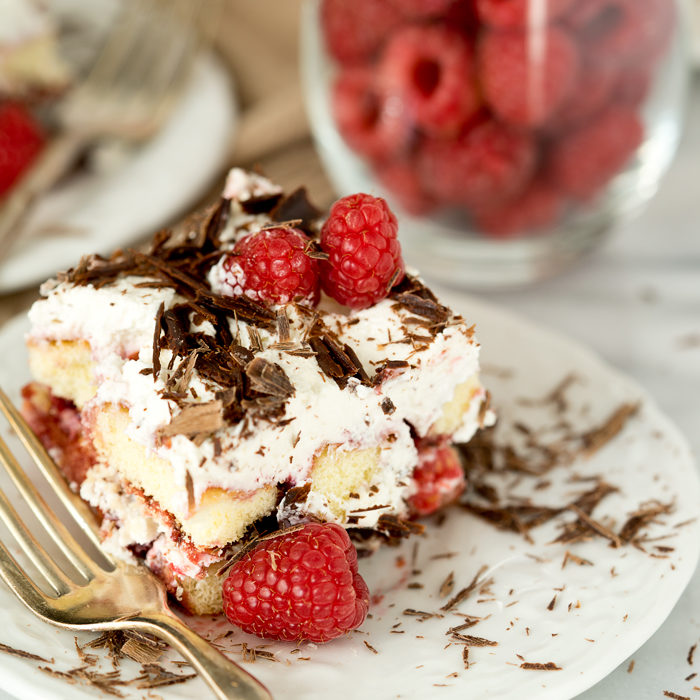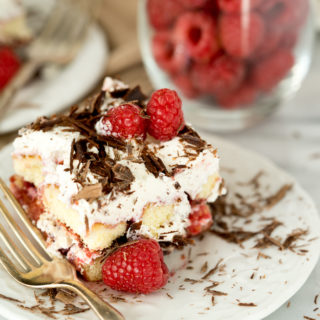 Raspberry Tiramisu
Raspberry Tiramisu. Delicate lady fingers, raspberries and whipped cream make for a wonderfully delicious yet simple no bake dessert.
Ingredients
⅔

cup

heavy whipping cream

more if you're heavy handed with the whip like me

1

tsp.

vanilla extract

½

cup

seedless red raspberry jam

30

plain ladyfingers

8

oz.

raspberries

2

oz.

semi-sweet chocolate shavings
Instructions
In bowl of mixer add the heavy cream and vanilla. Whisk until stiff peaks form. Cover and place in refrigerator.

Place jam in pie plate and microwave on HIGH 1 minute, or until melted.

Soak 15 ladyfingers in jam, rotating to coat each side.

Place ladyfingers side-by-side to cover bottom of 8x8-inch baking dish.

Top with ½ whipped cream and smooth with spatula.

Top with ½ raspberries and ½ chocolate shavings.

Repeat with second layer of ladyfingers, whipped cream, raspberries and chocolate shavings.

Cover and refrigerate 15 minutes before serving.
Notes
This can be made the day before.
SaveSave
SaveSave
SaveSave
SaveSave
SaveSave
SaveSave
SaveSaveSaveSave
SaveSave