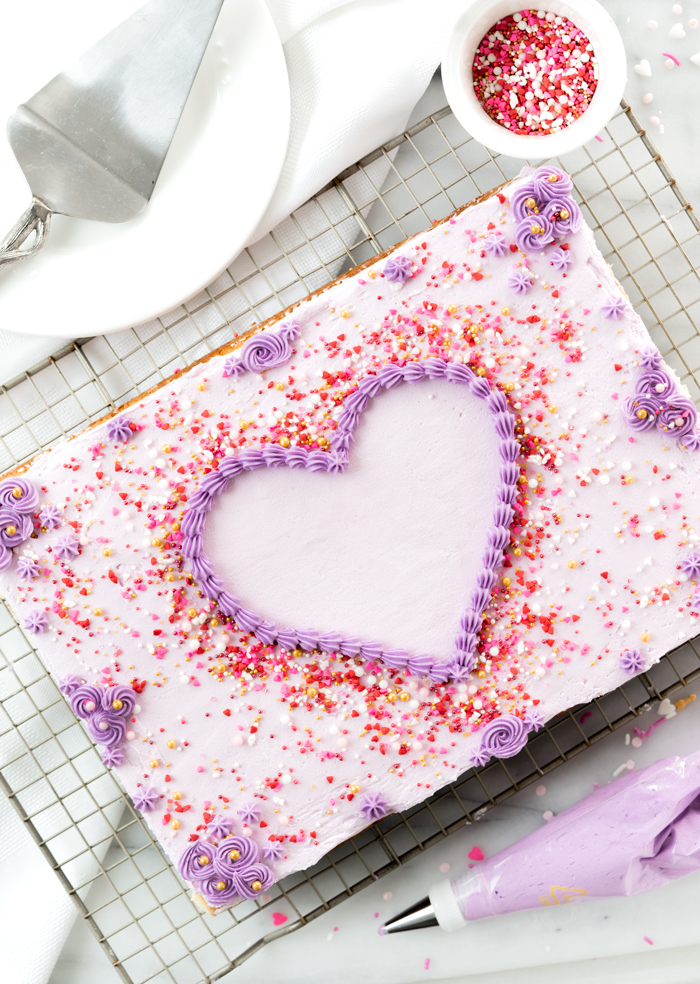 How To Decorate A Sheet Cake – free template (downloadable). Tutorial on how to use a template to accurately decorate a sheet cake to look beautiful.
No secret how layer cake obsessed I am but sometimes life just calls for a sheet cake. Whether it's a school or work function or you just don't have the time to spend on stacking and crumb coating and so on. I hear you and I got you covered.
Sheet cakes can still be pretty and decorated with some simple techniques. In this post I'm going show you how to use a heart template to create a border around it with sprinkles and some simple piping. I've included a free downloadable heart template with a couple different sizes for you to use.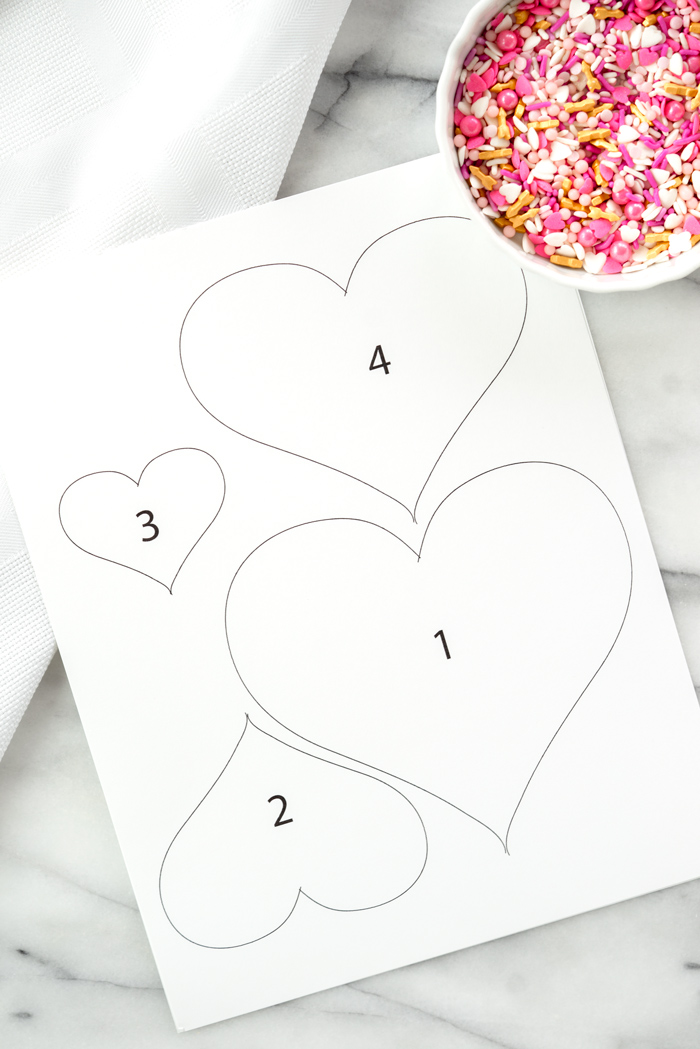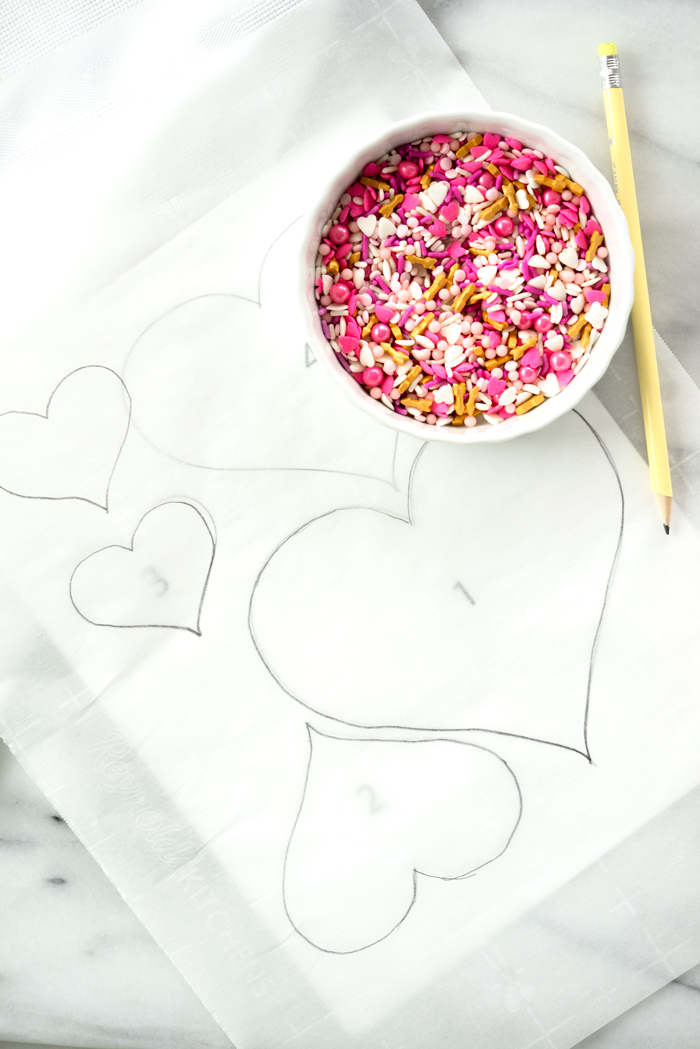 How To Decorate A Sheet Cake – using a heart template:
Bake your favorite sheet cake recipe. Let it cool completely. I included a recipe if needed below.
Using your heart template (or any template you wish) trace your shape onto parchment and then cut it out. For a 9×13 sheet cake (technically a 1/4 sheet cake) I used heart #4.
If your cake humped while it baked go ahead and cut the hump off to make your surface flatter.
Whip up your favorite frosting recipe and slather it on as neat and flat as you can. I have a buttercream recipe below if needed.
Lay your parchment shape on top of the frosting where you want it.
Go around your shape with sprinkles of your choice. For the first photo (the one with only 1 heart) I used Wilton's "Valentine Sugar Mix". They come in little bags at Michaels craft stores. I had to go around the edge of the heart 3 times to get the covering I wanted and then I used the rest of the sprinkles to fade out onto the rest of the cake.
IMPORTANT – refrigerate your cake before lifting the parchment so the frosting sets. You may notice that I have two sheet cakes pictured here, thats because I messed up the first one and pulled the parchment off without refrigerating the cake. This caused the parchment to pull the frosting up, leaving uneven frosting and pits (see red arrows).
Once cake is refrigerated use a sharp tool, like the tip of a knife to gently lift the parchment up and finish pulling the parchment up with hand. You should be left with a smooth frosted surface.
Now, the cake looks great just like this. But if you want to go a bit further I used Wilton tip # and made a shell border around the inside of the heart.
You can probably tell my edges aren't perfectly smooth on my sheet cake. So I used a little visual trickery to help draw the eye a little more even. I piped rosettes around the border of the cake and made sure they were lined up with each other (not necessarily the cake). That way the eye follows the rosettes around and the uneven edges fade into the background.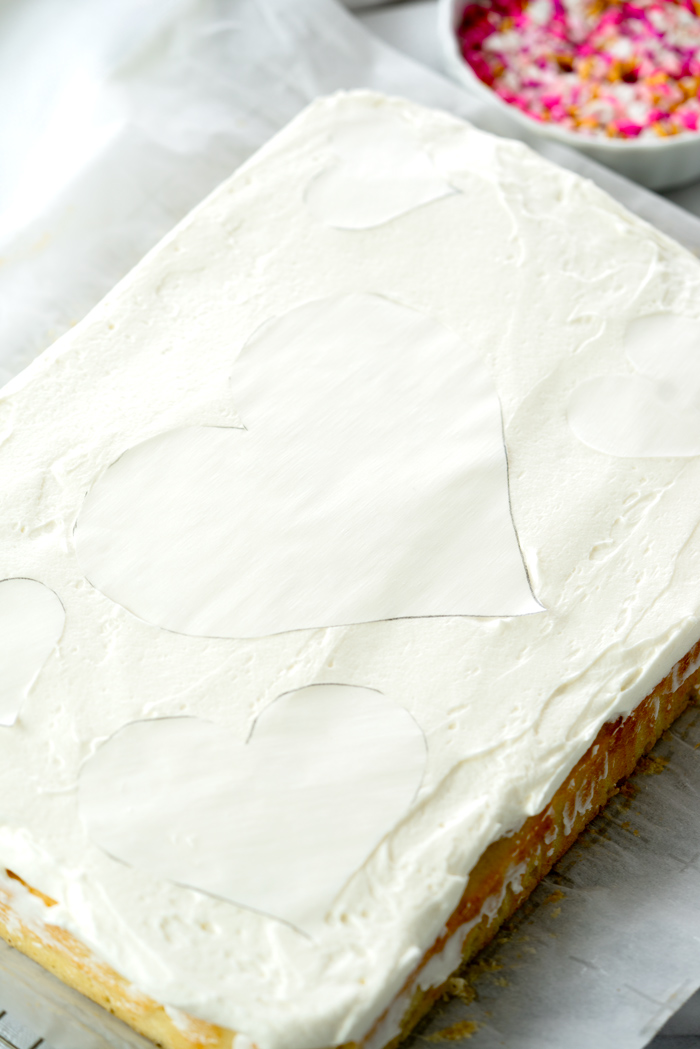 When placing your parchment heart onto the frosting keep the pencil side up so it doesn't touch your frosting. Most pencils are graphite now not lead but it's still a good practice.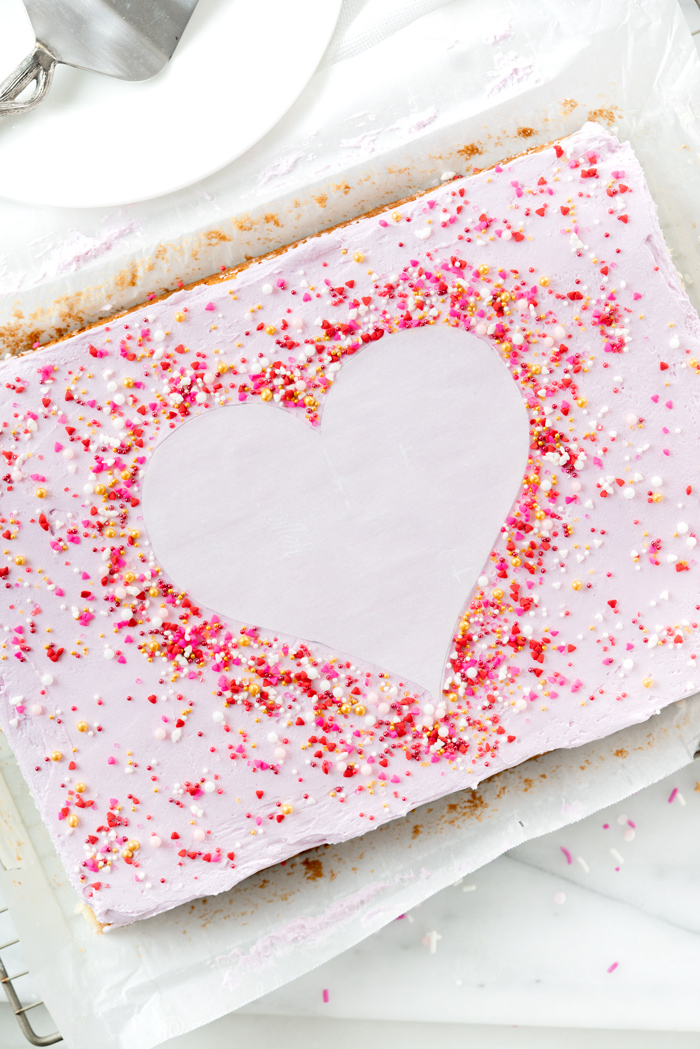 My mistake of pulling up the parchment before I refrigerated the cake….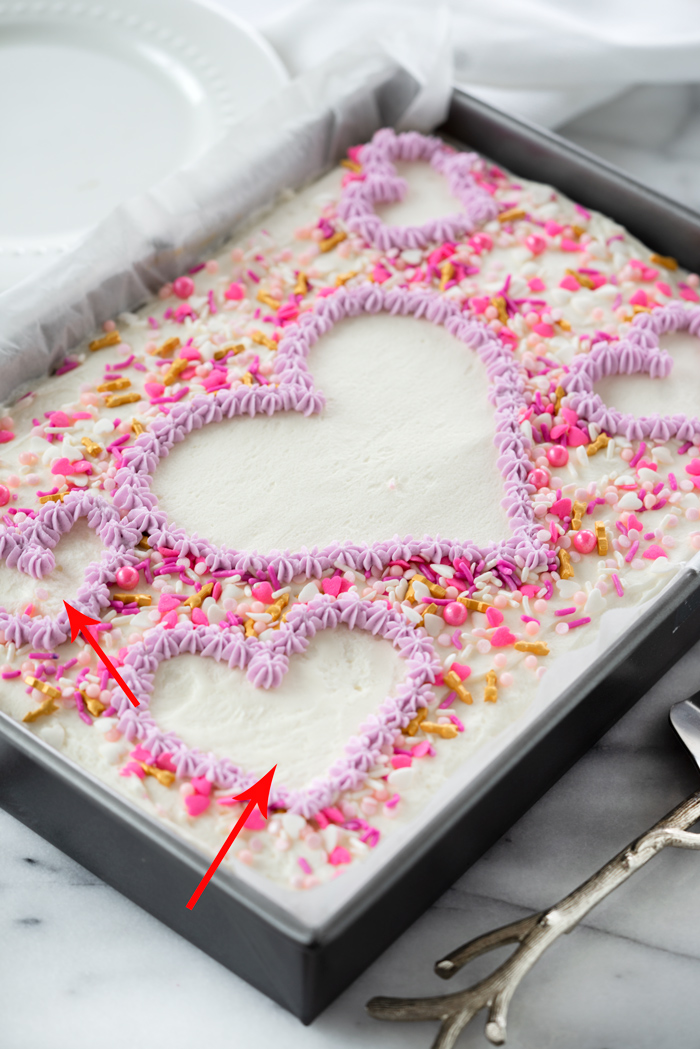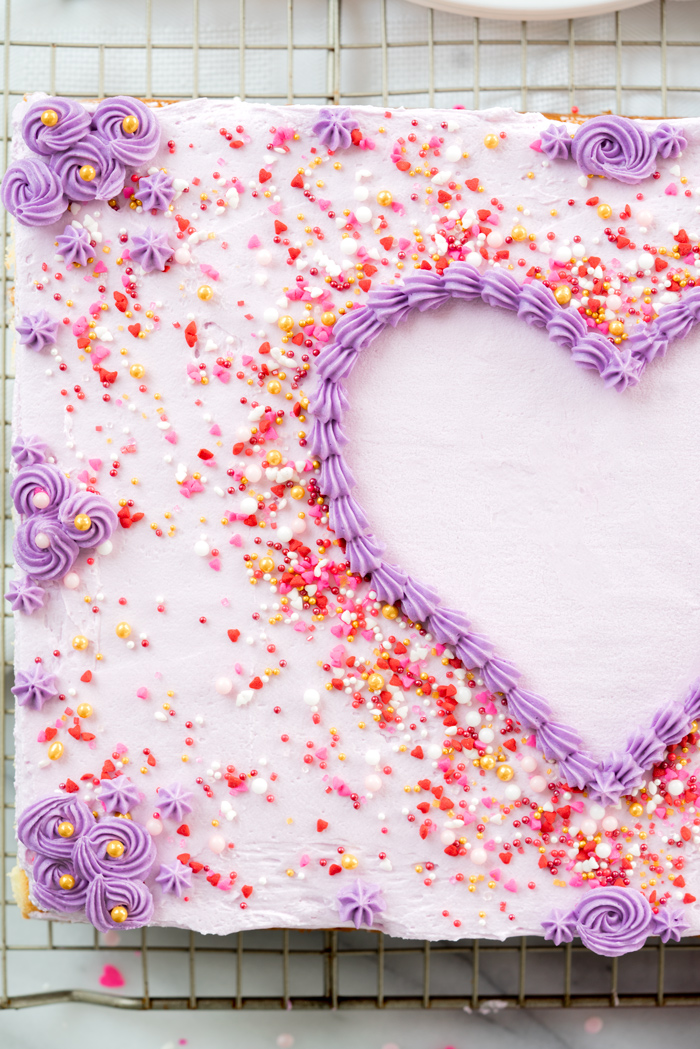 The Details:
Here's your free heart template download. – heart download
I wanted a warmer purple (not so blue), so I made a pinky purple using Wiltons pink and violet gel colors. 2 parts violet, 1 park pink. For the rosettes, I used the same color formula just made it deeper.
I used one 1 oz. bag of the Wilton "Valentine Sugar Mix", a little goes a long way.
I used Wilton tip #18.
Enjoy!
PIN FOR LATER! You'll be glad you did.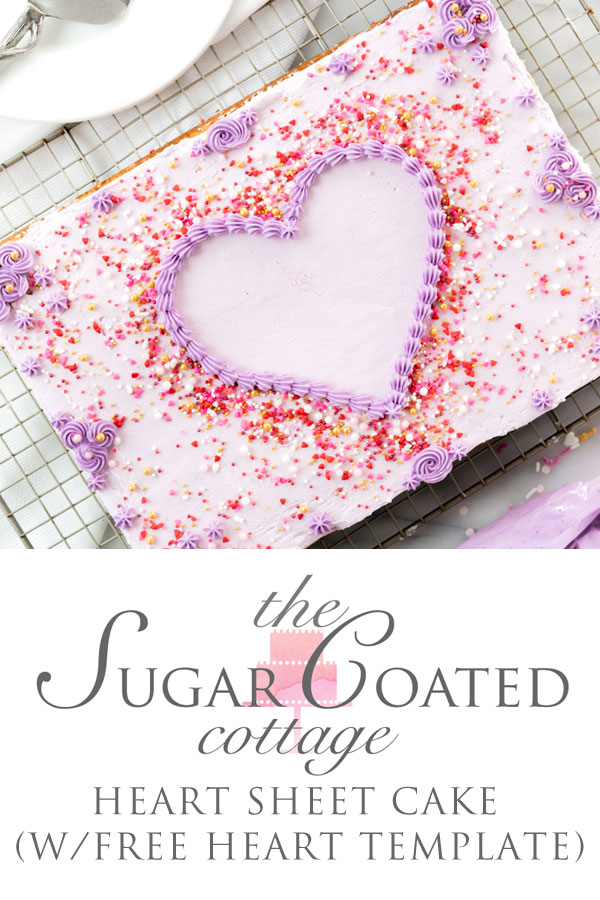 Vanilla Sheet Cake (9x13)
Delicous vanilla sheet cake for any occasion.
Ingredients
2 1/4

cup

all purpose flour

2

tsp

baking powder

1

tsp

salt

1/2

cup

unsalted butter

room temp

1 1/2

cup

granulated sugar

1/4

cup

canola oil

3

eggs

room temp

2

tsp

vanilla extract

1

cup

buttermilk

room temp

AMERICAN BUTTERCREAM

1

cup

unsalted butter

room temp

2

lb

confectioners (powdered) sugar

1/2

cup

milk

room temp

1/2

tbsp

vanilla extract

1/2

tsp

salt
Instructions
Preheat oven to 325 degrees F. Line non stick baking pan, 9x13, with parchment.

Put dry ingredients(flour, baking powder and salt) into bowl and stir with whisk to combine.

Cream butter until light and fluffy, add in sugar. Mix until light and pale yellow.

With mixer on medium speed, stream in the oil.

Add one egg at a time, mixing well after each addition.

Add vanilla to buttermilk.

Start adding in your flour mixture and alternate with your buttermilk. Make sure you end with the flour mixture. Scrape down bowl as needed.

Pour into prepared pan and bake for 32-35 minutes or until toothpick inserted into center comes out clean. Cool completely.

In bowl of mixer cream butter until light and fluffy.

With mixer on low, slowly add in powdered sugar one spoonful at a time. Alternating with the milk as needed. Scrape down bowl as needed.

Add in the vanilla. Mix until completely combined and buttercream is light and fluffy.
c55168435f897664b13ef630fce3183c30cdbf2fcaa2daaec0