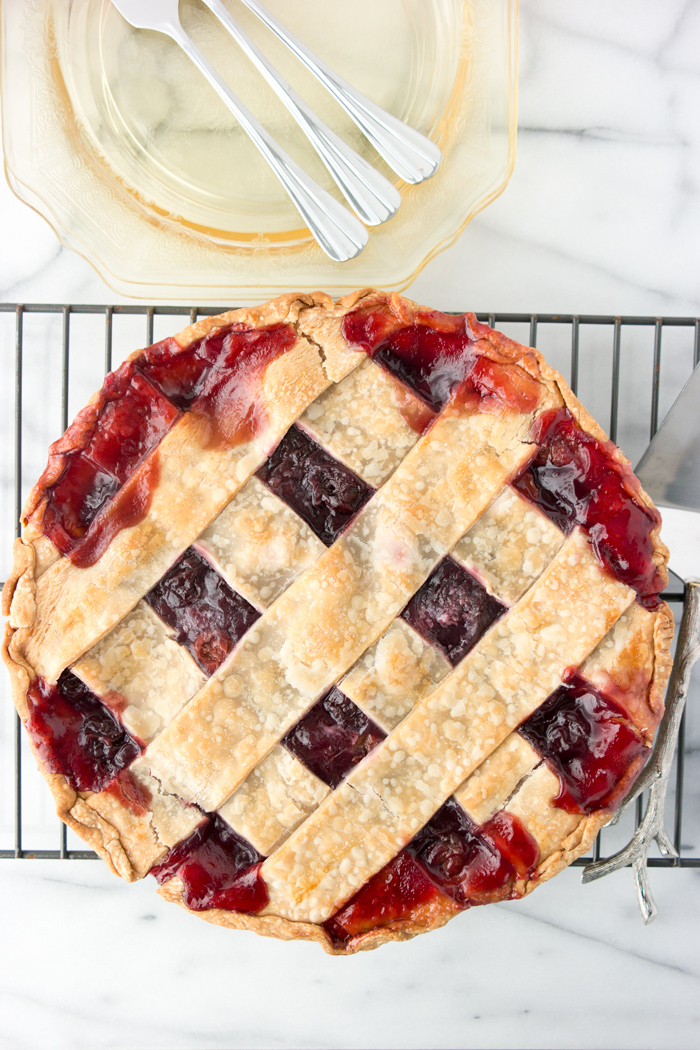 Homemade Cherry Pie. Plump and juicy cherries all wrapped and baked into a buttery, flaky pie crust. And with this recipe there's no cherry pitting involved.
[social_share/] Yum

When we lived in our old neighborhood we used to have a neighbor that would throw a neighborhood party every summer. It was BYOB (bring your own booze) and bring a dish to pass. The hostess was quite popular in the neighborhood and always had a good turnout. In fact there was never enough room for everyone and certainly not enough room for all the great food everyone contributed. One year, about 10 years ago, I was standing on the deck and wanted something sweet. I noticed a fresh baked cherry pie at one of the tables near the dessert table. There were two ladies sitting by it chatting. I had assumed it was at this separate table because the dessert table was overflowing. I approached the table and said, "Hi, I just want to grab a slice of pie..". They both looked at me, an awkward moment of silence followed, and then one of them said, "I'm sorry, this is only for us." I apologized of course and walked away completely embarrassed. From that moment on I have been making my own cherry pies and sharing them, lol.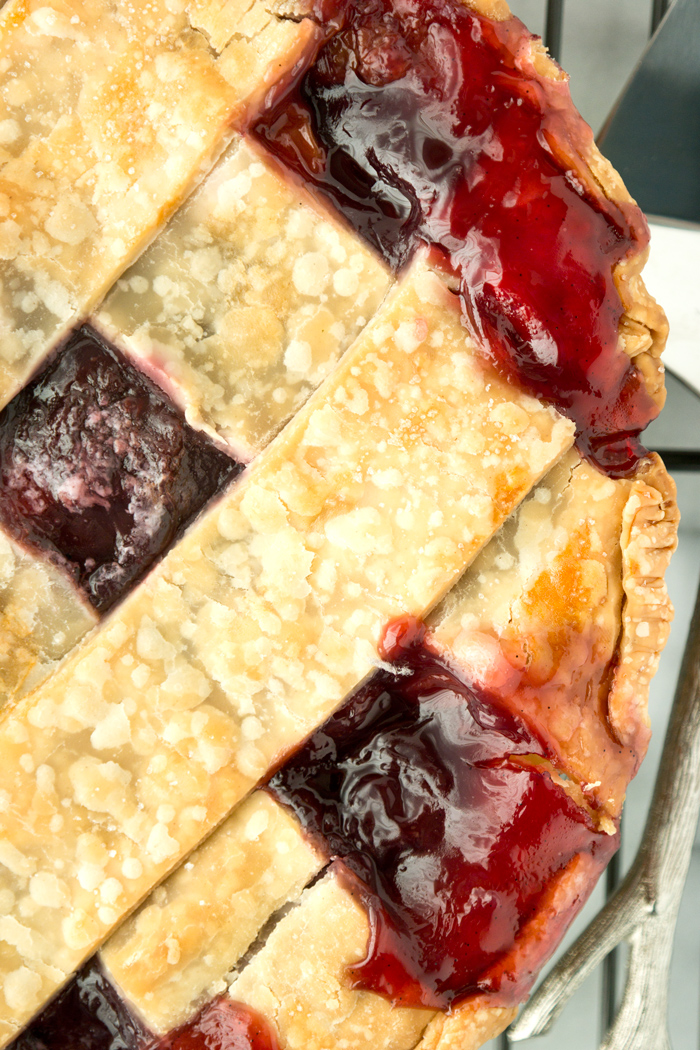 I personally love the effort to make a cherry pie because baking is a labor of love that never feels like work for me. But I have friends that have flat out told me, "I'm not standing and pitting 100 cherries for one pie..". I understand completely. It is labor intensive and if you don't have that type of time it can seem like a daunting task. So with those friends in mind I give you this cherry pie recipe. Using canned cherries, NOT pie filling. But canned sweet and tart cherries that are already pitted and will give you the same amazing result.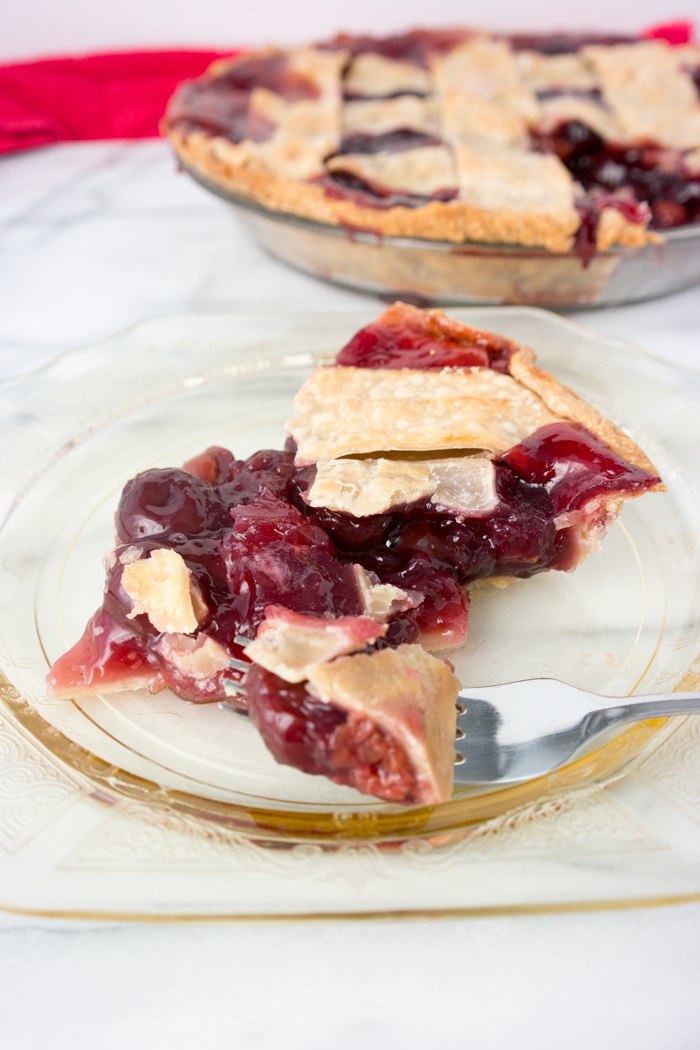 The tart cherries I used were packed in water, the tartness balances out the sweetness quite nicely here. The sweet cherries are packed in syrup, hence the "sweet". I used both the cherry juice from the tart cherries and cherry syrup from one can of the sweet cherries. Add a little sugar and cornstarch and it thickens to a beautiful glaze and base for the cherries. You haven't had to pit one cherry yourself and you can still feel proud to have made a "Homemade" cherry pie filling.
So besides the pitting what else is the difference between using canned cherries vs. fresh cherries? 1. no water is necessary for the base because you are using the cherry juice from the tart cherries. 2. a little less granulated sugar is used because we used the syrup from the sweet cherries.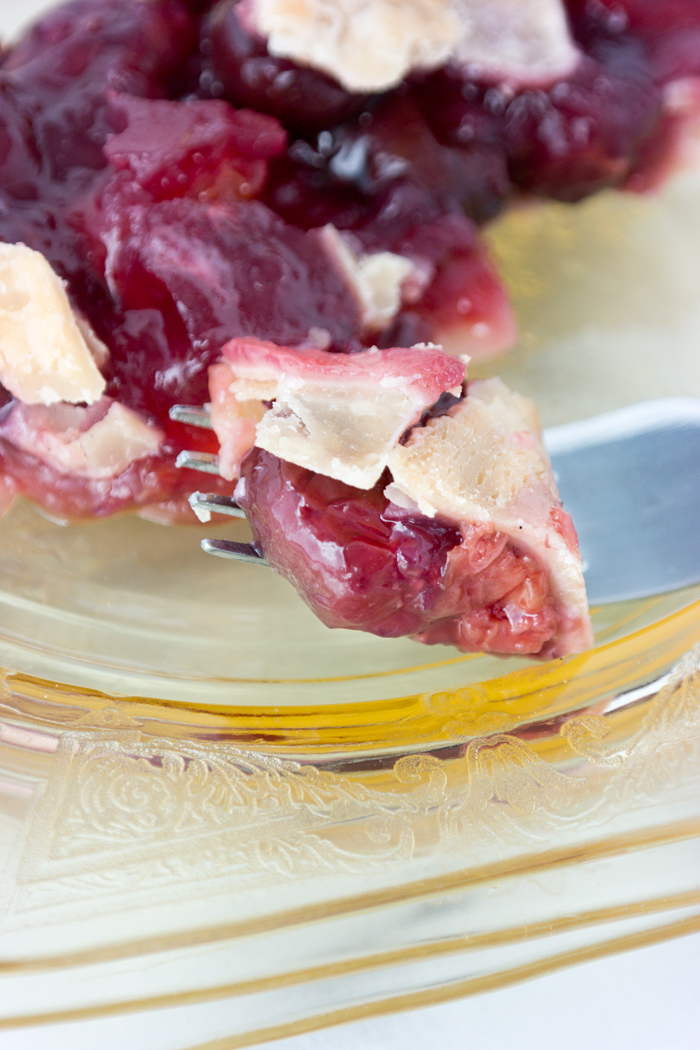 The crust is a staple pie crust recipe. Its not sweet which is perfect to balance the sweetness of the cherry filling. It bakes up buttery golden brown and absolutely melts away with each bite.
My favorite part of a pie (besides eating it) is when the filling bubbles up as it bakes. It really adds to the homemade appeal of a pie and makes it taste that much more special.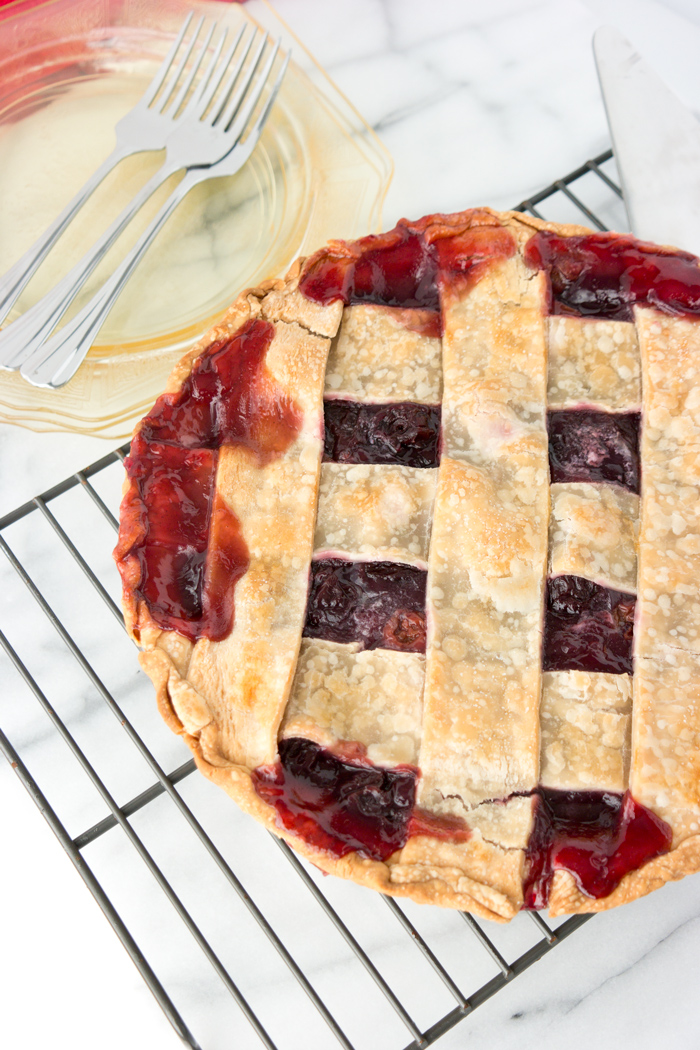 Enjoy this Homemade Cherry Pie shortcut!
Stacey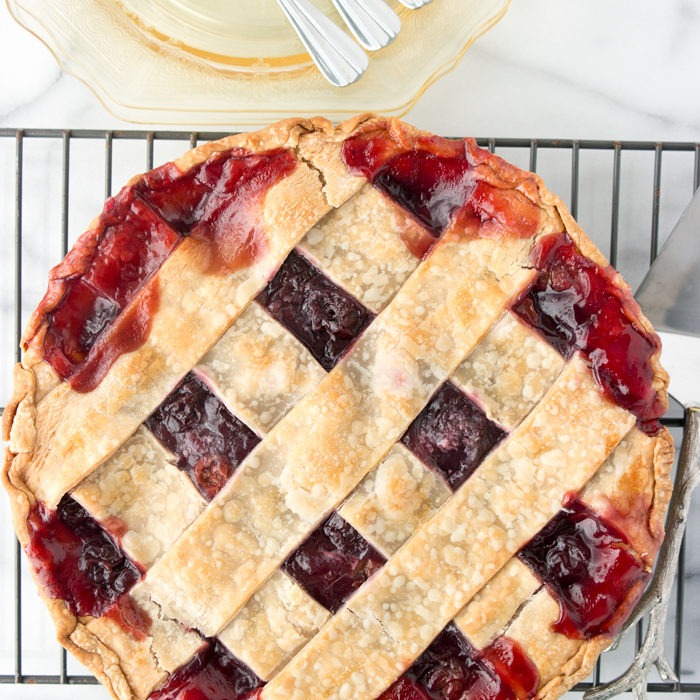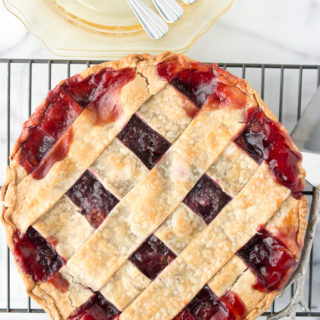 Homemade Cherry Pie
Homemade Cherry Pie. Plump and juicy cherries all wrapped and baked into a buttery, flaky pie crust. And with this recipe there's not pitting involved.
Ingredients
PIE FILLING:

1

can Oregon Tart Cherries in water

reserve the cherry water/juice from the can

2

cans Oregon Sweet Cherries in syrup

reserve the syrup from one can

1/2

cup

sugar

1/4

cup

cornstarch

1/2

tsp

vanilla bean paste

1/4

tsp

almond extract

CRUST:

2 1/2

cup

all purpose flour

1

tsp

salt

1

cup

cold unsalted butter cut into small pieces

1/4

cup

ice water

more if needed

TOP OF PIE:

1

egg white

1

Tbsp

sugar
Instructions
Pre-heat oven to 400 degrees F

Set 9 inch pie plate aside

PIE CRUST:

Add flour and salt to food processor

Add the pieces of cold butter and mix for about 10 seconds or until mixture is a coarse meal texture.

Add ice water a very little bit a time through the feed tube while food processor is running until dough holds together but is not sticky or wet.

Empty onto a large piece of plastic wrap, press together to form a dough ball.

Cut in half and form each into a round disk and wrap each separately in plastic wrap.

Chill for at least an hour.

When ready roll out each disk onto a floured surface, must be about 1/8 inch thick and fit in 9 inch pie plate. Place one disk in the 9 inch pie plate. The second rolled out disk can be cut as desired for a decorative top crust.

FILLING:

Drain the cherries remembering to keep the juice from the tart cherries and the syrup of one can of sweet cherries.

Add the cherry juice and syrup to a sauce pan.

Add the cornstarch and sugar.

Cook on medium heat, stirring regularly until mixture is thickened.

Add the cherries, the vanilla paste and almond extract to the pan.

Gently mix well to combine but try not to break the cherries.

ASSEMBLY:

Add the cherry mixture to the pie crust lined pan.

Add the decorative top crust, pinch edges from top and bottom crust together.

With a small pastry brush brush on egg white to top of crust and ever so lightly sprinkle with sugar. Be careful not to put too much sugar as it can burn easily.

Bake for 45-50 minutes or until crust is a beautiful golden brown. You may need to cover edges with aluminum foil if you notice they are getting too brown.

Cool pie at least 4 hours before cutting to allow for filling to thicken.