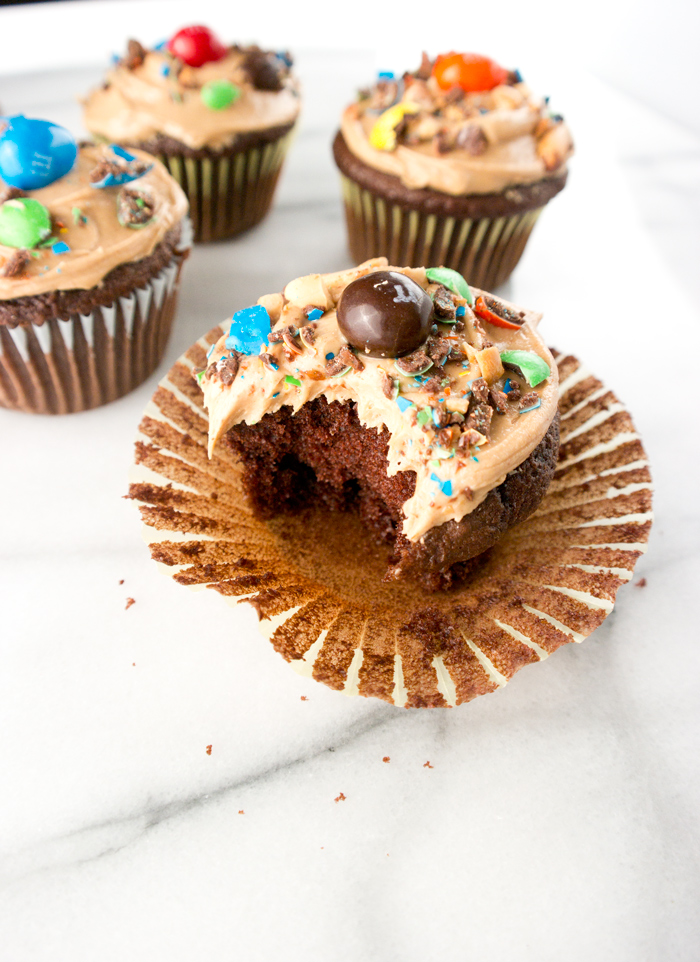 Peanut Butter Frosted Chocolate Cupcakes. Peanut buttery frosting swirled on top of chocolatey cupcakes and sprinkled with crushed peanut M&M's.
[social_share/] Yum

So this past weekend I made a huge mistake, boo boo, snafu, oops, etc. My hubby pulled his car out of the garage and parked it off to the side but partially behind my car. It was perfectly positioned in my blind spot so when I went to open the garage door to pull my car out I never saw hubby's car and smack, crash, crunch. I thought I hit our garbage can because once again when I looked into the rear view mirror nothing was in sight, until I got out and saw what I really hit, the passenger fender, enough to make the car not drivable. "Hello mom, I won't be meeting you for lunch…I just hit hubby's car". As I walked up to view the damage my elderly neighbor was quickly hobbling away, he wanted no part in what he had just witnessed, lol. How did the hubby react when I told him what I did and apologized 20 times? Silence for about an hour and then he professed he shouldn't have parked the car where he did. To add insult to injury (so to speak) I had to call the insurance company to open a claim for each vehicle and explain what I did, lol.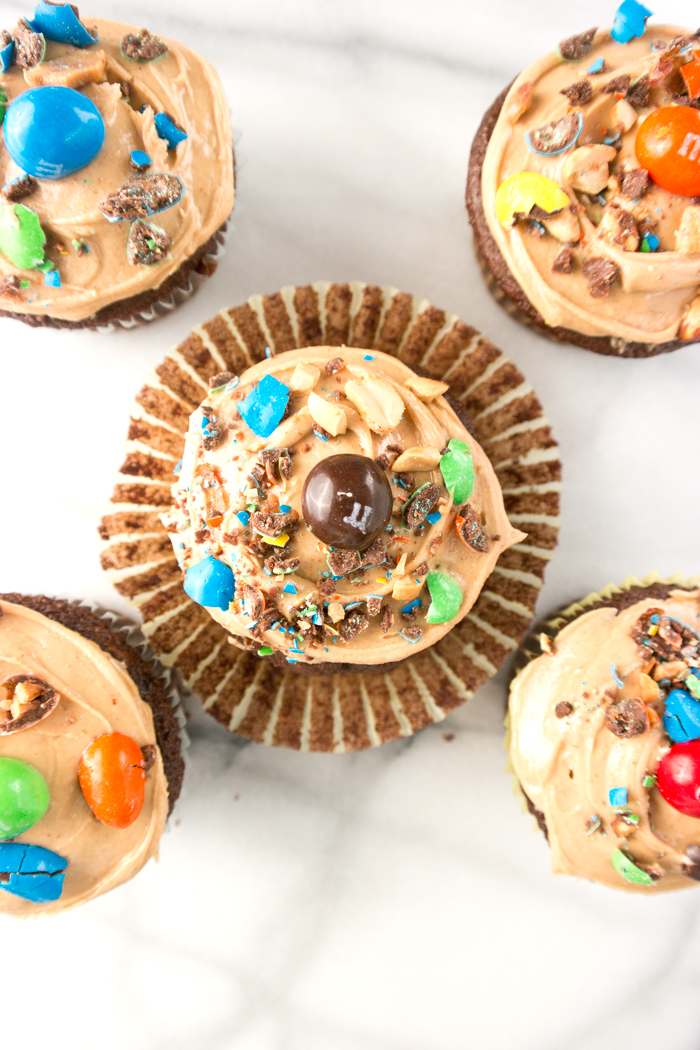 After all that my peanut butter craving was full blast!! I decided cupcakes would be a fun way to indulge my sorrows with peanut butter frosting and chocolate cake of course.
For the frosting I wanted to keep it simple, I wanted that really strong peanut butter flavor so I used a simple recipe of equal parts powdered sugar and peanut butter. I used my favorite go to chocolate cake recipe for the cupcakes and instead of using sprinkles I crushed up peanut M&M's. In the words of Campbell Soup, "Mmm, Mmm, good!"
I love a beautifully decorated cupcake but sometimes the good old home made looking cupcakes get me more excited. Because this frosting is a bit on the softer side its best spread on with an offset spatula or  butter knife. Just do a quick swirl and your done, plus the indentation of the swirl is perfect for catching those peanut M&M crumbles!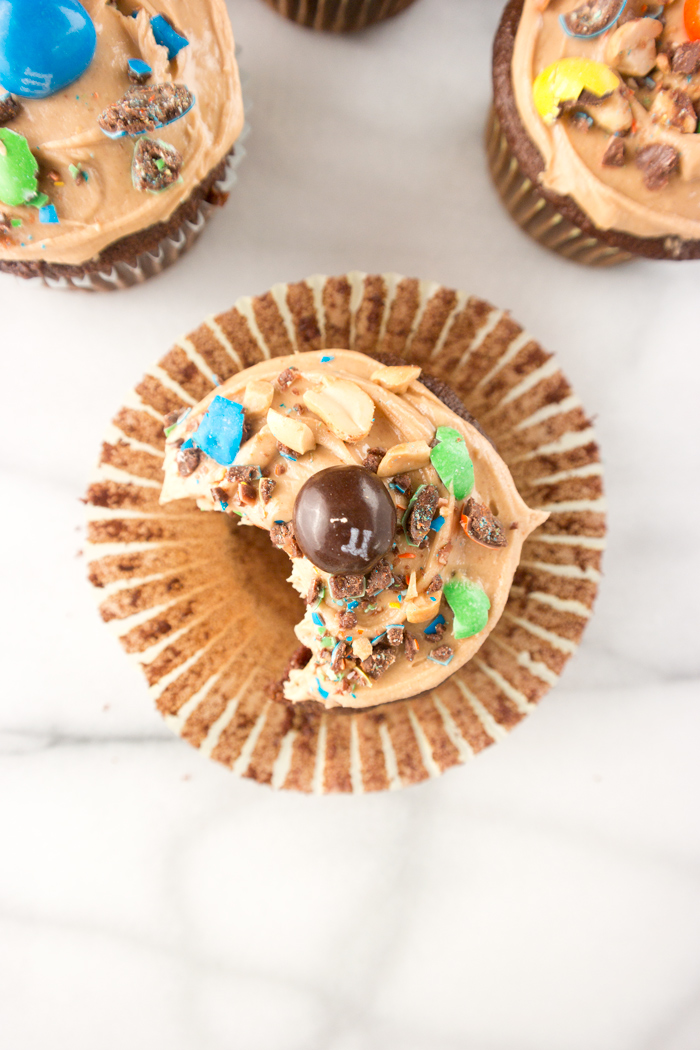 Hopefully these will help smooth things over with the hubby!
Enjoy!
Stacey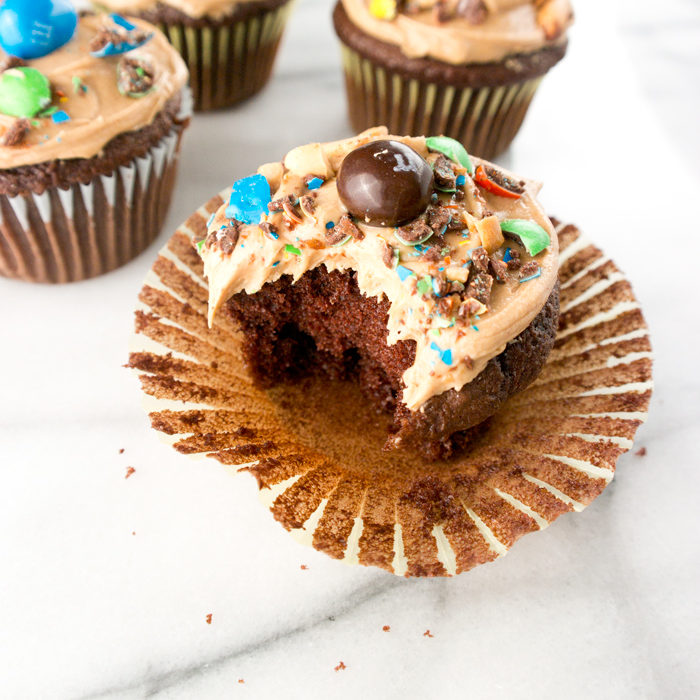 Peanut Butter Frosted Chocolate Cupcakes
Peanut Butter Frosted Chocolate Cupcakes. Peanut buttery frosting swirled on top of chocolatey cupcakes and sprinkled with crushed peanut M&M's.
Ingredients
CAKE:

1/2

Cup

+ 3 Tbsp cocoa powder

1

cup

boiling water

3

large eggs

2

tsp

vanilla

2

and 1/4 cups cake flour

1

and 1/2 cups sugar

1

Tbsp

baking soda

1/2

tsp

salt

1

cup

butter softened

FROSTING:

1

cup

creamy peanut butter

1

cup

confectioners sugar

GARNISH:

2

"Sharing Size" bags of peanut M&M's

can be found at grocery check out line
Instructions
Preheat oven to 350 degrees F

Line cupcake pans with 24 liners

CAKE:

Add one cup boiling water to cocoa powder, stir to remove clumps and to combine. Let cool to room temperature.

In bowl of mixer add in all dry ingredients, mix to combine.

Add butter and mix until well combined.

Slowly add in the room temperature cocoa mixture. Mix to combine.

In separate bowl mix eggs and vanilla. Pour into flour mixture. Mix well to combine and until batter is formed.

Pour evenly into prepared cupcake pans.

Bake until toothpick inserted comes out clean (18-20 min).

Cool completely.

FROSTING:

Mix all ingredients in bowl of mixer with paddle attachment until completely combined.

ASSEMBLY:

With offset spatula swirl peanut butter frosting onto each cupcake.

GARNISH:

Set aside 24 whole M&M's

Gently crush the remaining M&M's

In the center of each cupcake add one whole peanut M&M

Sprinkle each cupcake with crushed peanut M&M's
Notes
Peanut butter frosting is a little softer, keep in cool dry place.
"Sharing Size" bags of peanut M&M's can be found in the check out aisle at most grocery stores.
I used Jiff creamy peanut butter.