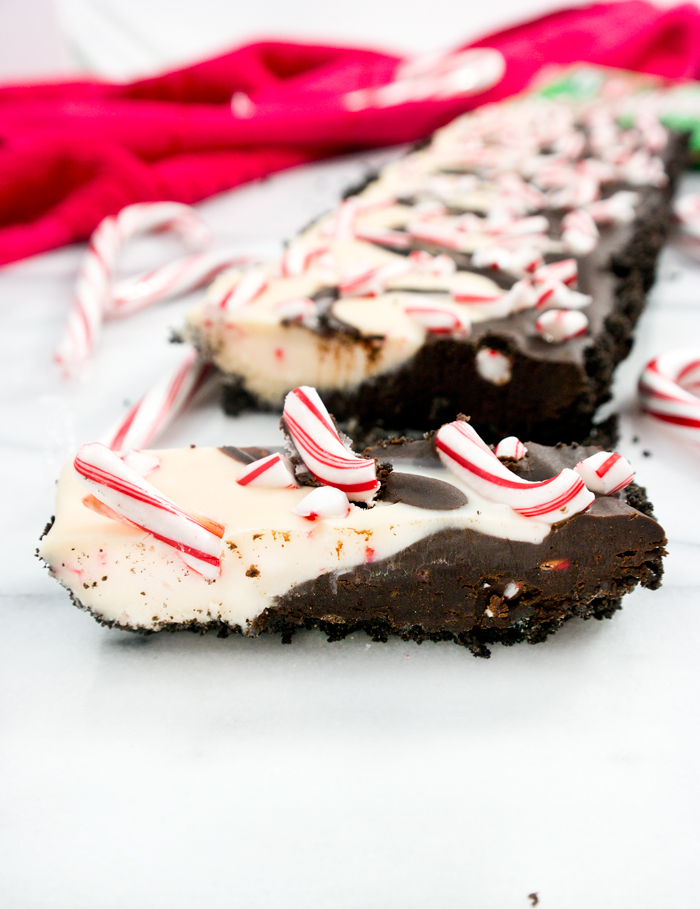 [social_share] Yum
This post is sponsored by our dear friends at Brachs Candy.
____________________________________________________________________________________________________
Candy Cane Ganache Tart. Cool pepperminty candy canes, rich creamy ganaches and a crunchy NO BAKE cookie crust make this tart a holiday must.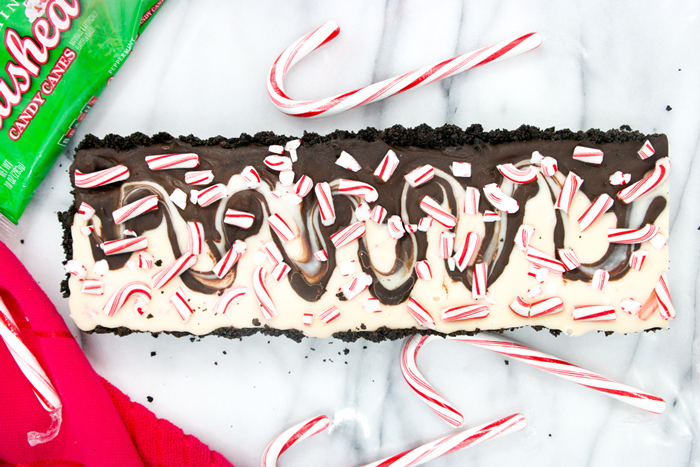 [social_share]
I have missed this so much! The chatting about life, food, eating and writing all about it. I am embarrassed to say it has been a whole 2 weeks (and then some) since I have written a post and I have missed it!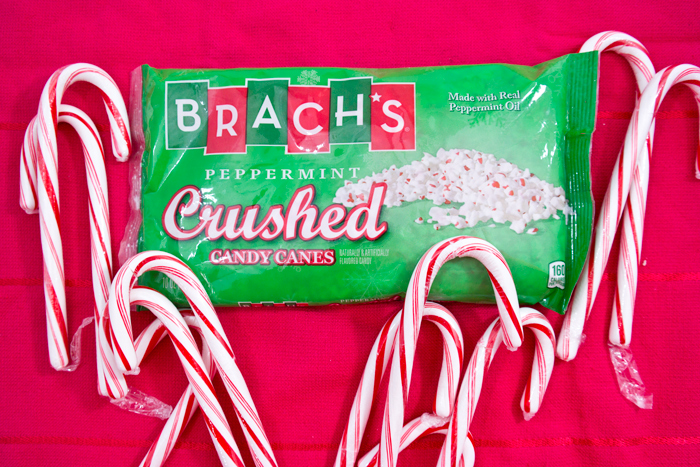 The truth is I may have gone a little too far at Thanks Giving and over indulged in so many good things that I didn't have a craving for anything. I know, hard to believe since I am usually the type that always has a craving for something sweet and delicious. To quote my good pal Austin Powers, "I had lost my mojo", foodie mojo anyways. So I had to wait…and wait…and wait until inspiration struck again. From a writers/publishers perspective it is NOT fun to write when uninspired. Nothing comes out right, no matter how many times you re-read it somethings missing (hint, inspiration). So again, I wait…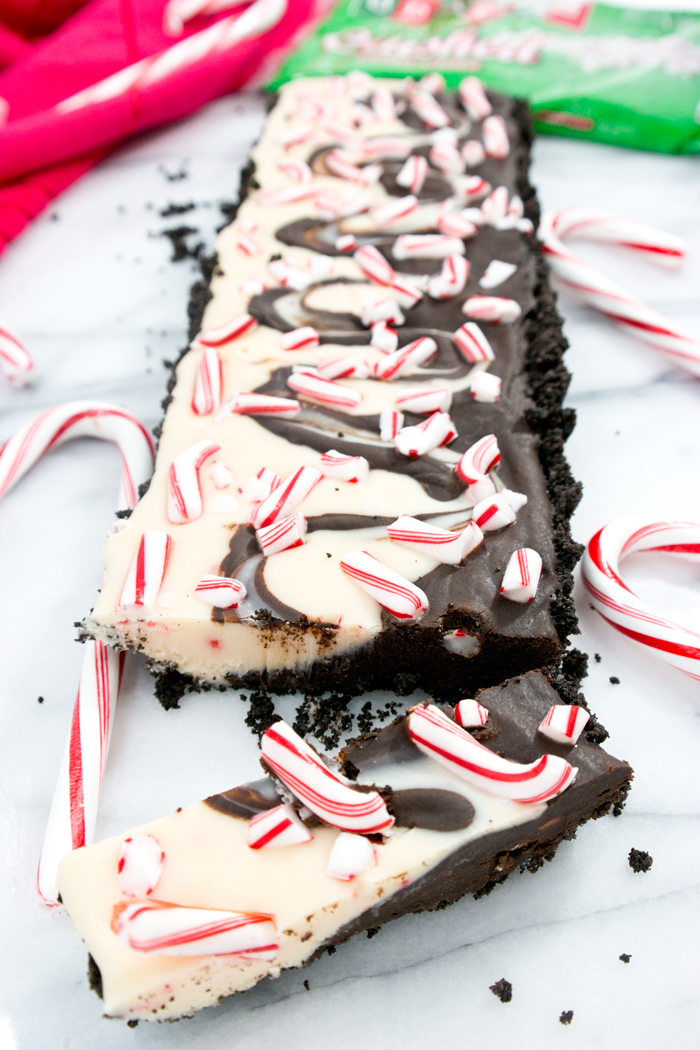 [social_share]
Inspiration finally hit! And hit did it ever, in the form of candy canes. I love peppermint, peppermint patties, candy canes, junior mints, mint tea, minty hot cocoa….you get the idea. So when I got the idea to put a ganache tart together in the Christmas line up it seemed perfect to add a punch of peppermint to not only bring in the holiday season but give me my foodie mojo back.
So with out further delay, drum roll please….The Candy Cane Ganache Tart. So true the peppermint is the best part or is the chocolate is the best part or the white chocolate but wait, did I mention that it's NO BAKE Oreo crust? Seriously! No oven required. But don't let that fool you, this is one of the richest, most decadent treats you can make for yourself and guests. It is smooth and creamy, rich and chocolatey and the peppermint is the perfect balance to even it all out. The texture is the perfect combination of crunchy crust and smoothy melty ganache.
Let me run down the simplicity of ingredients for this dessert. The crust is Oreo's and butter. The ganaches are chocolate, heavy cream and crushed candy canes. Topping, broken candy canes. Done.
This is the first time I have seen crushed candy canes in a package, intentionally crushed, lol. Do I mind crushing my own candy canes, not at all but I hate how sticky and awful it is to get the wrappers off the candy canes, they never come off easy and when they do come off for some reason they have static cling and stick to my hands and clothes, argh. So how cool is it that Brach's takes that head ache away by providing a bag of already crushed candy canes? Thank you Brachs!
[social_share]
Now you may be tempted to take a big slice of this and though it would be delicious keep in mind that this is a truly indulgent dessert and a little goes a long way. And if you still want seconds go for it!!
For those of you who have been checking back from time to time, thanks for your patience, my foodie mojo is back. Take care.
Enjoy!
Stacey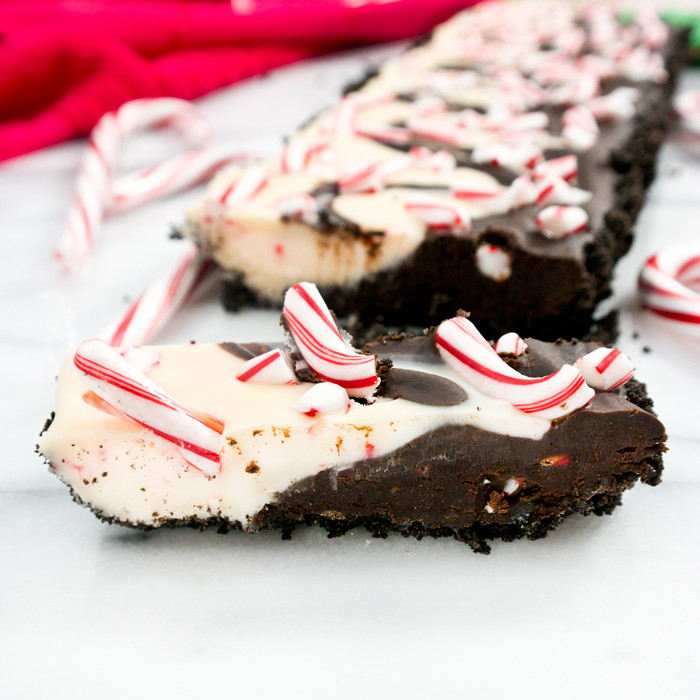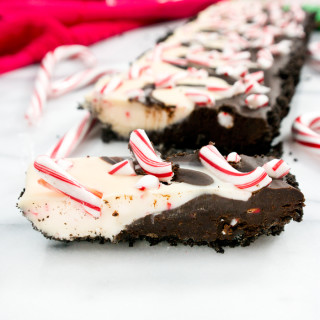 Candy Cane Ganache Tart
Candy Cane Ganache Tart. Cool pepperminty candy canes, rich creamy ganaches and a crunchy NO BAKE cookie crust make this tart a holiday must.
Ingredients
1- 14

inch

rectangular tart pan with removable bottom.

CRUST:

22

Oreo cookies crushed finely

or any brand of sandwich cookie

1/4

cup

melted butter.

CHOCOLATE GANACHES:

5.5

oz

white chocolate finely chopped or chips.

5.5

oz

semi sweet chocolate finely chopped or chips.

1/2

cup

heavy cream divided into two 1/4 cup portions

4

Tbsp

Brachs

or brand of choice crushed candy cane divided into two equal portions

GARNISH:

Brachs large candy canes broken or Brachs crushed candy canes

or brand of your choice
Instructions
CRUST:

Mix finely ground Oreos and butter, should resemble wet sand.

Firmly press the crumb mixture into rectangular pan to form a crust on the bottom and up the sides. The bottom of a glass may be helpful to press the crumb mixture firmly down.

Let chill in refrigerator until ready to fill, minimum 30 minutes.

GANACHE:

In small sauce pan heat heavy cream to almost boiling, pour in white chocolate. Turn off heat. Stir until chocolate is completely melted. Remove from heat, pour in crushed candy cane, stir.

Pour into bowl to cool down.

Repeat with semi-sweet chocolate.

ASSEMBLY:

Once ganaches are cooled (can be warm but not hot) remove crust from refrigerator.

Gently and slowly pour the white chocolate ganache down one long side of the tart shell.

Moving quickly repeat on the other side with the semi sweet chocolate.

Take a spatula and swirl down the middle to create a swirled pattern down center, mixing the two ganaches slightly (see photo).

Sprinkle on broken candy cane pieces or crushed candy canes.

Refrigerate until set or until ready to serve.
Notes
This is a rich dessert so start with smaller servings.
The finer the crumbs for your crust the better it will hold.