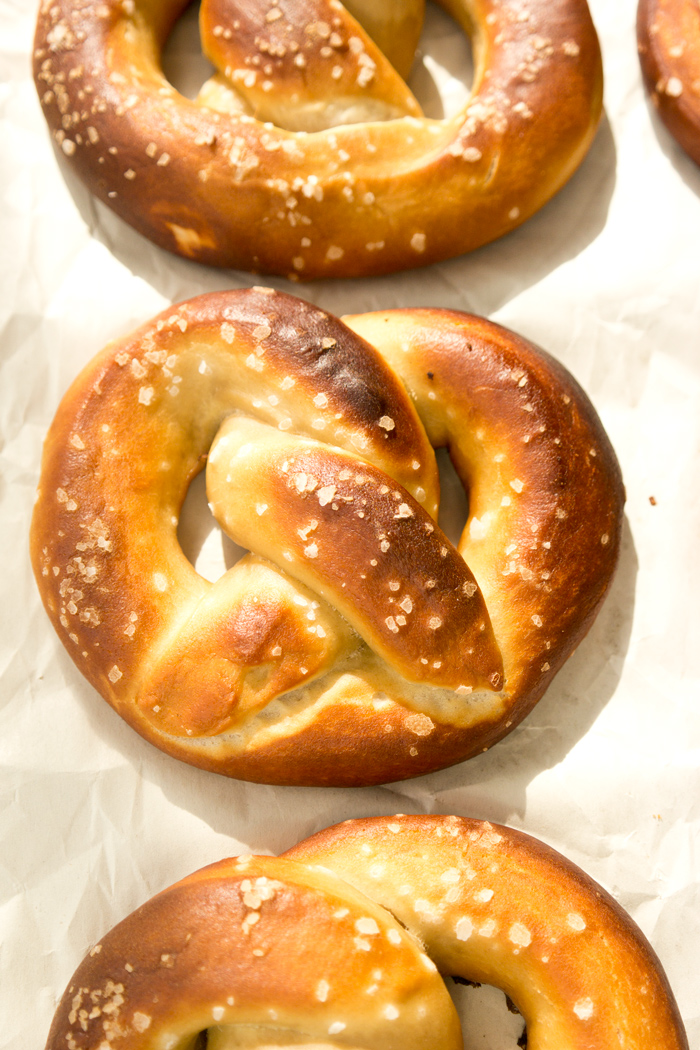 Amazing Soft and Chewy Pretzels! A salty, soft and chewy twisted treat!
[social_share/] Yum
Ever have one of those days where there's nothing on the schedule for the day let alone the month (which is fine by me). Then out of the blue your schedule gets filled up so quickly you don't know whether you're coming or going? That sums up my February. First I was asked by my manager to go on a week long business trip to the west coast to meet some of the team members we interface with on the client side. I was hesitant as first but so glad I went. It turned out to be a lot of fun to meet new people and it was nice to see some of Washington, a place I had never been. Next I was informed by the same manager that, surprise, we're training you on some new responsibilities, EEK, I like my comfort zones. So when I got back from out West it was training, training, training all day. Then my little peanut got sick, tis the season and she just needed her mommy! I'm ready for a sick day "mental health day", lol, anyone else ever take those (don't judge me please…)?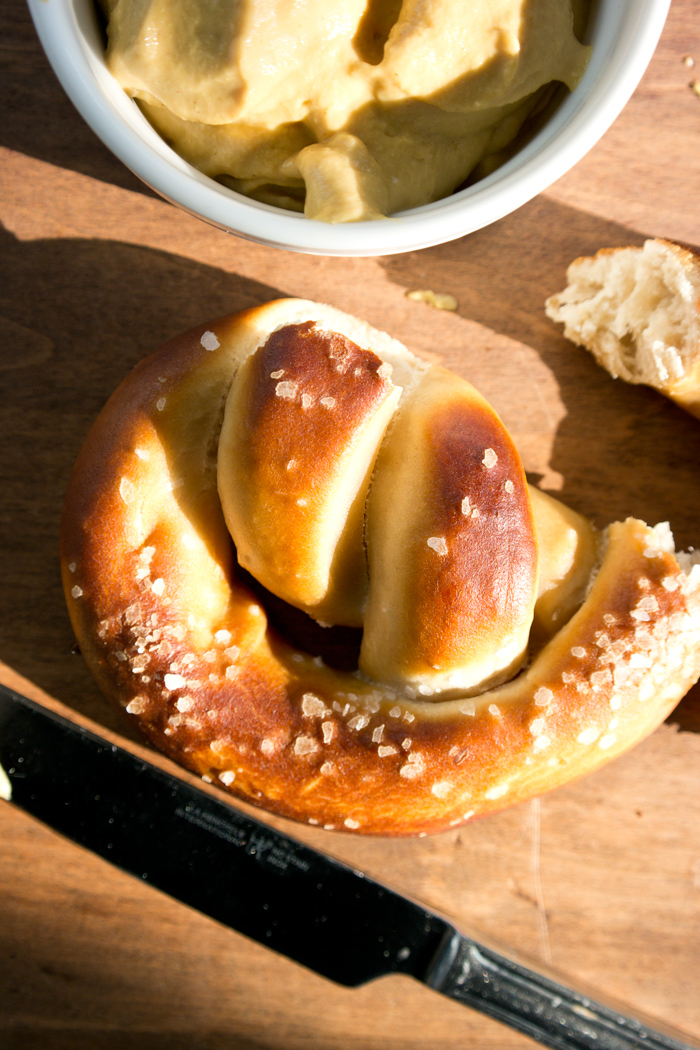 [social_share/]
Carbs to the rescue! I was chilling at my parents house and my mom had a issue of Martha Stewart Living on the coffee table. The cover intrigued me, it was a photo of beautifully rolled, twisted, knotted and salted soft style pretzels…one of my favorites. I read the story of Martha's first experience eating a warm pretzel which got me thinking of my favorite experience. Back in 2010 my hubby and I visited family in Switzerland. We were walking around the downtown area (I can't for the life of me remember what city we were touristing that day) and came upon a farmers market. There was a vendor that had a variety of different pretzels from sticks, twists, knots, buns..you name it they had it. I chose the traditional, they cut it in half lengthwise, smeared on mustard and pickles. It was the best!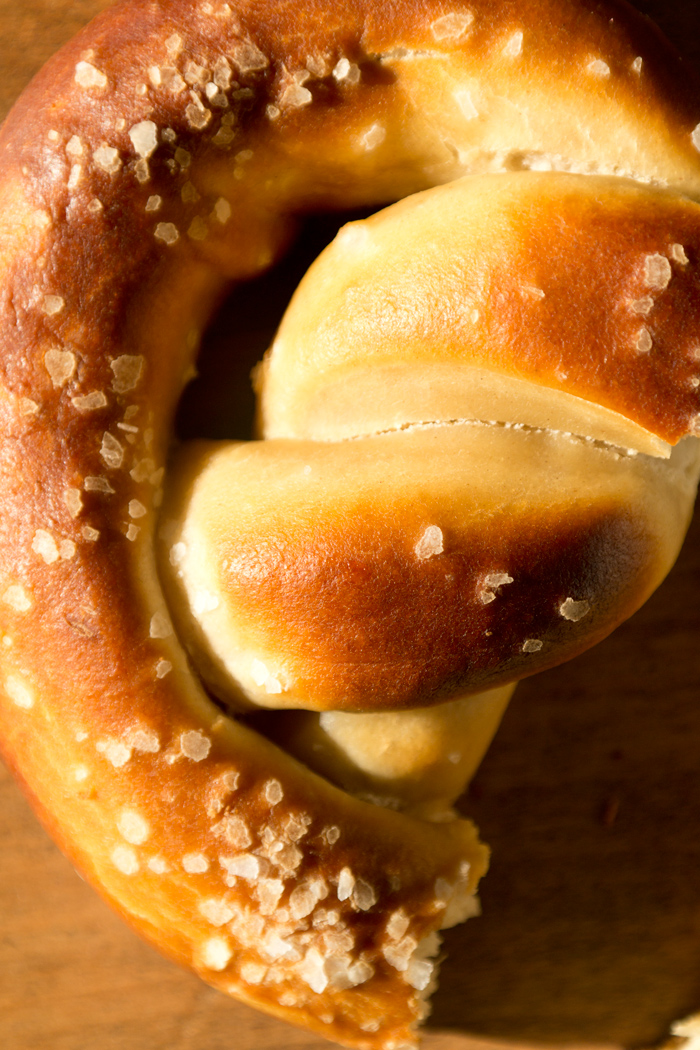 [social_share/]
I enjoy making all my goodies but this was so much fun, I felt like a kid, it turned out to be a stress reliever. Rolling out the dough, twisting and shaping. But the funnest part was the quick 30 second beer broth poaching before the baking. I felt like I was a magician working with my potion. The beer broth is what gives the dough it's shiny skin and helps achieve that amazing golden dark brown color.
Needless to say they came out amazing. The taste was the right balance of yeast, hint of sweet, salty and the texture is soft and chewy. A true pretzel lovers dream come true! I paired mine with Grey Poupon and it was heavenly!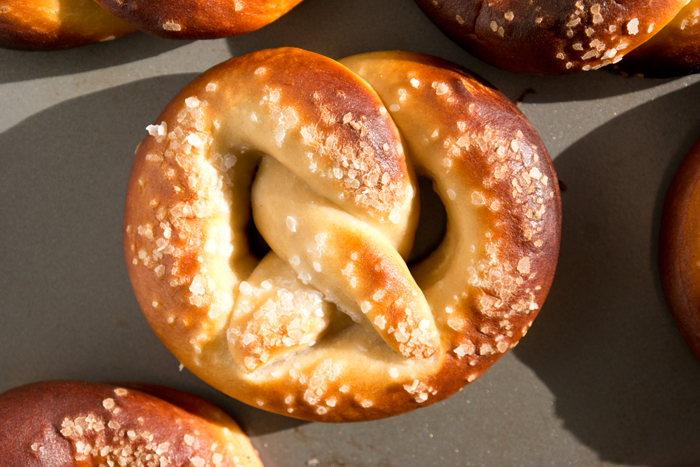 [social_share/]
If you have a pretzel craving this recipe is it!
Enjoy!
Stacey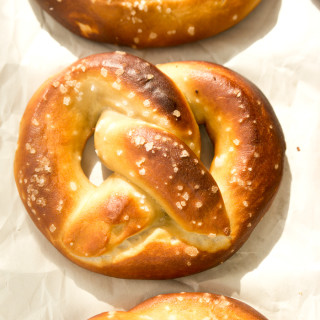 Amazing Soft and Chewy Pretzels
Amazing Soft and Chewy Pretzels. From Martha Stewart Living Magazine.
Ingredients
2

cups

warm water

about 110 degrees

2

packages

1/4 ounce each rapid-rise yeast

3/4

cup

packed light-brown sugar

6 1/2

cups

unbleached bread flour

4

tablespoons

coarse salt

1

stick cold unsalted butter

cut into small pieces

Vegetable-oil cooking spray

1/2

cup

baking soda

1/2

cup

pale ale–style beer

Pretzel salt

I used Kosher salt and it turned out great as well
Instructions
In a medium bowl, mix together warm water, yeast, and 1/2 cup brown sugar; let stand until foamy, 5 to 10 minutes.

In the bowl of an electric mixer, combine flour and coarse salt using your hands.

Add butter and continue to combine with your hands until mixture is crumbly.

Add yeast mixture and, still using your hands, combine until a shaggy dough is formed and water is absorbed.

Using the dough-hook attachment, mix dough on medium-low speed until tight, elastic, and smooth, 6 to 8 minutes.

Wrap in plastic and refrigerate at least 8 hours and up to overnight.

Preheat oven to 450 degrees, with rack in upper third.

Lightly coat a baking sheet with cooking spray.

Roll out dough into a 14-by-12-inch rectangle. Cut dough into twelve 14-inch-long strips, each about 1 inch wide. Working with one piece at a time, form dough into pretzel shape.

Transfer to prepared baking sheet.

Coat a second large baking sheet with cooking spray.

In a wide stockpot, combine 8 cups water, baking soda, beer, and remaining 1/4 cup brown sugar; bring to a simmer over medium-high.

Simmer pretzels, one at a time (or two, with smaller pretzels), about 30 seconds each, holding them under surface of water, use a slotted spoon or spatula.

Transfer to prepared baking sheet. (You can gently reshape pretzels if they become misshapen.)

Sprinkle pretzels with pretzel salt.

Transfer to oven and bake 5 minutes.

Rotate baking sheet and bake until deep brown, 3 to 6 minutes more. Transfer pretzels to a wire rack; let cool slightly.

Serve warm with mustard.
Notes
If pretzels have cooled be sure to place in microwave for 20 seconds to warm them up before serving, they really are best warm.
Make sure not to skip the oiling of the cookie sheet, this is very important.