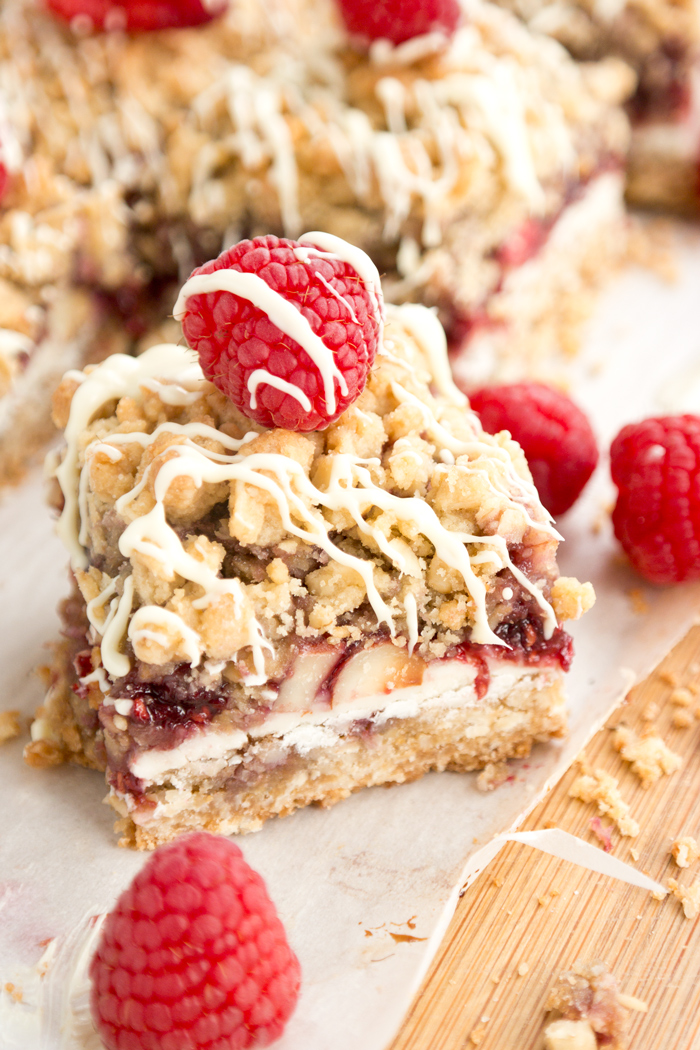 Raspberry Almond White Chocolate Oat Bars. Delicious cozy oats, sweet raspberry filling, crunchy almonds and creamy white chocolate. Need I say more? [social_share/] Yum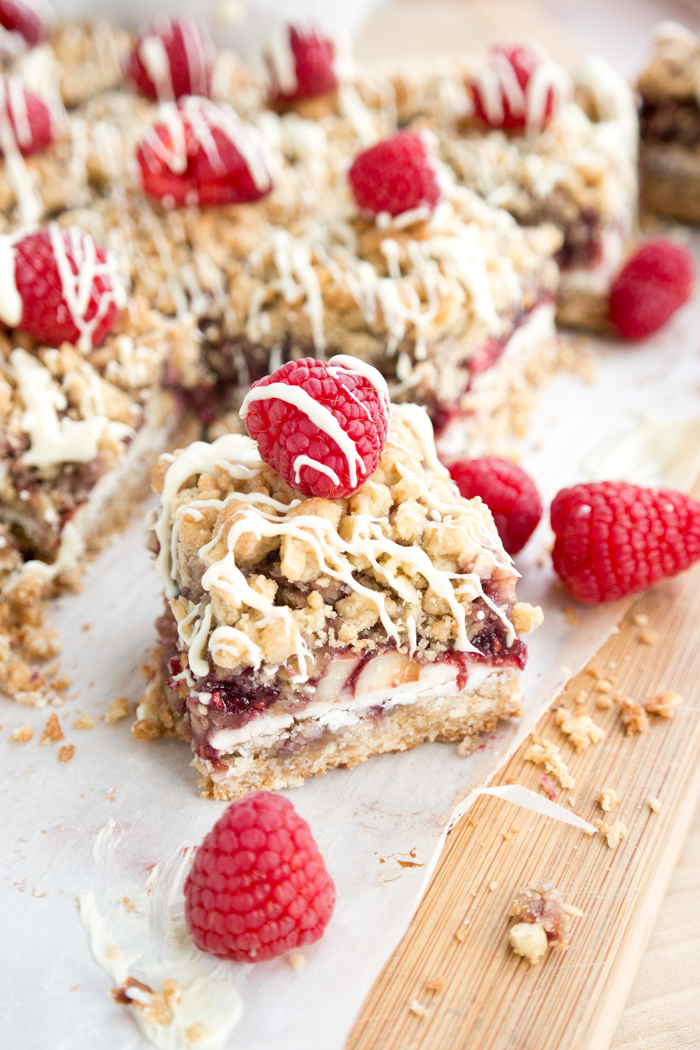 [social_share/] I always have to chuckle at the strong differences between how I imagine the scene for writing each post vs. how the scene really plays out. For example, I always like to imagine myself as a younger version of Diane Keaton's character in "Somethings Gotta Give", passionately writing away at my desk, over looking the ocean, listening to french music, all the time in the world to get it right (minus the broken heart part of course) as the words and recipes just poor out of me. The real scene? My daughter and I are both scrunched at my desk which is half covered in dolls, there are no oceans in Michigan, I am listening to my daughter play "Let It Go" from Disney's Frozen for the umpteenth time and I'm trying to finish this post from what I started last night on my lunch break because I have a standard 40 hour a week job as well, lol. As you can see there is a vast difference between the two but all in all the reality is pretty entertaining as my daughter starts critiquing my photos, lol.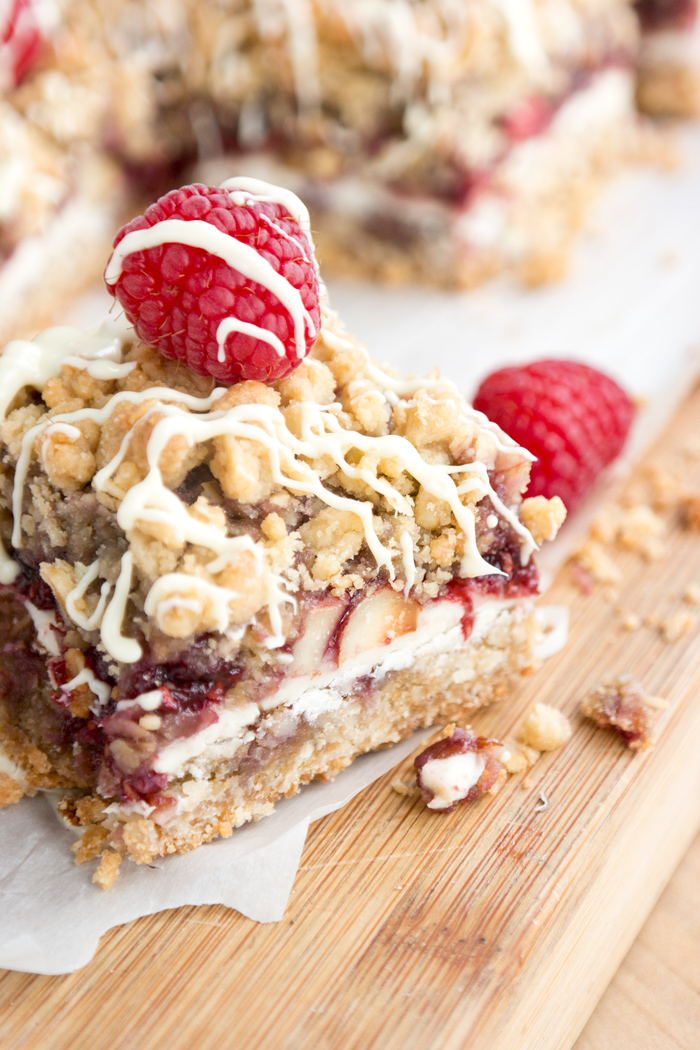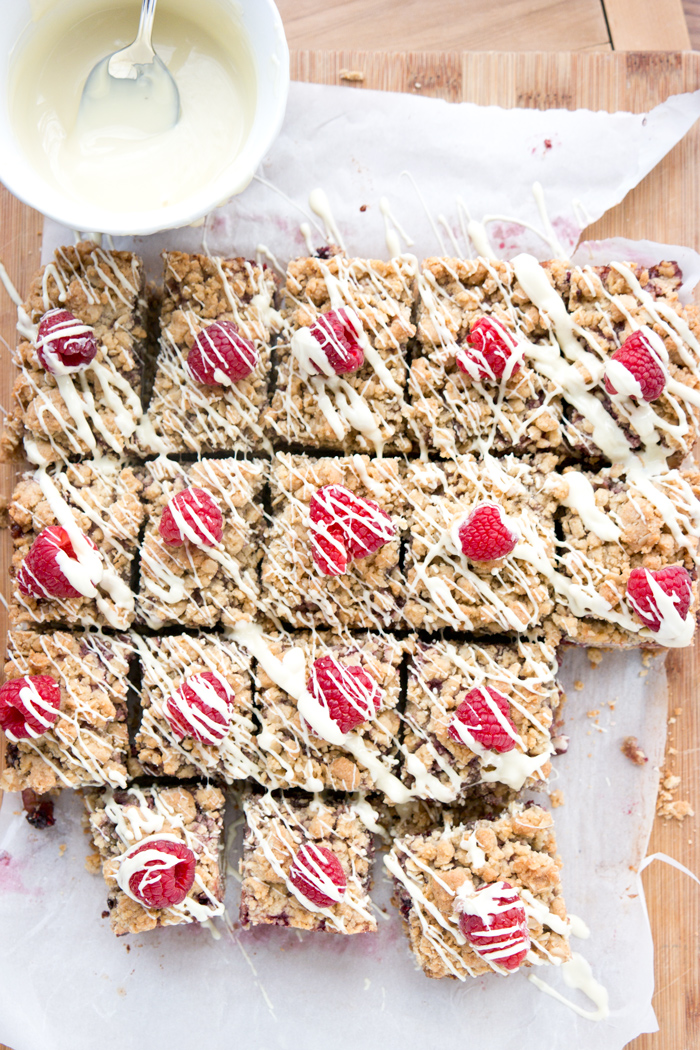 [social_share/] Making reality sweeter are these Raspberry Almond White Chocolate Oat Bars. I've been craving warm and cozy things this week. Coffee and lots of it, sweaters, chamomile tea and now these. Oatmeal is the coziest all on its own but then we add in raspberries, white chocolate and almonds to this crumbly buttery cookie and this cookie is taken to a whole new level of comfort food. Now just imagine for a second if you will, sitting on the couch in your favorite sweater, covered in your favorite blanket, drinking piping hot coffee or tea and eating one (or two) of these Raspberry Almond White Chocolate Oat Bars. Does it get any better than this?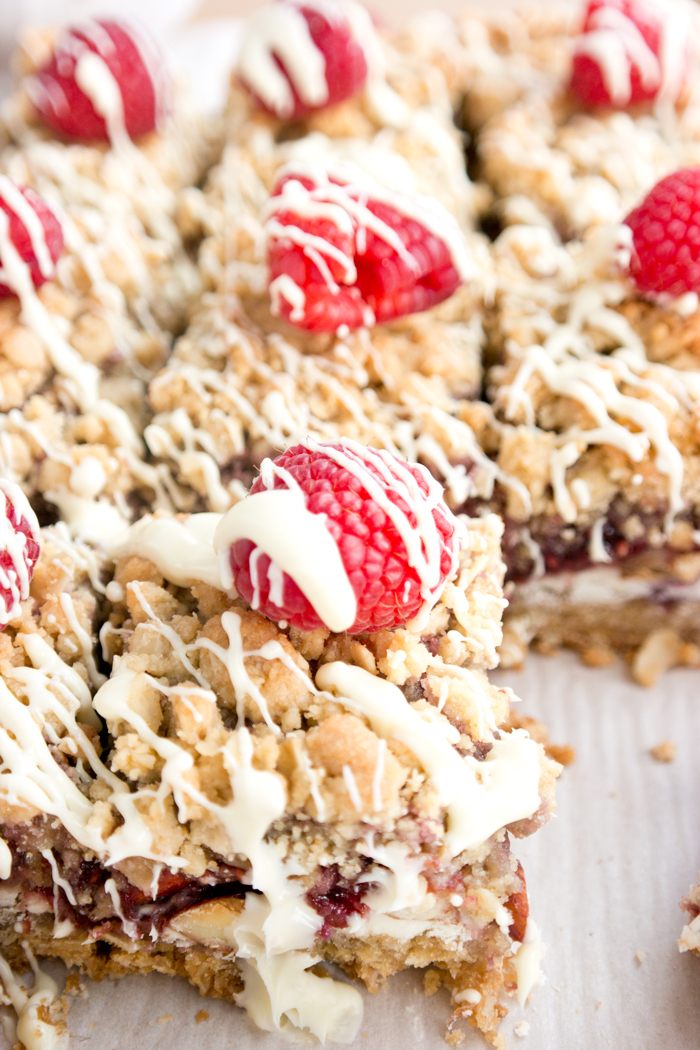 [social_share/] These Raspberry Almond White Chocolate Oat Bars are a wonderfully filling and delicious treat! Enjoy! Stacey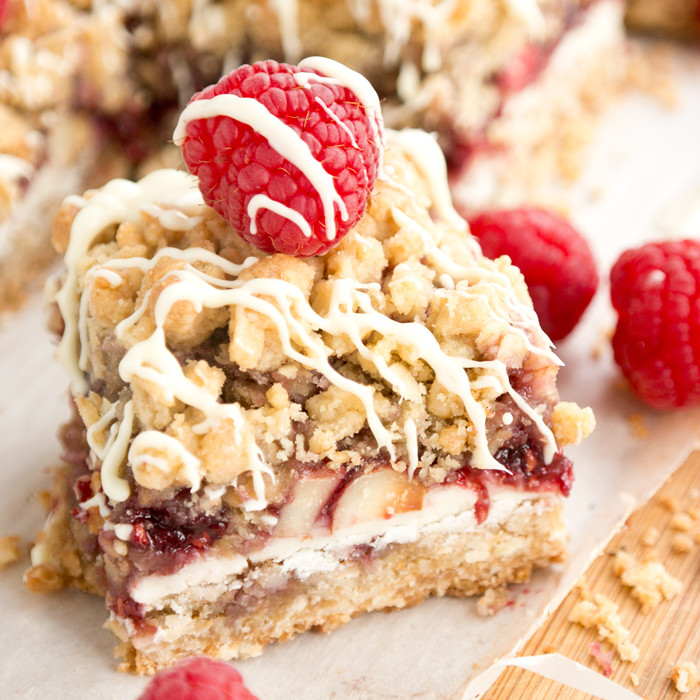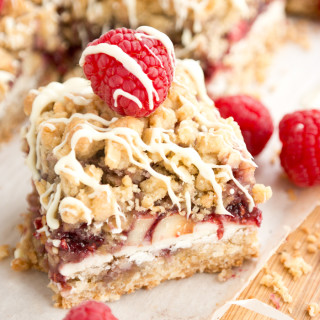 Raspberry Almond White Chocolate Oat Bars
Raspberry Almond White Chocolate Oat Bars.
Ingredients
COOKIE BASE AND TOP:

2 1/4

cup

all purpose flour

2

cups

rolled oats

1 1/2

light brown sugar packed

1/2

tsp

baking soda

1/2

tsp

salt

1

cup

butter at room temperature

1

large egg

RASPBERRY FILLING:

make ahead of time

12

oz

bag frozen raspberries

1

cup

sugar

FILLING:

2

cups

white chocolate chips

1

cup

chopped roasted almonds
Instructions
Line 9x9 pan with parchment

Pre-heat oven to 350 degrees F

RASPBERRY FILLING:

Make ahead of time so mixture can cool to room temp.

Put raspberries into a sauce pan with 1/4 cup water.

Add sugar, stir to combine.

Bring mixture to a simmer and simmer on med/low for 1 hour, stirring occasionally.

Remove from heat and let cool to room temperature.

COOKIE BASE:

In bowl of mixer on low speed mix flour, oats, brown sugar, baking soda, salt until combined.

Slowly add in the butter in chunks with mixer on low.

Add in egg, mix on medium/low speed until you have a unified crumbly mixture.

Pour half of the mixture into prepared pan and press into place evenly with back of measuring cup.

Bake 15 minutes.

FILLING:

Evenly spread out white chocolate chips over cookie.

Evenly sprinkle on the almonds.

Pour on the raspberry sauce you made and gently spread evenly with spatula.

TOPPING:

Take the second half of the cookie mixture and evenly distribute over entire top.

Bake 30 minutes.

Remove from oven and let cool completely before cutting.
Notes
Prep time includes making the raspberry sauce for filling.