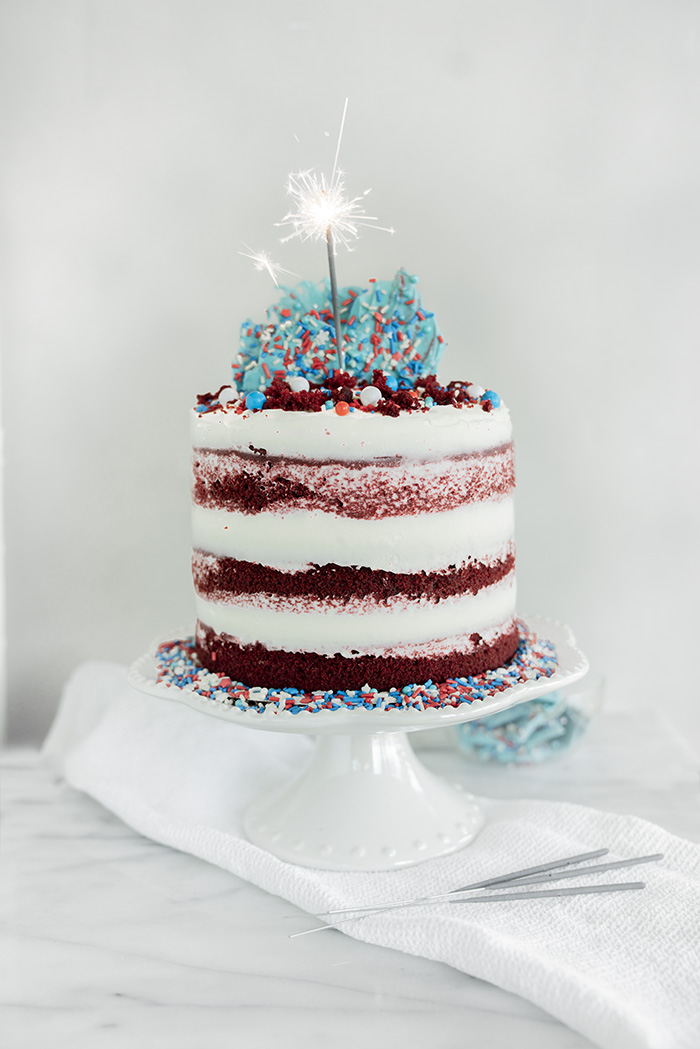 4th of July Red Velvet Cheesecake Cake. Moist, tender crumb red velvet cake with layers of whipped cheesecake filling. The perfect 4th of July dessert.
Is it a cake? Is it a cheesecake? Short answer…both! This take on a classic red velvet cheesecake replaces cream cheese frosting with a light and airy whipped cheesecake filling. All the flavor, all the layers but no heaviness. And even though I listed it as a 4th of July dessert it would be fabulous anytime of the year. So lets look at the breakdown shall we?
4TH OF JULY RED VELVET CHEESECAKE CAKE:
Red velvet cake is a southern classic. Due to the hint of cocoa in an otherwise vanilla cake it takes on it's own unique flavor.
Thanks to some red gel food coloring it has a rich hue of red, again adding to it's uniqueness.
The crumb is tender and moist, making it a lighter cake that melts in your mouth.
Cheesecake known for it's heaviness is completely transformed here into a light, fluffy whipped filling.
The whipped cheesecake filling is no bake and so simple to make.
As the classic cheesecake would have it, this filling is every bit of that balanced sweet and tangy we love.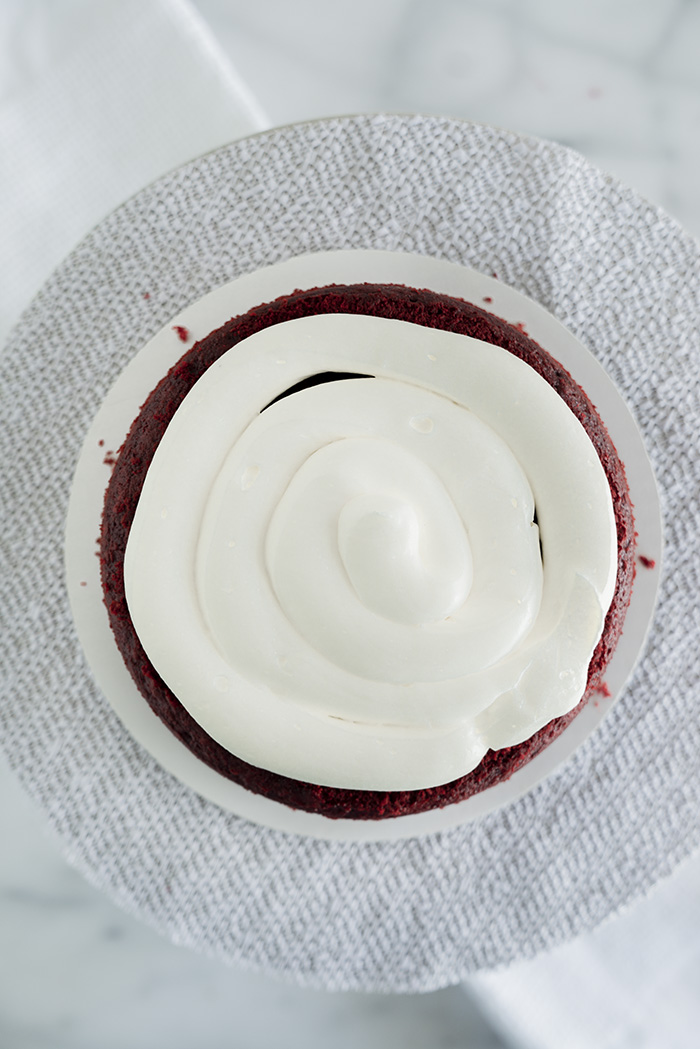 TIPS:
The cake is pretty straight forward. Because it is the 4th of July I really amped up the red food coloring and toned down the cocoa a bit. I wanted that red color to shine through.
For the cake make sure that all your ingredients are room temp.
The secret to the whipped cheesecake filling? Whipped cream. Make sure that your mixing bowl and heavy cream are chilled to insure light and fluffy, pillowy whipped cream.
Cream cheese should be room temp, mix with the sugar so it gets well blended. You should not feel gritty sugar in your cheesecake filling.
A piping bag works best when add the cheesecake filling onto each layer however an offset spatula will work just fine to.
If you find your filling getting a little too soft just refrigerate for 15 minutes, give it a stir and you should be good go.
Garnish – simply melt some white chocolate (about 1/2 cup) and add some blue food coloring, mix well. Spread on parchment with with spatula until about 1/4 inch thick. Sprinkle on your sprinkles. Refrigerate 4 minutes or until set. Then break apart and arrange on the cake. The sprinkles used here are from Simply Sucre and called "Fireworks Sprinkle Mix" .
If the above is too much for you, simply crumble some of the red velvet crumbs on top. You should have some left over from the humps you trimmed off the tops of your cakes.
Refrigerate cake really well. The whipped cream cheese filling, though stable, is softer in nature. Refrigerating the cake all the way through will help stiffen it up. BUT make sure to wrap the outside in plastic wrap to insure it stays moist.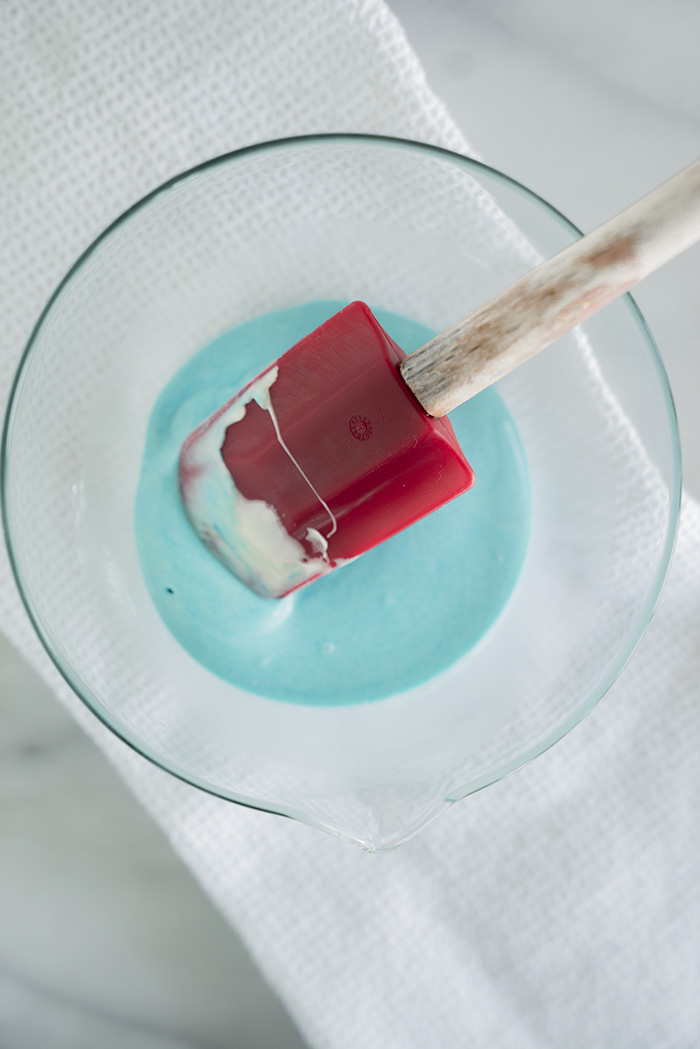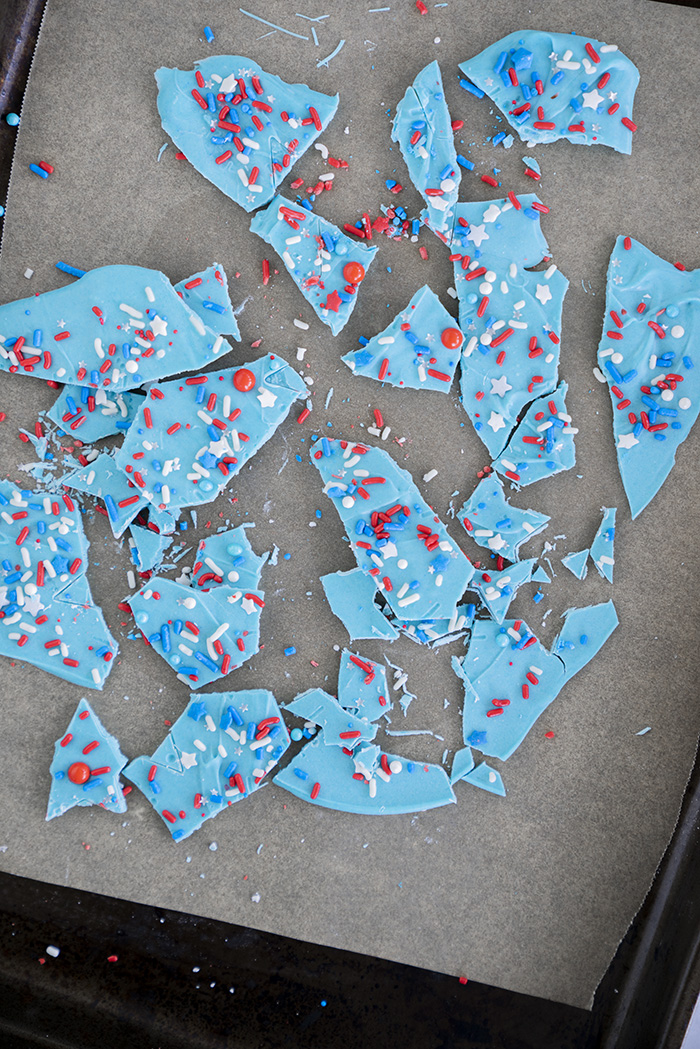 Looking for a 4th of July dessert? Or a fun twist on a classic cheesecake anytime of the year? This Red Velvet Cheesecake Cake is it!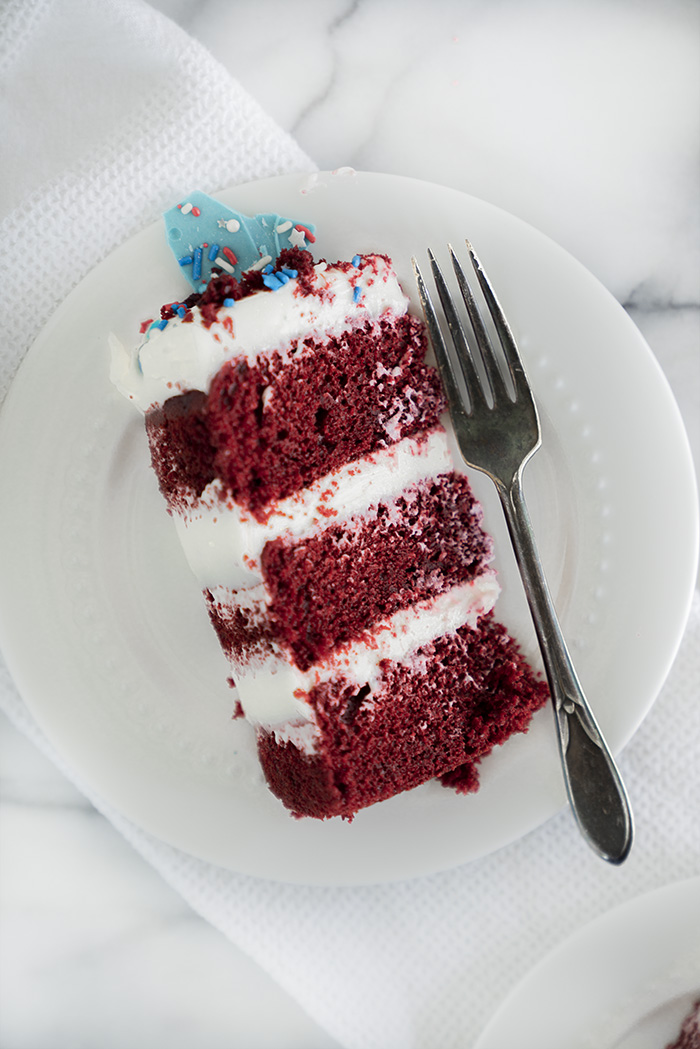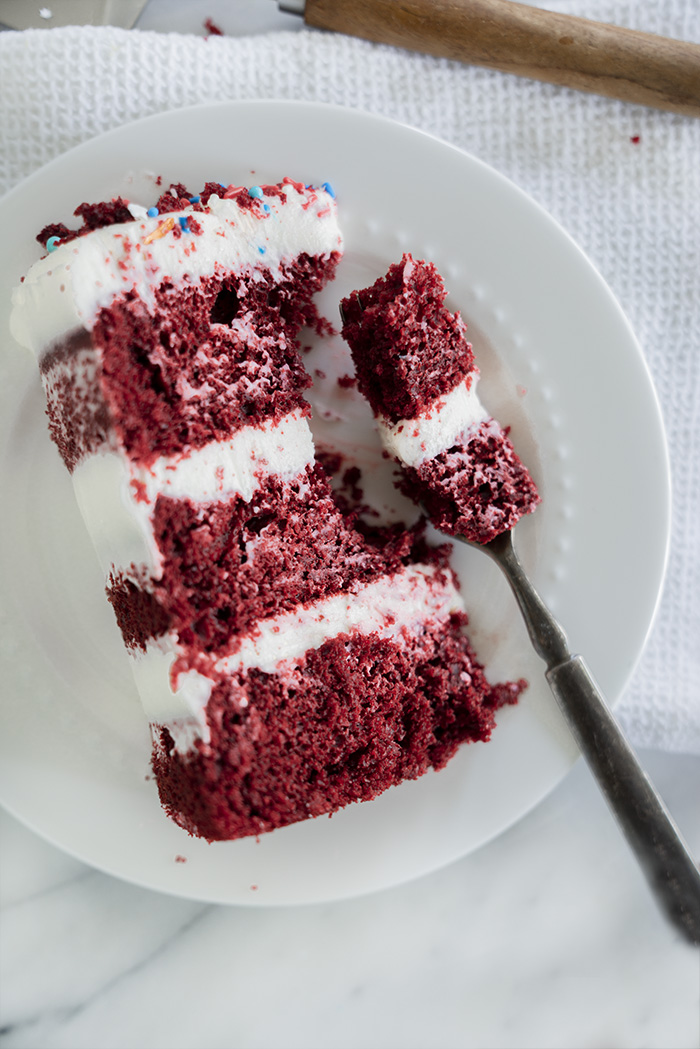 Enjoy!
Stacey
PIN FOR LATER. YOU'LL BE GLAD YOU DID 🙂
4th of July Red Velvet Cheesecake Cake
4th of July Red Velvet Cheesecake Cake. Moist, tender crumb red velvet cake with layers of whipped cheesecake filling. The perfect 4th of July dessert.
Ingredients
3 3/4

cup

cake flour

1 1/2

tsp

salt

1 1/2

tbsp

cocoa powder

2 1/4

cup

sugar

2 1/4

cup

canola oil

3

eggs

large

2

tsp

red food coloring

2

tsp

vanilla

1 1/2

cup

buttermilk

room temp

2 1/4

tsp

baking soda

3

tsp

white vinegar

WHIPPED CHEESECAKE FILLING

1 1/2

cup

heavy whipping cream

chilled

12

ounces

cream cheese

room temp

3/4

cup

sugar

1/2

tbsp

vanilla extract

GARNISH

1/2

cup

white chocolate melted

3

drops

blue gel food coloring

sprinkles
Instructions
Heat oven to 350 degrees F. Generously butter 3 x 7 inch round cake pans. Sprinkle with flour, and tap out the excess; line bottom with parchment, set aside.

In a medium bowl, whisk cake flour, salt, and cocoa; set aside.

In the bowl of an electric mixer fitted with the paddle attachment, combine the sugar and oil, and beat on medium speed until well combined.

Add eggs, one at a time, beating well after each addition.

Add food coloring and vanilla, and beat until well combined.

Add flour mixture, alternating with buttermilk, scraping the sides of the bowl with a rubber spatula as needed.

In a small bowl, mix baking soda and vinegar until combined.

Add to batter, and beat for 10 seconds.

Evenly divide batter between the prepared pans.

Bake until a cake tester inserted in the center of each cake comes out clean, 25-30 minutes.

WHIPPED CREAM CHEESE FILLING:

In a chilled mixing bowl whip up the heavy whipping cream until using the whisk attachment. Whip until soft pillowy whipped cream is formed and no more liquid remains. Set aside.

In bowl of mixer fitted with paddle attachment, whip the cream cheese, sugar and vanilla until smooth and creamy.

Add the whipped cream to the cream cheese mixture. Fold with spatula by hand until completely blended.

Cut off any humps that formed on top of cake, set aside. Put a small dollop of cheesecake filling on cake board/cake plate so the cake sticks.Put on the cake first layer, pipe/spread on layer of cream cheese filling. Repeat with next cake layer.Place last layer of cake on top. Spread on layer of cheesecake filling. go around the the outside of the cake where the filling indentations are, fill those in with cheesecake filling and smoth out with spatual. Garnish as desired. Refrigerate until ready to serve.