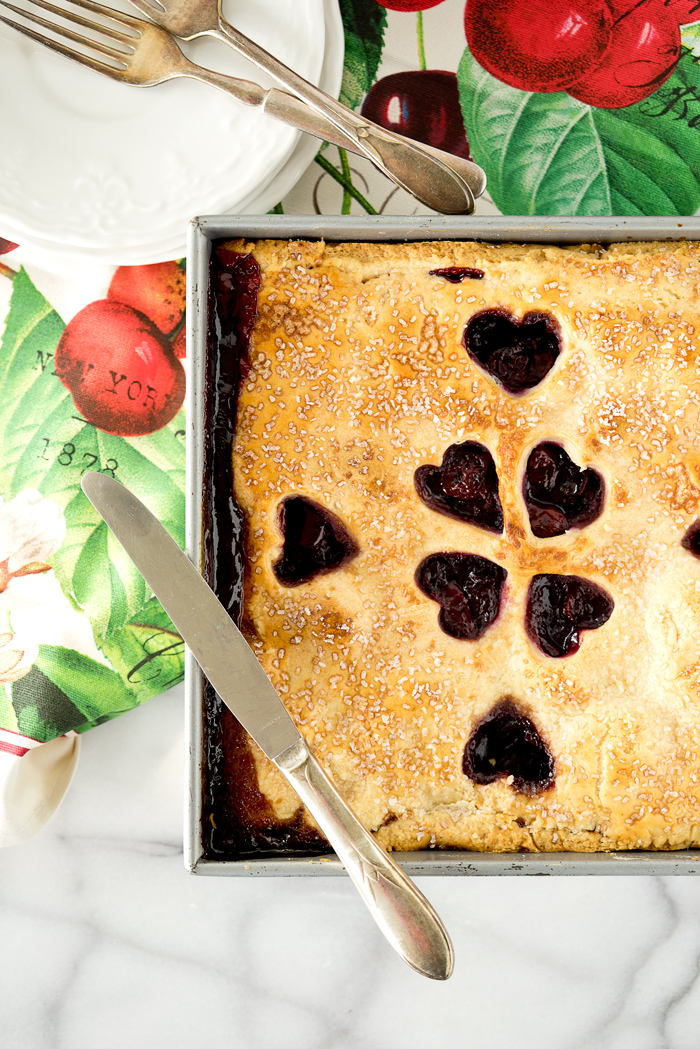 1/2 Slab Cherry Pie. Sweet, plump, juicy cherries and buttery, flaky crust all baked in a half sheet pan for a rustic, simplistic pie thats sweet and delicious.
Confession time. This 1/2 Slab Cherry Pie came about because the truth is I did not buy enough cherries for an entire slab pie as originally planned, lol. I swear I had enough cherries in that large, heavy bag but by the time I pitted them all I had enough for a super filled 1/2 Slab Cherry Pie. Interestingly enough this pie ended up being the perfect serving size for my family and if I had to guess a lot of families.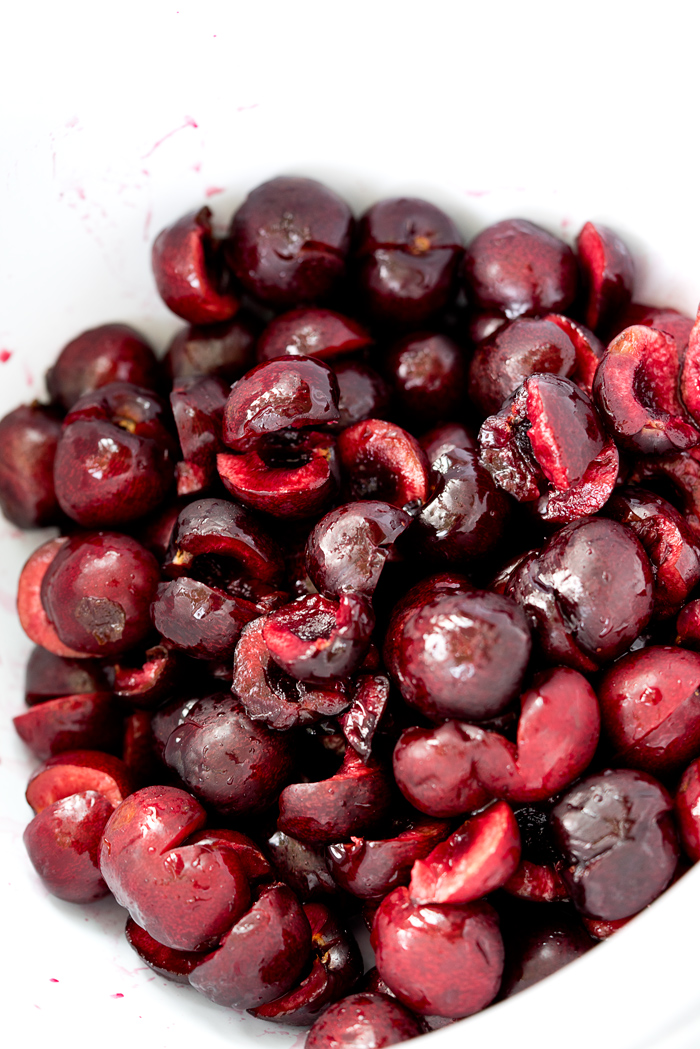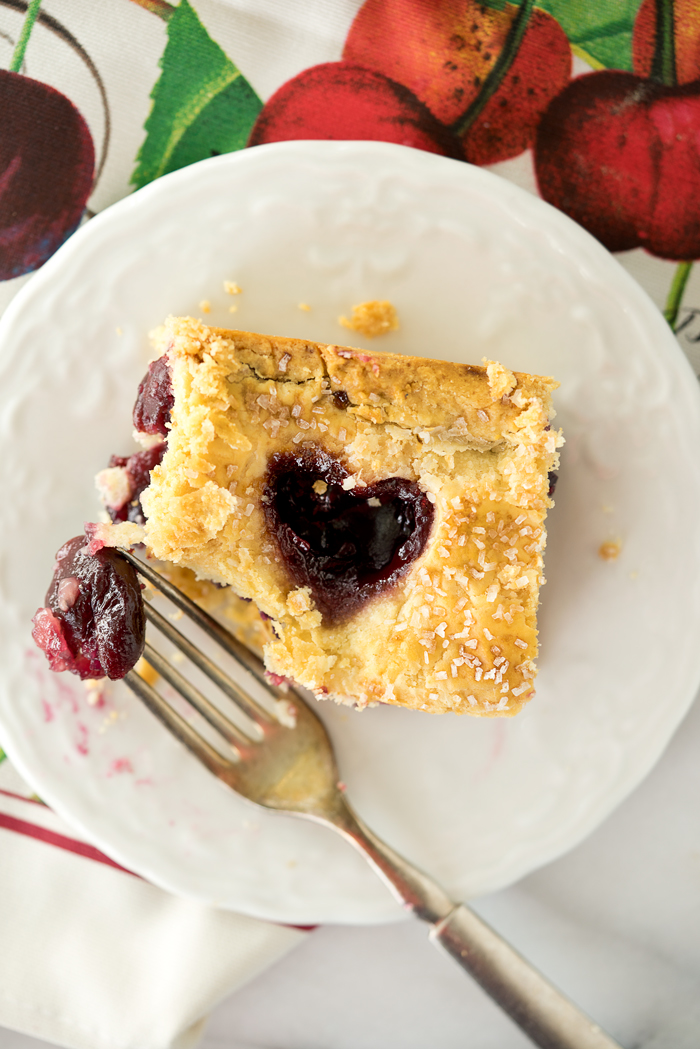 I have to admit I really love the idea of a slab pie, the lazy part of me could relax, the pressure to braid, twirl and intertwine strips of carefully cut dough for the top of the pie were put to rest. The rustic vibe of a slab pie makes it every bit as delicious as a traditional pie but a tad simpler. And you have no concerns about just digging that knife into and cutting yourself out a big piece for dessert.
For this 1/2 Slab Cherry Pie I pitted all my own cherries. Nuts as it may sound I find tasks like this therapeutic, I do some of my best thinking and relaxing during these tedious tasks. Day dreaming of the final result also keeps me motivated. My fingers were stained red, the counter was splattered with cherry juice and by the time I got to the last cherry I was glad to be done with that part, lol. The cherries were then mixed a few good ingredients to help sweeten and thicken the filling as it cooks.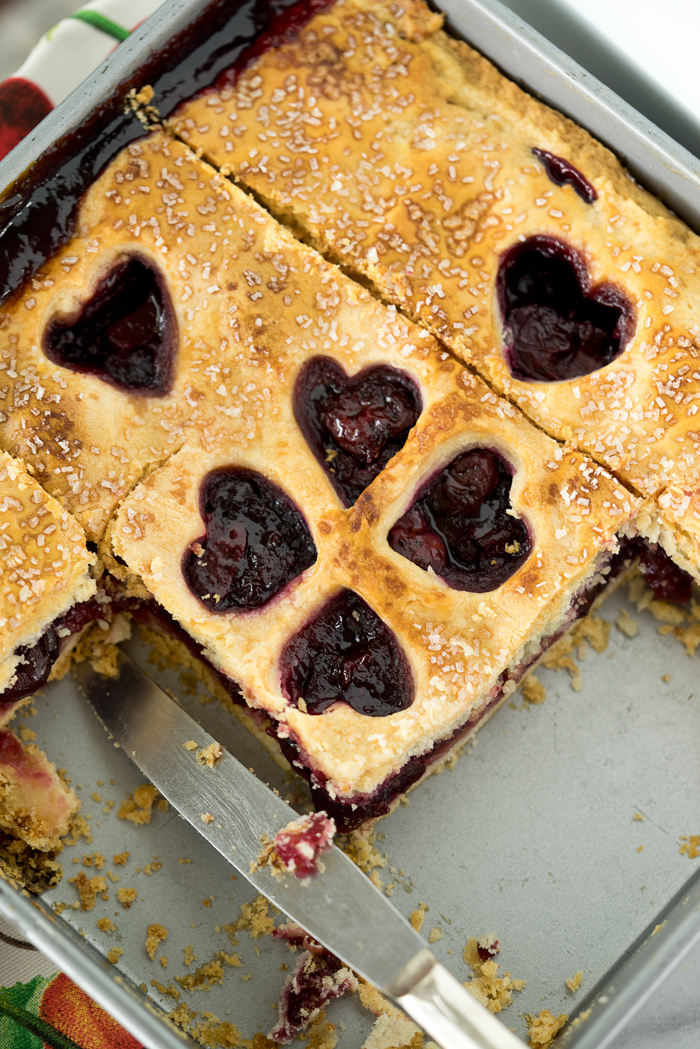 I made a simple, classic pie crust, nothing off the rails. Just good old fashioned simple, buttery, flaky deliciousness. Flour, butter, very little sugar, pinch of salt, cold water and done!
When rolling out the crust I used my 8×8 pan as my guide, cutting around the edges so I would know the crust would fit into the pan and go up the sides as well. Then repeat with the top, which I used a heart cookie cutter to create the vent holes. I thought it was a sweet touch.
If you have visited here before you know how much I love a good sprinkling of sanding sugar on my crusts. If this is your first time then just know its one of my favorites and the little added texture and crunch the sanding sugar gives to a crust just can't be beat.
Voila! After 50 minutes I was in 1/2 Slab Cherry Pie heaven!! The crust was a beautiful golden brown, the filling a deep cherry red and the juices were bubbling and bursting out of the vent holes. It is a beautiful sight.
A 1/2 Slab Cherry Pie is just enough for any family and serves 9.
Enjoy!
Stacey
FORGOT TO PIN IT? Here you go! Thanks.
Yum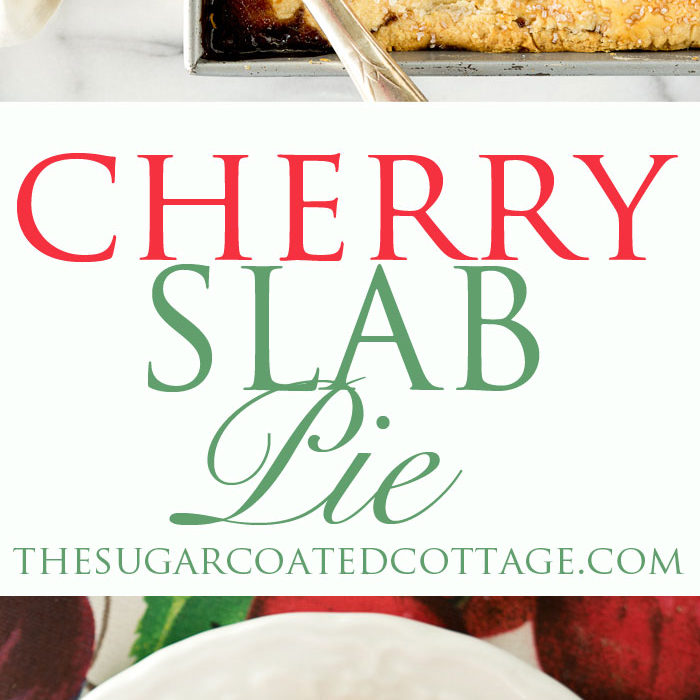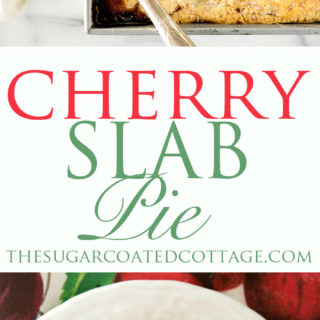 1/2 Slab Cherry Pie
1/2 Slab Cherry Pie. Sweet, plump, juicy cherries and buttery, flaky crust all baked in a half sheet pan for a rustic, simplistic pie thats sweet and delicious.
Ingredients
CRUST:

2 1/2

cup

all purpose flour

1

tsp

salt

1

cup

cold unsalted butter cut into small pieces

1/4

cup

ice water

more if needed

TOP OF PIE:

1

egg white

1

Tbsp

sugar

FILLING:

4

cups

pitted cherries

1

cup

granulated sugar

1

Tbsp

all purpose flour

3

Tbsp

corn starch

Juice of 1 lemon
Instructions
Preheat oven to 400 Degrees F

Have 8x8 pan ready, set aside.

FILLING:

Add all the ingredients and stir so cherries are evenly coated. Set aside.

PIE CRUST:

Add flour and salt to food processor

Add the pieces of cold butter and mix for about 10 seconds or until mixture is a coarse meal texture.

Add ice water a very little bit a time through the feed tube while food processor is running until dough holds together but is not sticky or wet.

Empty onto a large piece of plastic wrap, press together to form a dough ball.

If dough is too soft refrigerate.

Roll out dough to 1/8 inch thick on a floured surface.

Using 8x8 pan as a guide cut dough adding an extra inch around for the sides of the pan.

Fit the cut dough into the pan. Pressing the sides up as needed.

Repeat rolling out the second dough disk, using 8x8 pan as guide cut closer to the actual size as this piece will only be going on top.

Cut vent holes.

Lay on top of pie and gently but firmly press the edges of the top dough and bottom dough together to keep the filling in while baking.

With a small pastry brush brush on egg white to top of crust and ever so lightly sprinkle with sugar.

Bake 45-50 minute or until filling is bubbling and crust is golden brown.

Cool.
SaveSave
SaveSave
SaveSave
SaveSave
SaveSave
SaveSave
SaveSave
SaveSave