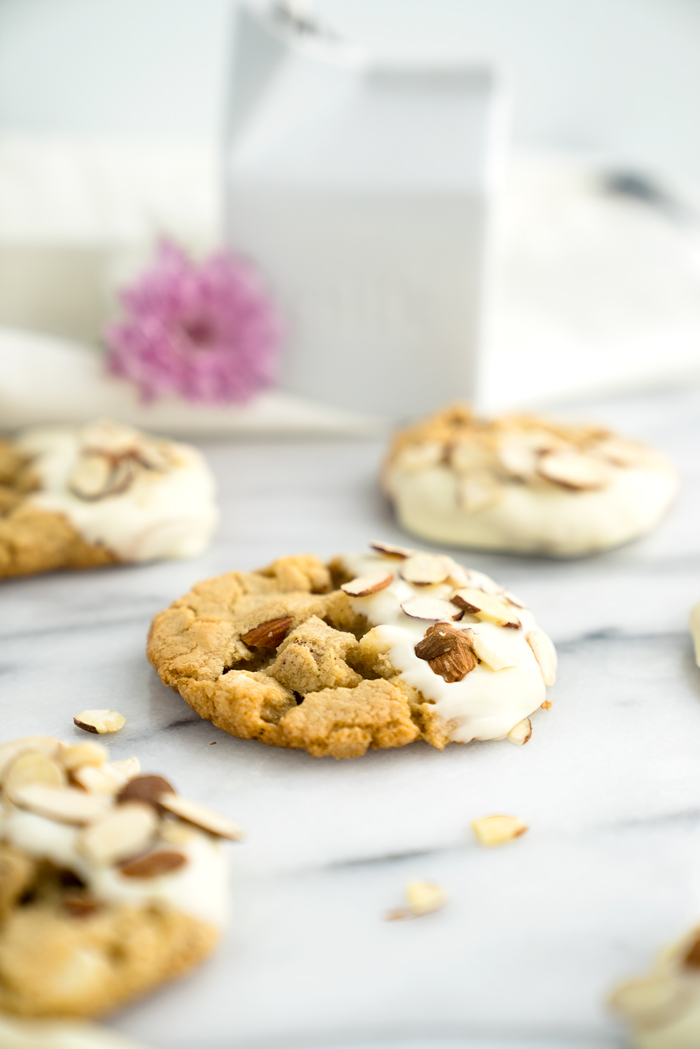 White Chocolate Roasted Almond Cookies. Crispy, crinkly, buttery cookies studded with crunchy roasted almonds and creamy white chocolate chips.
Yesterday I found myself staring down the barrel of a freshly steamed piece of broccoli. Beautifully green and bright, everything healthy a person could ask for. However the closer it got to my mouth the harder my jaw locked, the harder my face cringed and even my stomach was like, "this isn't happening today".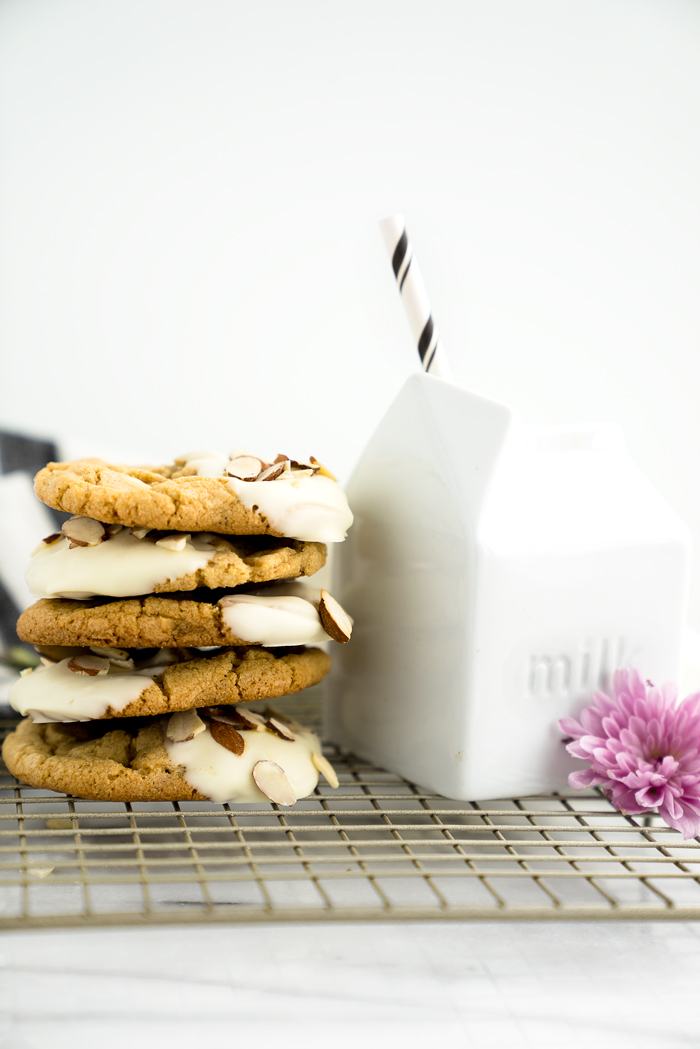 Since January 2nd I have been eating ridiculously on track, no specific program, just healthy. I have only a 1/2 of a piece of what ever dessert I make and then give it away quickly. I followed that routine with these cookies. I took my first bite and thought I had died and gone to heaven, then the next bite. My brain is starting to figure me out and started to tell me to eat this cookie faster, if I just shoved it in my mouth all at once it would all be gone before I had time to reason with myself and stick to the plan, lol. Reason sadly won and I stuck to my plan. But ever since having half of this cookie nothing and I mean nothing has tasted good. My tastebuds and sweet tooth are officially holding broccoli hostage.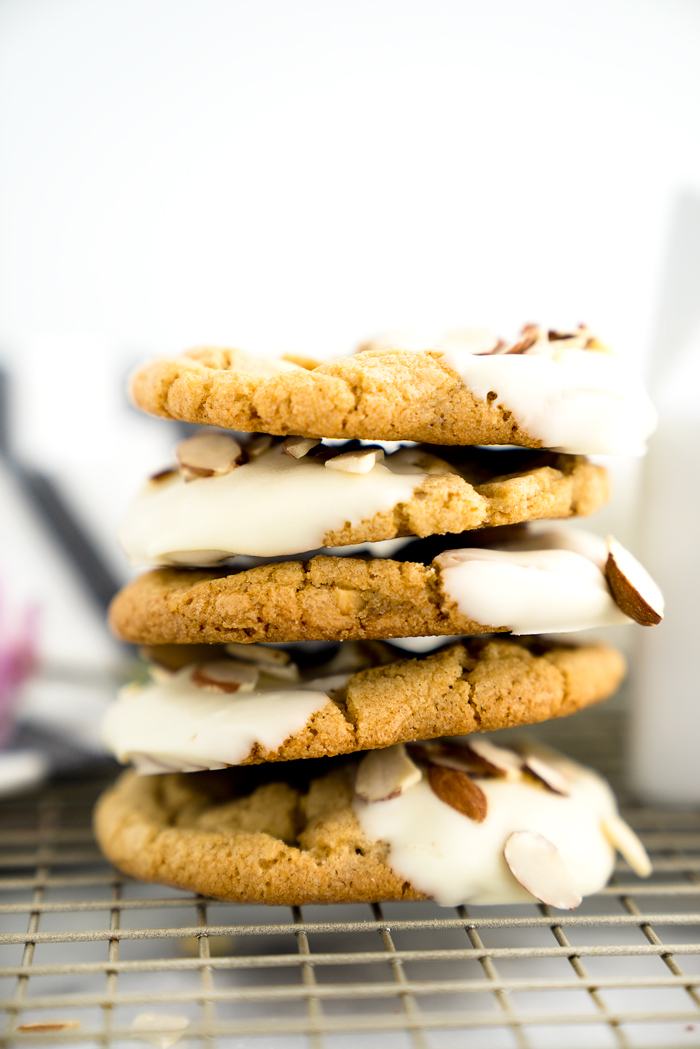 To make matters worse I started thinking of all these work arounds. Does anyone remember the Sex In The City episode where Miranda's friend moved to LA and lost a ton of weight by only chewing and tasting his food and spit it out before swallowing? Yes this went through my mind (head hanging in shame). How about the episode of Seinfeld where George picked the donut out of the trash… Yes, it crossed my mind.
So what did I do, since I was obviously on the verge of food crazy? I ate a damn cookie and not the half that was in the trash just to be clear, lol. It was worth every single bite and I'm back on track. I still can't look at broccoli, I think that will take time 😉 .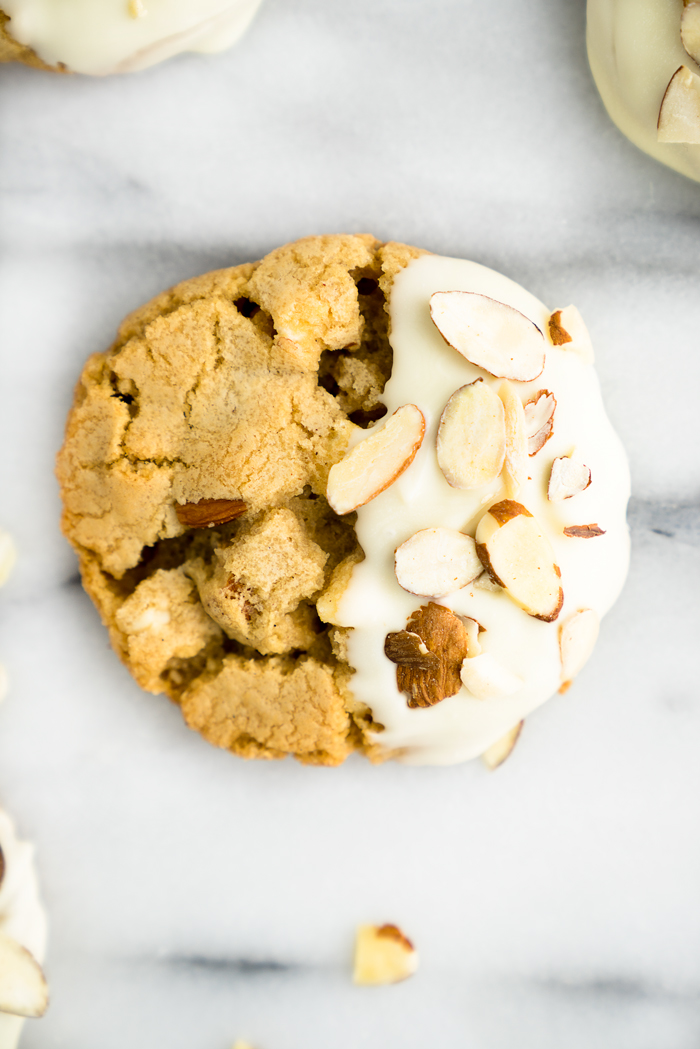 These White Chocolate Roasted Almond Cookies are the whole package. Sweet, buttery dough with hints of cinnamon that bakes up to this crinkly, bumpy, beautiful finish. Hidden inside are sweet, creamy white chocolate chips and crunchy roasted almonds. Because I like to keep going I then dipped each cookie in white chocolate and then sprinkled with more almonds. Every cookie dream come true.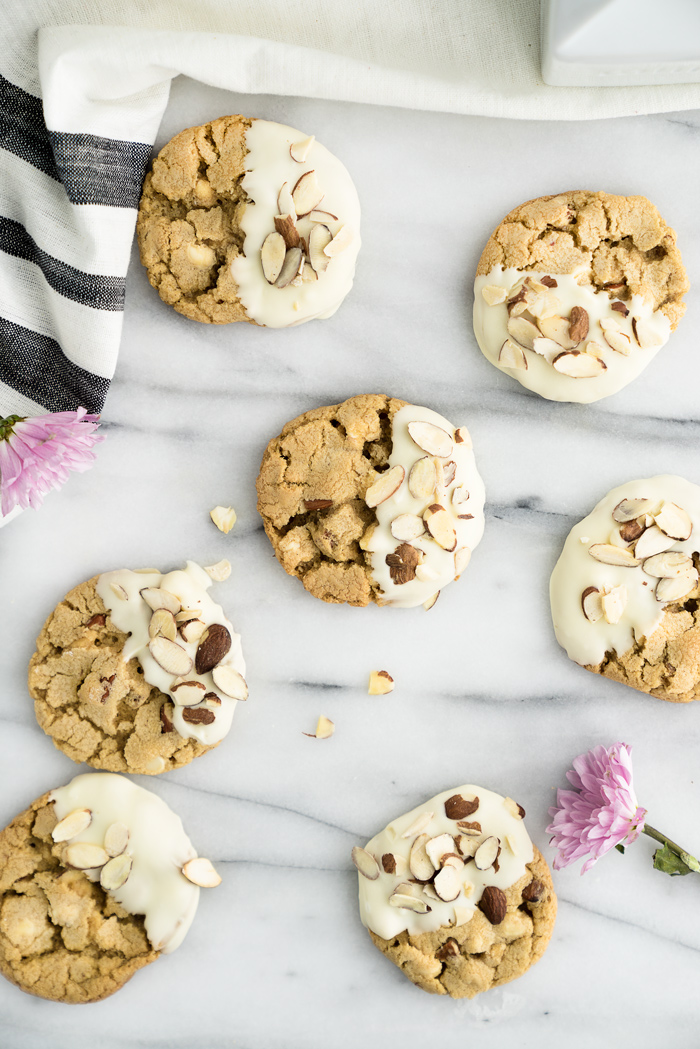 If my obsessive story isn't proof enough of how amazing these cookies are then I have some broccoli you can have 😉 .
Enjoy!
Take care.
Stacey
Here are some of the products used to make this. Whether you are interested in buying through the link or just want a visual of what to look for see below. (Please note some of the links below are affiliate links which means if you purchase from the link I get a small commission. I use these products and stand behind them which is why I chose to tell you about them. Thank you for your supporting this blog. )
FORGOT TO PIN IT? Here it is. Thanks.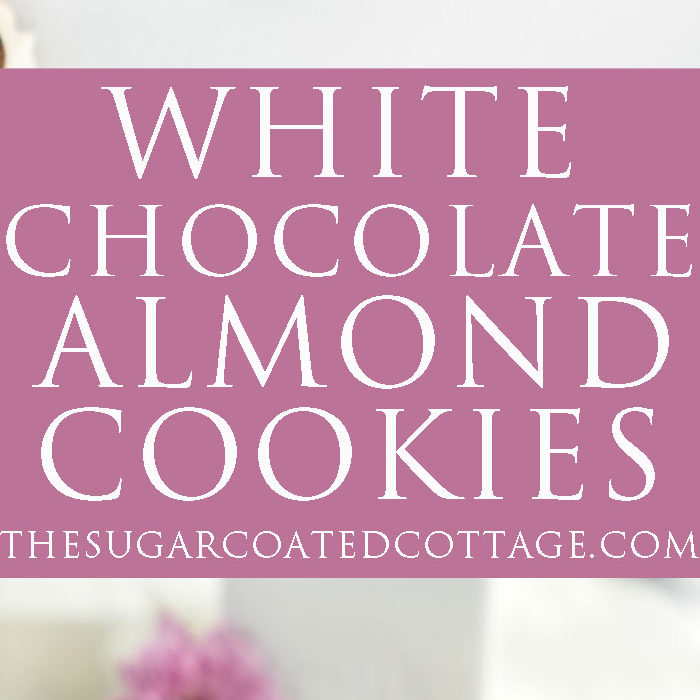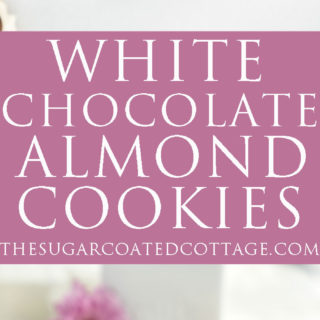 White Chocolate Almond Cookies
Ingredients
COOKIES:

1 1/4

cups

all purpose flour

1/2

tsp

baking soda

1/2

tsp

baking powder

1/4

tsp

cinnamon

1/4

tsp

salt

1/2

cup

unsalted butter

1/4

cup

granulated sugar

3/4

cup

light brown sugar packed

1

large egg

1

teaspoon

vanilla extract

1/2

tsp

almond extract

3/4

cup

white chocolate chips

1/2

cup

rough chopped roasted almonds

GARNISH

optional:

2

cups

white chocolate melted

1

cup

slivered almonds
Instructions
Preheat oven to 325 degrees F. Line 2 cookies sheets with parchment paper, set aside.

In a large bowl add the flour, baking soda, baking powder, cinnamon and salt.

In the bowl of a mixer cream the butter until light and pale.

Add in the sugars and continue mixing, about 1 minute.

Add the egg and extracts. Mix well to combine.

Slowly add in the flour mixture with mixer on low until all incorporated.

Bring mixer to medium speed and mix 30 seconds until dough forms.

By hand mix in the white chocolate chips and almonds.

Using 1 1/2 inch cookie scoop, scoop out each cookie and place on tray 2 inches apart.

Roll each scooped cookie into a ball, this helps achieve a uniform shape and size.

Bake 11-12 minutes or until crackled and golden brown.

Repeat with remaining batter.

Cool completely.

GARNISH:

Dip half of each cookie in melted white chocolate and sprinkle with the slivered almonds.

Let set in cool dry place.

Store in airtight container.
SaveSave
SaveSave
SaveSave
SaveSave
SaveSave
SaveSave
SaveSave