[social_share] Yum
This post is sponsored by Brachs Candy – I have enjoyed using and eating (more than my fair share) their products since childhood. Today I am excited to show you Halloween treat using Mini Candy Corn.
___________________________________________________________________________________________________________________________________
So for about 2 months now I have had a dilemma, an interior design dilemma. I sit in my office for 8+ hours a day and it is the most unfinished room in the house. I guess that's my own fault, it had wall paper, not so bad but not so good wall paper, think late 80's, early 90's black and gold. It was out of date but still in good condition. One day I noticed a corner peeling. I thought I'm just gonna peel a little bit behind the door to see how easy it pulls up.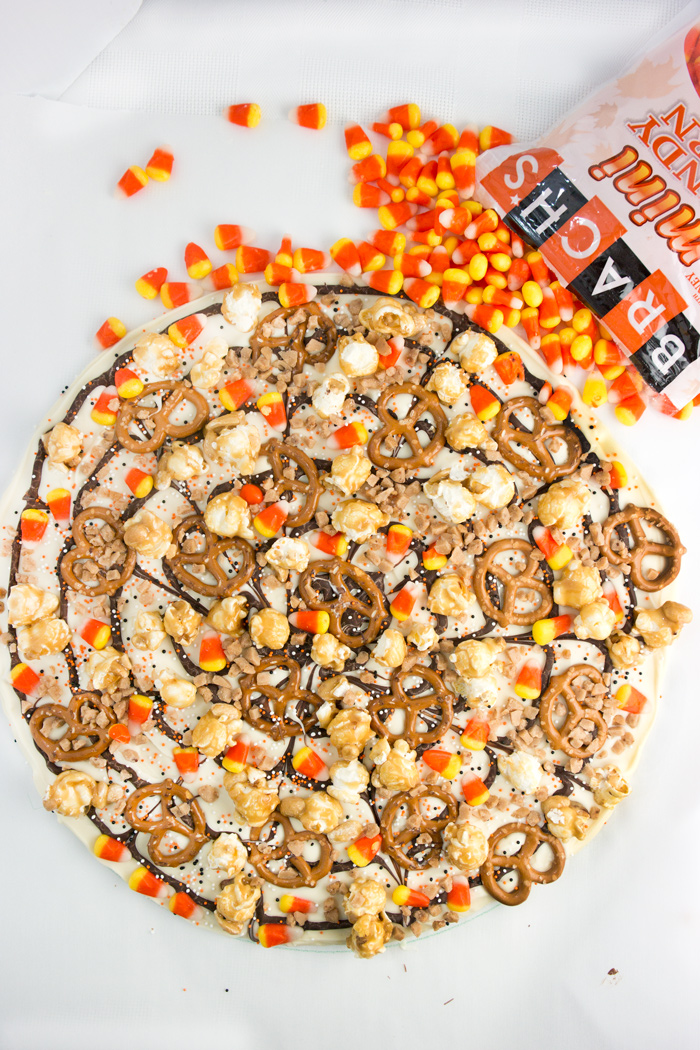 [social_share]
Well one peel led to another and another and another….you can see where we're headed. The wallpaper came off the first wall like a breeze so I just got addicted and kept going, then my daughter wanted to help so it became this fun game. Until I was left with the not so easy spots, especially on the last two walls, the ones where some paper just refuses to come off and the not so pleasant cracks in the original sheet rock.
[social_share]
I was obviously on a sugar high that day and did not think things through because now I have an ugly walled room that needs some TLC and I stare at it for hours each day. Every week I say, "This is it the weekend I'm painting…". And of course my A.D.D. brain sends me onto another 10 projects (all of which I procrastinated on at one point or another previously, lol) and no painting gets done.  So my new goal for the project is to have it done before Thanks Giving. You know how some people say, "I want to lose 10lbs before…", well ,"I want to paint my office before…". lol
In the mean time I have been having a ton of fun dreaming up halloween treats this season. This is the year our daughter really gets that it's Halloween and all the fun things that come with it! She just loved these little guys. And now today I get to show you this awesomely fun treat, Halloween Candy Corn Bark.
I used white chocolate for the base, drizzled semi-sweet chocolate designed like a spider web. Then added Brach's Mini Candy Corn! Toffee popcorn! Salty pretzels! Toffee and sprinkles! Seriously I have to think of a way to sneak this into the movie theatre because this is the best of crunchy, sweet, salty, creamy goodness. You have smooth chocolate, sweet traditional candy corn that melts like a dream with each bite, crunchy toffee covered popcorn, salty crunchy pretzels, small bits of toffee and to top it all off Halloween inspired sprinkles. Do I need to say more?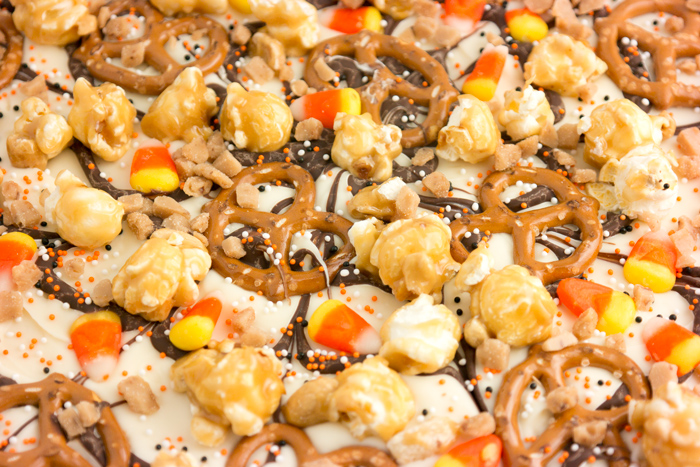 [social_share]
That's what I love about barks, you just take the treats you love and throw it on top of chocolate and you just can't go wrong! I have to warn you all though, this is addicting. You'll think one bite will do and before you know it you've eaten 1/4 of it and still want more!
Enjoy!
Stacey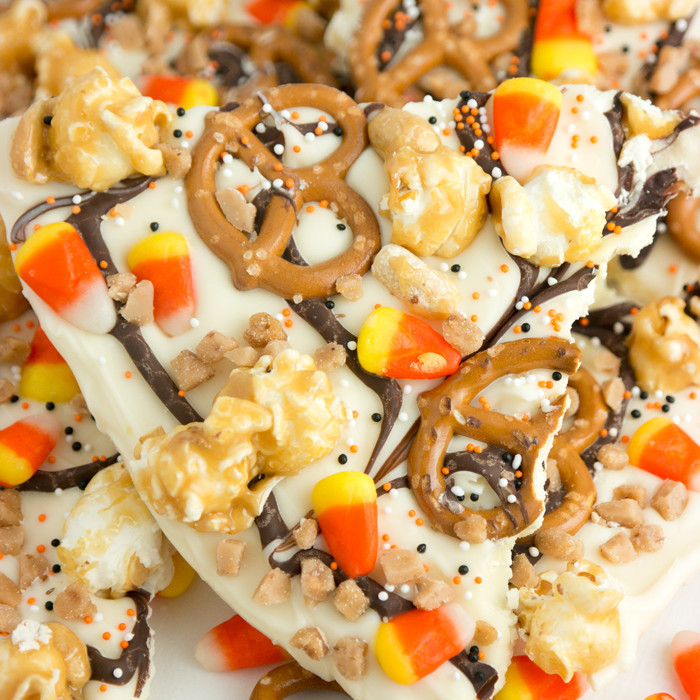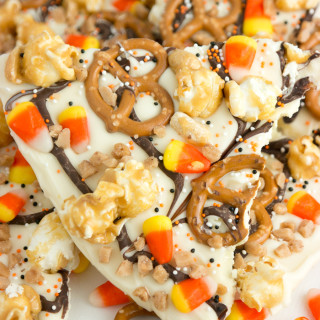 Halloween Candy Corn Bark
The best of crunchy, creamy, salty and sweet.
Ingredients
1

lb

white chocolate melted

1/2

cup

semi-sweet chocolate melted

1

bag of pretzels

1

bag of Brach's Mini Candy Corn

1

small box of toffee popcorn

I used Fiddle Faddle brand, it contains nuts

1

bag of toffee bits

I used Heath

Halloween colored sprinkles
Instructions
Prepare parchment paper by laying out on flat surface.

If needed trace a circle on parchment with pencil. I used a 12 inch plate as guide.

Flip parchment over so pencil doesn't get on food, you will be able to see the circle through.

Pour melted white chocolate into center of circle and smooth out to edges with off set spatula.

Next drizzle semi-sweet chocolate in a circular pattern. I used a piping bag for better control.

Next take a tooth pick and drag lines downward from out side of semi-sweet circle to inside to create the spider web look.

Next add pretzels, candy corn, toffee popcorn, toffee and sprinkles, pressing lightly so they adhere to chocolate.

Let set for at least 6 hours, this could vary depending on temperature of your room.

Break when ready to serve.