Until a few years ago the only way I knew to eat a grapefruit was to cut it in half, sprinkle it with sugar and dive into each juicy section one by one. Then I saw a clip from Martha Stewart on how to segment citrus fruit. This opened a whole new realm of possibilities with Grapefruit. As many of you may have experienced the peel and pith can be unforgivingly bitter and the skin tough and stringy. By segmenting the fruit you are removing the peel, pith and skin. You are then only left with glistening fruit wedges.
[social_share/]
Ahh Fennel, thank you for coming into my life 10 years ago. With its crisp, cool, mild licorice bite its a great compliment to the grapefruit but in no way over powers. The flavors support one another and the textures compliment one another.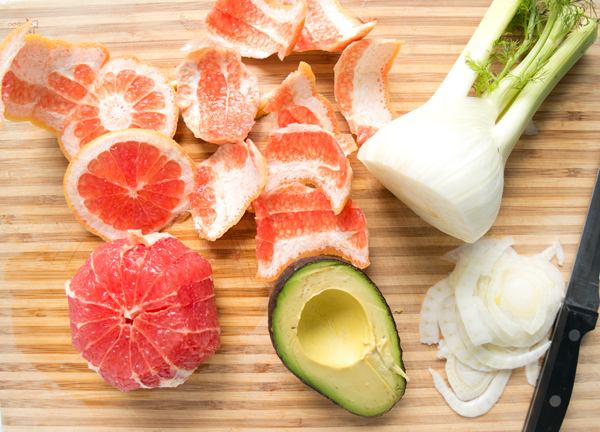 Pulling it all together like a great pair of earrings and shoes would an outfit, is cilantro and lime. Their bright, fresh, clean taste allow the flavors to work in harmony. And if a little heat is called for try a pinch of crushed red pepper.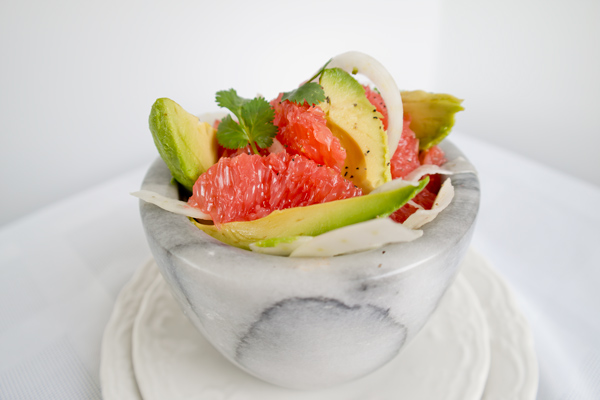 Enjoy this salad as side or a main dish!
Enjoy!
Grapefruit Fennel Cilantro Salad
This salad is cool, crisp, bright and clean. Make it as a side salad or a main dish. Enjoy!
Ingredients
one ruby red grapefruit segmented

juice reserved for dressing

one medium avocado cut into thin slices/wedges

one half bulb of fennel thinly sliced

1/2

tsp

lime juice

pinch

of salt

pinch

pepper

1

Tbsp

fresh cilantro rough chopped

pinch

crushed red pepper

optional
Instructions
Segment the grapefruit over a bowl, carefully reserving the juice for the dressing.

Put the grapefruit segments, sliced fennel, and sliced avocado in a medium bowl.

For dressing, in a small bowl put the grapefruit juice, lime juice, salt and pepper and mix.

Pour over the salad and sprinkle with cilantro.

If you feel like a bit of heat you can add a pinch of crushed red pepper to taste.