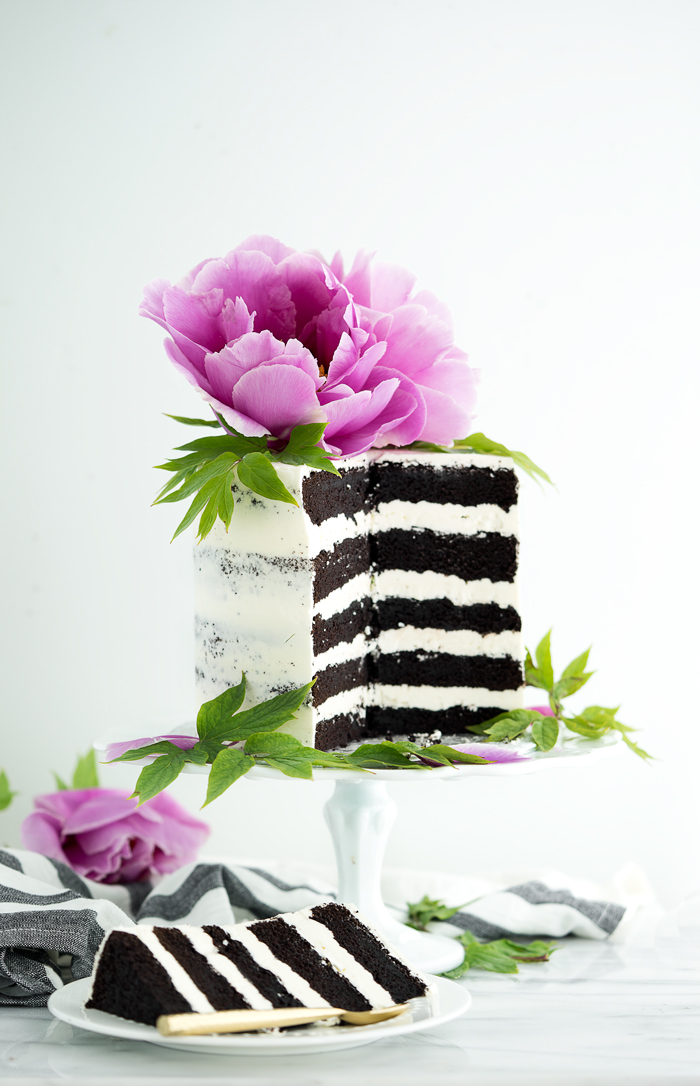 Deep Dark Chocolate 5 Layer Cake Recipe. Rich dark chocolate cake enrobed in silky smooth swiss meringue buttercream.
I have a thing for tall layer cakes as if you couldn't tell. In addition I love cakes with contrasting colors between the cake and the frosting. I think it lends a beautiful visual appeal as the cake is sliced up and presented to guests. So I was crazy in love with the super deep dark chocolate color of this cake next to the creamy white of the buttercream. They each made the other pop visually. And on the tastebuds as well. So lets break it down.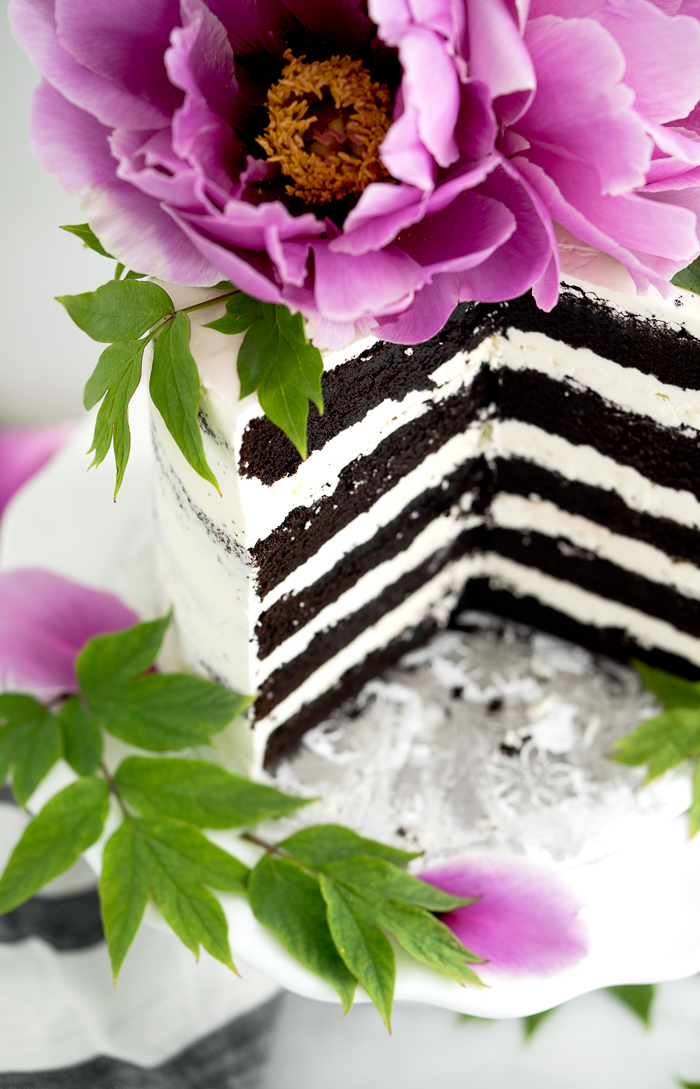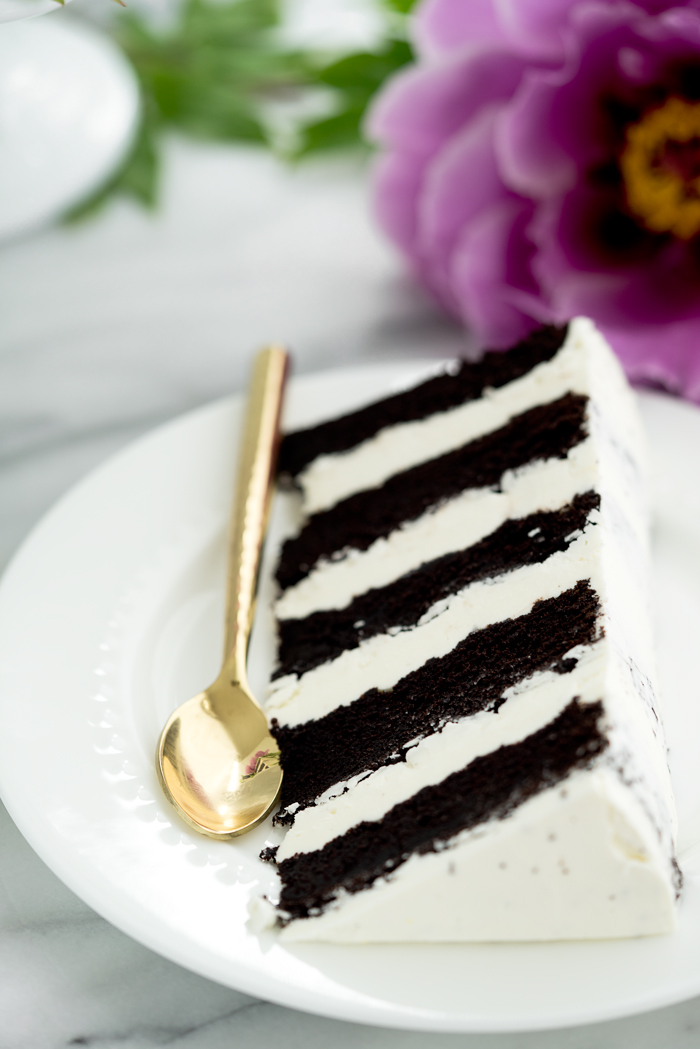 Why I love this Deep Dark Chocolate 5 Layer Cake:
Just look at those deep dark chocolatey moist layers of cake.
Not only is swiss meringue buttercream fancy it's also sinfully delicious yet light on the pallet.
This beautiful cake is tall which just makes us love this Deep Dark Chocolate 5 Layer Cake even more.
Chocolate and vanilla are one of the most iconic flavor pairings, Oreos, cookies and cream are a few that come to mind.
In all of the Deep Dark Chocolate 5 Layer Cake's simplicity it still manages to exude sophistication and depth.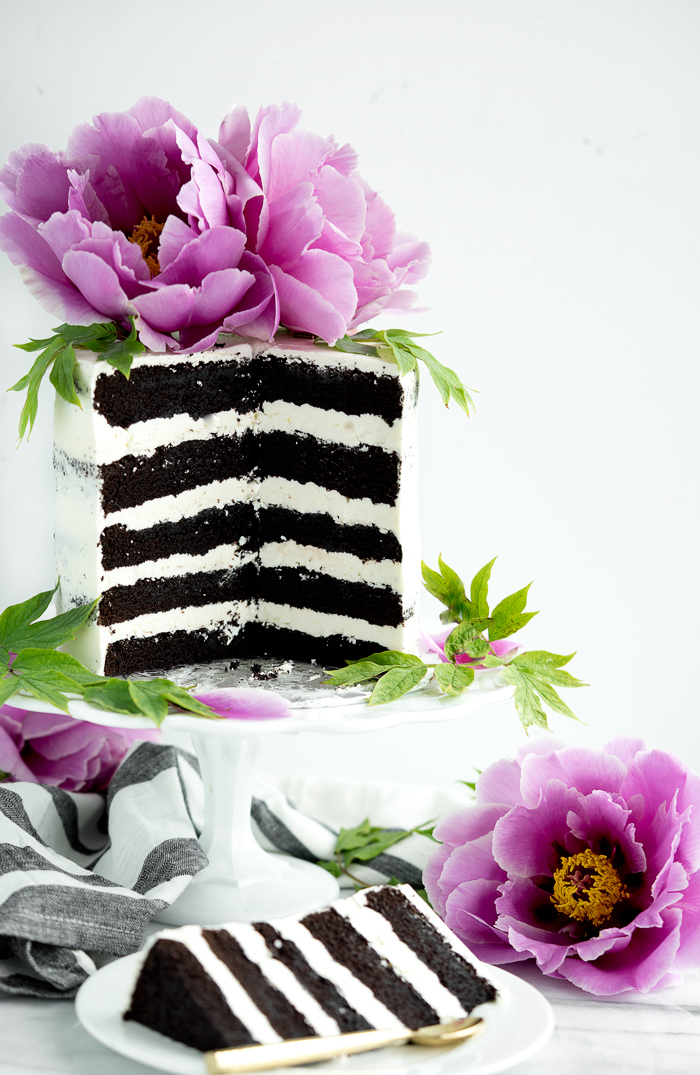 Let me talk about the cake itself for a minute. This is by far the best chocolate cake I have ever had. I can't take the credit, its adapted from the Hershey's Especially Dark Chocolate Cake recipe. Because this cake is so outstanding I felt I needed to make it look as great as it tasted. So I dressed it with my favorite Peonies, it nearly broke my heart to cut them off the bush but it was well worth the presentation. The batter of this cake is very runny, don't let it alarm you. But do make sure you use a spatula and get batter that stuck to the bottom/sides of the mixing bowl scraped off and mixed into the rest of the batter before pouring into pans.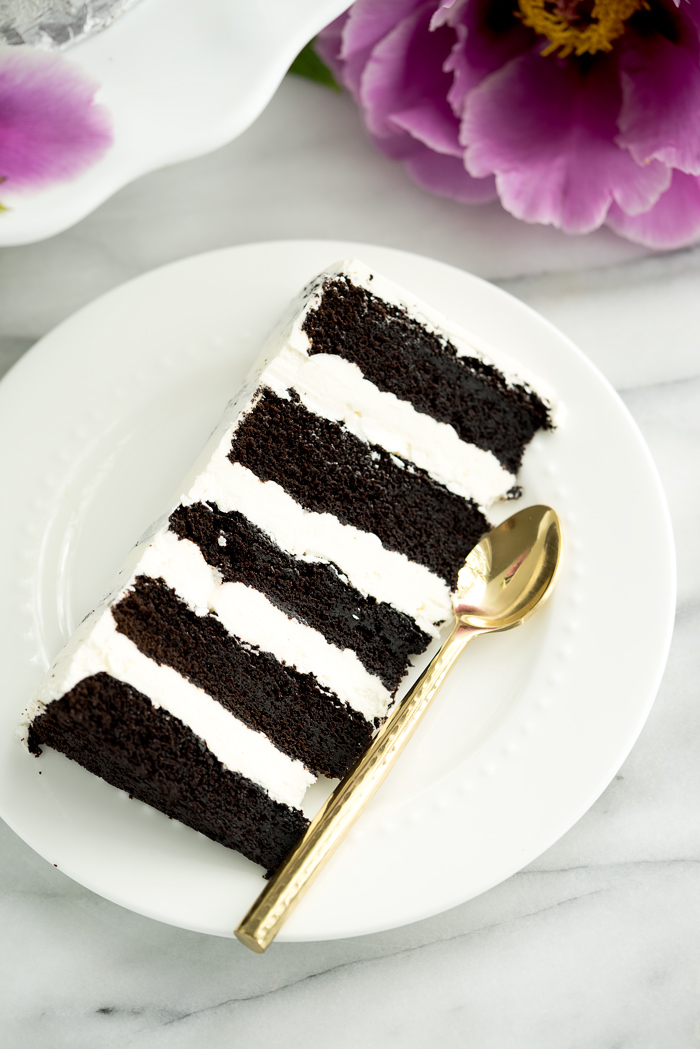 Then there is the vanilla swiss meringue buttercream. Velvety smooth and creamy. Its the perfect compliment to the deep dark chocolate cake. I chose to do a semi-naked cake to show the deep chocolate through the buttercream. The recipe provided will make enough buttercream to completely cover the cake if you choose.
This Deep Dark Chocolate 5 Layer Cake is a show stopper and a tastebud pleaser!!
Enjoy!
Stacey
If you love this cake check out a few more:
b. Dreamy White Chocolate Peanut Butter Cake

Deep Dark Chocolate 5 Layer Cake Recipe
Deep Dark Chocolate 5 Layer Cake Recipe. The best chocolate cake you will ever have.
Author:
Stacey - The Sugar Coated Cottage
Ingredients
CAKE:
3 cups sugar
2½ + 2 Tbsp all purpose flour
1 cup + 2 Tbsp Hersheys Special Dark Cocoa powder
2¼ tsp baking soda
2¼ tsp baking powder
1½ tsp salt
3 eggs
1½ cups milk
¾ cups vegetable oil
3 tsp vanilla extract
1½ cups boiling water
BUTTER CREAM:
2¼ cups sugar
9 large egg whites
½ teaspoon cream of tartar
4 cups unsalted butter, cut into tablespoons, room temperature
1 Tbsp vanilla extract
Instructions
Preheat oven to 350 degrees
Flour, grease and parchment 3 x 7inch cake pans, set aside.
CAKE:
In bowl of mixer add the sugar, flour, cocoa powder, baking powder, baking soda and salt. Mix to combine.
Add in the eggs, milk, oil and vanilla, mix on medium speed about 2 minutes.
With mixer on low slowly stream in the boiling water. Continue mixing until all ingredients are incorporated.
Scrape sides and bottom of bowl to release any clumps and mix well into batter. Batter will be runny, this is ok.
Pour evenly into prepared pans. Bake 45-50 minutes or until toothpick comes out clean.
Let cool completely.
BUTTERCREAM:
Combine sugar, egg whites, in medium sauce pan.
Whisk until sugar is dissolved, 2 to 3 minutes. Test by rubbing between your fingers; the mixture should feel smooth.
Pour mixture into bowl of mixer fitted with whisk attachment.
Mix egg white mixture until frosty, add the cream of tarter.
Mix egg whites again on med/high until glossy, stiff peaks form and mixture has cooled.
Reduce speed to medium and add butter 2 tablespoons at a time, mix until well incorporated. (mixture may appear curdled, keep mixing.)
Add in the vanilla extract. Mix well to combine.
Switch to the paddle attachment.
Mix on medium/high speed to smooth buttercream for about 2 minutes.
ASSEMBLY:
Cut cake layers horizontally to equal six cake layers.
Lay first cake layer on cake plate.
Add layer of buttercream, I used a piping bag.
Repeat with remaining layers, adding layer of buttercream between each.
Crumb coat the cake on the sides and top. This is a "naked cake" so a crumb coat is all I did. Refrigerate for 30 minutes to an hour.
Garnish with fresh flowers or however you like.
Set in a cool place until ready to serve.
If traveling with this cake I would recommend refrigerating it for at least an hour. This will firm up the buttercream and make it less likely to smudge if lightly dinged.
Notes
1. I chose to do a semi-naked cake to show the deep chocolate through the buttercream. The buttercream recipe provided will make enough buttercream to completely cover the cake if you choose.
2. Cake batter is runny, do not let this scare you, it is supposed to be that way.
3. Once you cut the 3 baked cake layers in half horizontally you will have a total of 6 layers. For this cake I only used 5 of the 6. You can set the extra cake layer aside for snacking.