Chocolate Ganache + Dulce De Leche = HEAVEN!!!!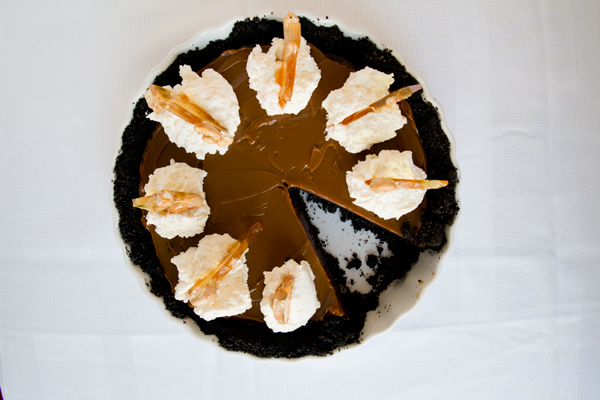 [social_share/]
My husband has a picky palette. So when he asked me to make this again for his family over Easter it was a compliment. This upscale desert is so fabulous that I have to give half away just so I won't keep eating it. That's one of the hazards of working from home, if there's good food in the house I can't stop myself.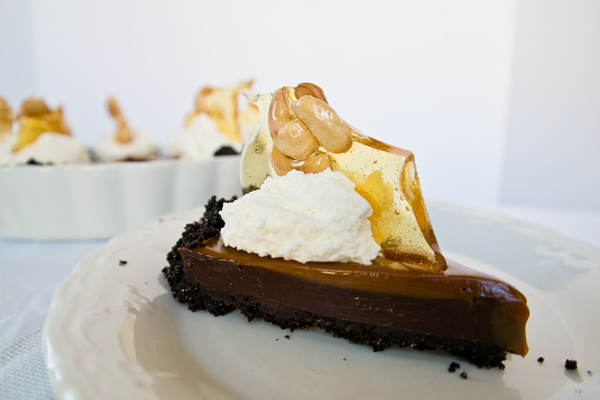 [social_share/]
First you start with a crumbly cookie crust which adds a delightful texture to the creamy layers. Then we add the smooth chocolate ganache followed by the buttery creamy dulce de leche. Now don't be scared by the dulce de leche thinking its going to be complicated. It is one of the easiest delights to make and is well received. And if that wasn't enough I wanted to add a bit of coolness to this rich dessert so I made a simple whipped cream, seriously just whipped heavy cream, I didn't even add sugar since this desert is so rich to begin with. For looks and added sweetness I made a roasted cashew brittle that only compliments all the flavors even more and assists with a beautiful presentation.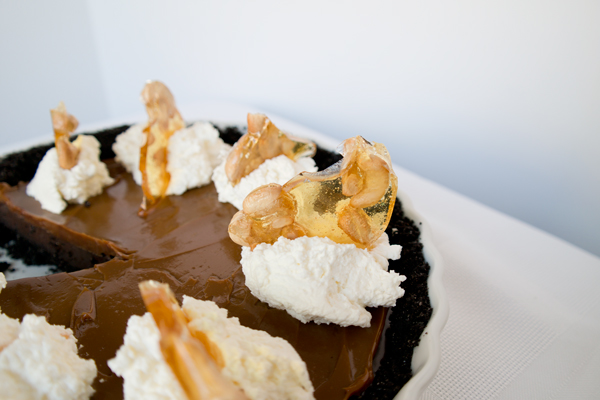 [social_share/]
Your friends and family will thank you for this dessert. It's a notch above the rest. Enjoy!!
Stacey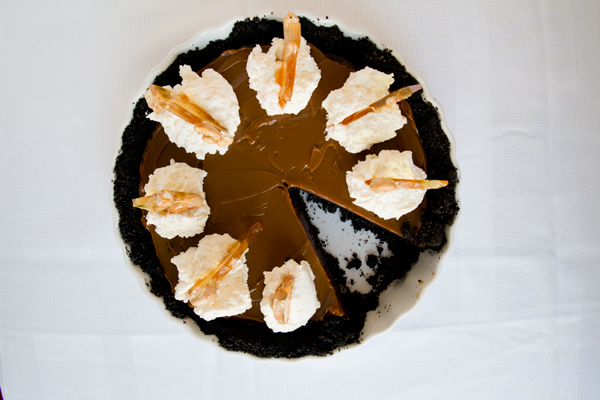 Chocolate Ganache Dulce De Leche Tart
Chocolate Ganache Dulce De Leche Tart is a rich and delicious dessert for any occasion. Each step is simple to execute but once all are combined you have created a dessert a notch above the rest.
Ingredients
Crust:

9

oz

chocolate wafers crumbled with food processor

6.5

tbsp

butter melted

3

tbsp

sugar

Ganache:

9

oz

semi-sweet chocolate

1

cup

heavy cream

Dulce De Leche:

1 12

oz

can sweetened condensed milk - simmer in pan of water

to the top of can for 4 hours

Whipped Cream:

1

cup

heavy cream

1

tsp

sugar

optional

Brittle:

1

cup

roasted/salted cashews

3/4

cup

sugar

1/4

cup

light corn syrup
Instructions
Pre-heat oven at 350 degrees.

For the crust - Take your crumbled cookies, melted butter and sugar and mix together. Press into your tart pan with the back of a measuring cup (or similar) to get a nice flat surface, also press crumb mixture up the sides as well. Bake at 350 degrees for 17-20 minutes. Let cool.

For the Ganache - Put chocolate in heat proof bowl. Heat heavy cream, when just about to boil remove from heat and pour over chocolate, let sit 5 minutes. Then gently stir in circular motions until cream and chocolate are completely blended and smooth. Pour over cooled crust. Let cool completely by putting in fridge or cool room.

For Dulce De Leche - Simmer can of sweetened condensed milk in water, covering the can, for 4 hours. You may have to add water over time. Let cool completely. Spread over ganache using offset spatula. (Note: you can buy prepared in the can, it is usually in same area as sweetened condensed milk at the grocery store.)

For the Whipped Cream - Using whisk attachment beat heavy cream until whipped cream is formed. Keep refrigerated and add right before serving. (If not sweet enough add 1 tsp sugar prior before whipping.)

For the Brittle - prepare cookie sheet by spraying with oil. Heat sugar and light corn syrup, stirring regularly, until golden brown, remove from heat immediately, stir in cashews and pour on prepared tray. Let cool. Break into pieces and arrange on tart.