I'm laughing as write this post because if anyone had told me I would be writing about kale I wouldn't have believed it. Just because I know I have to eat healthy doesn't mean I always have a taste for it. But It's spring now and I am working hard to try to reverse some of the effects of a long winter in the house with holiday treats and good comfort food that helped keep me warm and cozy this winter and added a few pounds. Time to bring in some healthy.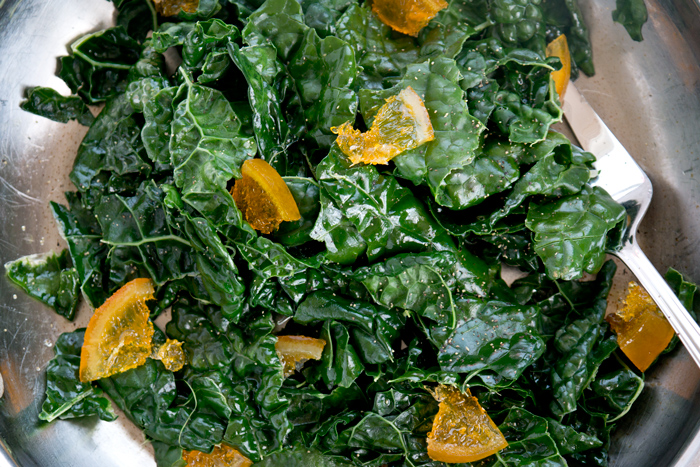 [social_share/]
This change in my eating took my mom and I on a road trip to Whole Foods. I say road trip because we live in a small town and the nearest Whole Foods is about 70 minutes away.
On their wall of greens was this beautiful green dinosaur kale. I reached for it and stopped, concerned that it may spoil in my fridge. I reached for it again and stopped, will I really cook it? Finally I grabbed and bagged it up thinking I would figure out a way to take it from good to great. Little did I know that around the corner would be my answer. In the cheese dept. glistening in a cute little plastic lidded cup was a candied orange, my brain started to immediately connect the dots…light sautéed kale + candied orange pieces + pinch of salt/pepper = tastebud happiness plus a healthy dish. Two hours later it was on our lunch table and not a bite was left. No leftovers todays.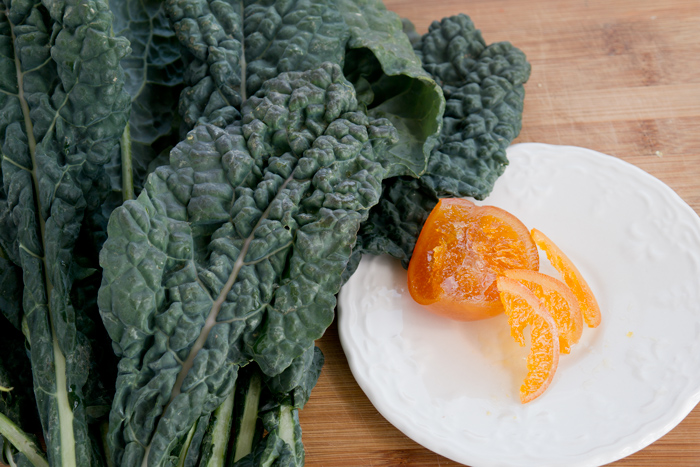 [social_share/]
Indulge me if you will for a moment as I explain my love for candied oranges. This isn't your run of the mill candied orange peel, I make those and love them don't get me wrong, they are fast, simple and delicious. But this candied orange is the real deal, candied through and through, probably by a technique that takes weeks so you can see why I was so happy to see one today. They are citrusy and super sweet, there is no little bite from the pith or peel. In Europe candied orange wedges are in every chocolate shop usually covered half way with a smooth blank of dark chocolate. And look at that color, its like natures stained glass. Thanks for indulging me now back to the dish at hand.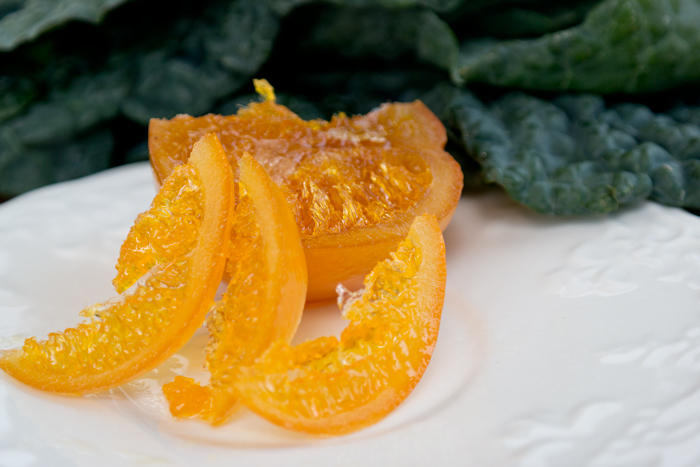 [social_share/]
I prepped my kale by washing and massaging it. Honestly, I'm not sure if massaging your kale is necessary and I feel silly every time I do it but I've heard you need to. If it's not then I hope I made someone laugh. I removed the ribs (the long stem piece that can be hard to chew). I sliced the orange thinly. I sautéed the kale lightly so not to over cook it, I like mine a little el' dente, not soggy. When done I added the orange pieces, I did not cook them but rather let the heat from the kale warm them. Pinch of salt and pepper. Delicious!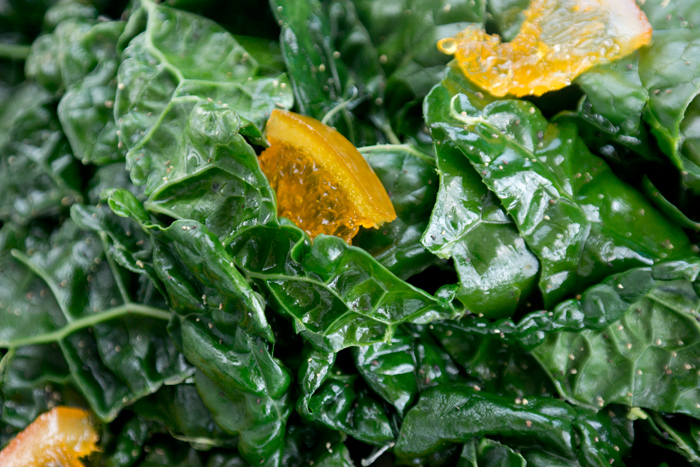 [social_share/]
This Candied Orange Kale is vibrant in color and health benefits. Each bite is clean, crisp, citrusy and sweet. It is simple to make but not simple on taste.
Enjoy!
Stacey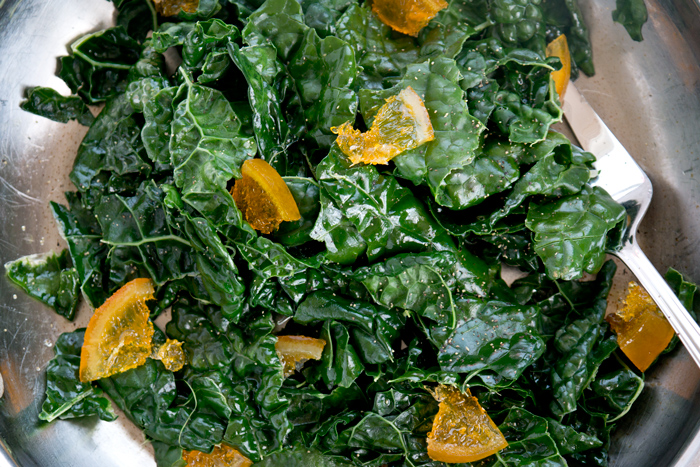 Candied Orange Kale
This Candied Orange Kale is vibrant in color and health benefits. Each bite is clean and crisp from the kale and citrusy sweet from the orange. It is simple to make but not simple on taste.
Ingredients
1

head of dinosaur kale

cleaned, massaged and stems removed

1

qtr candied orange sliced thinly into wedges

1

Tbsp

extra virgin olive oil

3

Tbsp

water

pinch

of salt

pinch

of pepper
Instructions
Heat pan and olive oil on medium heat.

Clean, massage and remove stems of kale. Either tear into pieces or give a rough cut.

Cut orange as described into thin wedges.

Add the kale to the pan and gently turn to coat with the olive oil

Immediately add the water. This will cause a quick steam to the kale. Continue to turn kale in pan.

Remove from heat after 1 minute or when done to your liking. Preferablly when leaves are bright green

Place orange wedges through out the dish.

Serve*
Notes
This dish can serve 1-4 people depending on serving sizes. This recipe made about 3 loose cups or half of dinner plate full.