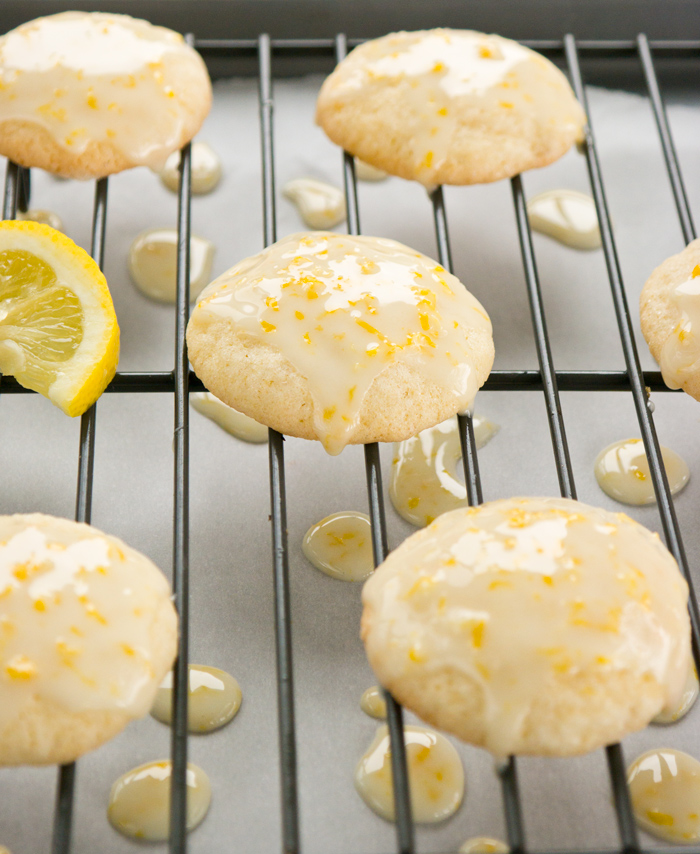 [social_share/]Yum

Meyer Lemon Glace Cookie. Pillowy sweet, crisp around the edges, meyer lemon infused sugar cookies blanketed in a velvety meyer lemon glaze. Sweet, citrusy heaven.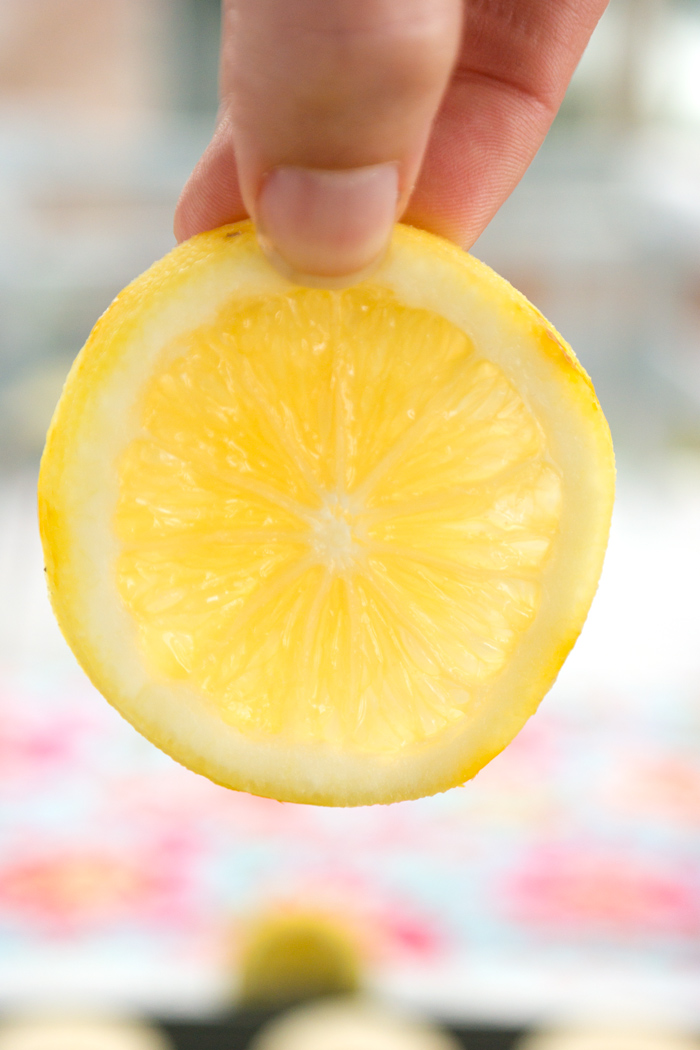 I think I've officially become one of those people that says, "I don't have time to take a vacation". Seriously I think that's the saddest thing I've ever heard myself say. To shed some light on recent happenings, my grandma is moving into assisted living so we have been packing and moving furniture, trinkets and years of stuff, stuff, stuff and more stuff. I'm glad to help but it takes a lot of man hours and is emotionally draining. Add to that a more hectic than usual work week, it's only Tuesday, and I swear I can see smoke coming out of my ears, lol.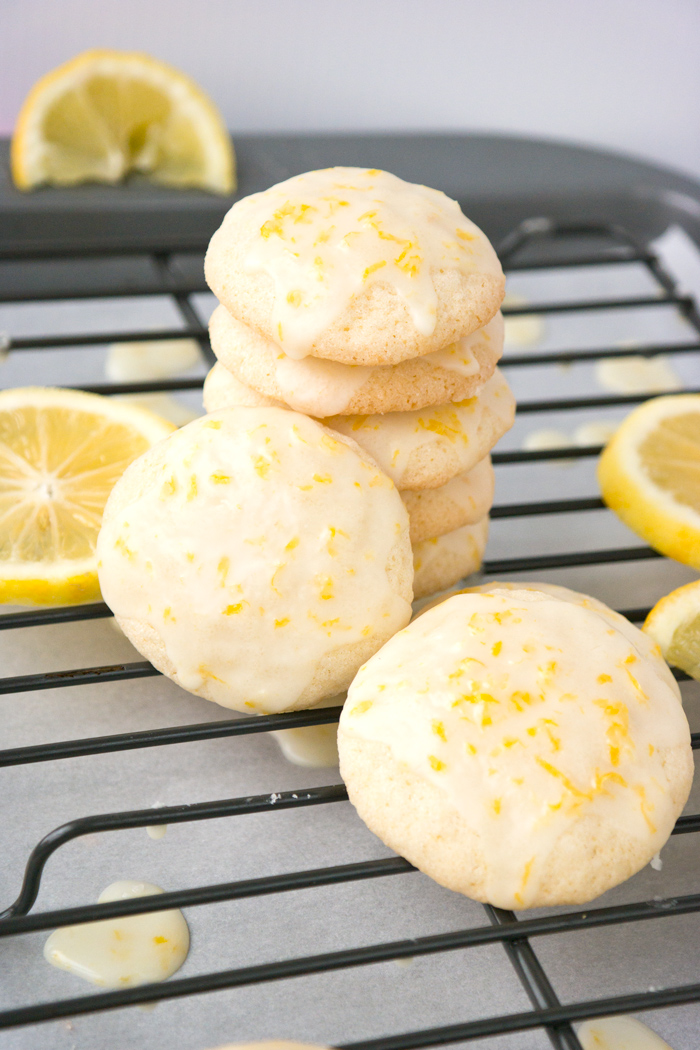 [social_share/]Yum

It's no wonder I was in the mood for something really bright, citrusy, light and airy. I introduce to you, my personal hero this week, the Meyer Lemon Glace Cookie. Remember Friday when I mentioned a burning incident in the kitchen? Yup you guessed it, it was these, well round 1 anyways. But after some tweaking I got these Meyer Lemon Glace Cookies to be just as I imagined, better actually.
Wait, did I just hear someone say they don't know what a meyer lemon is? Let me explain. A meyer lemon is a cross between and mandarin orange and lemon. It looks identical to a lemon and is tart. But from the mandarin orange side there is a little sweetness that tames the sour and a very light orange flavor, I wouldn't eat it like an orange though, it's more from the lemon family. The aroma is a heavenly blend of the two and the flavor is a beautiful blend of sweet, sour and citrus. It is wonderful in cakes, cookies (as you see here), sauces, etc.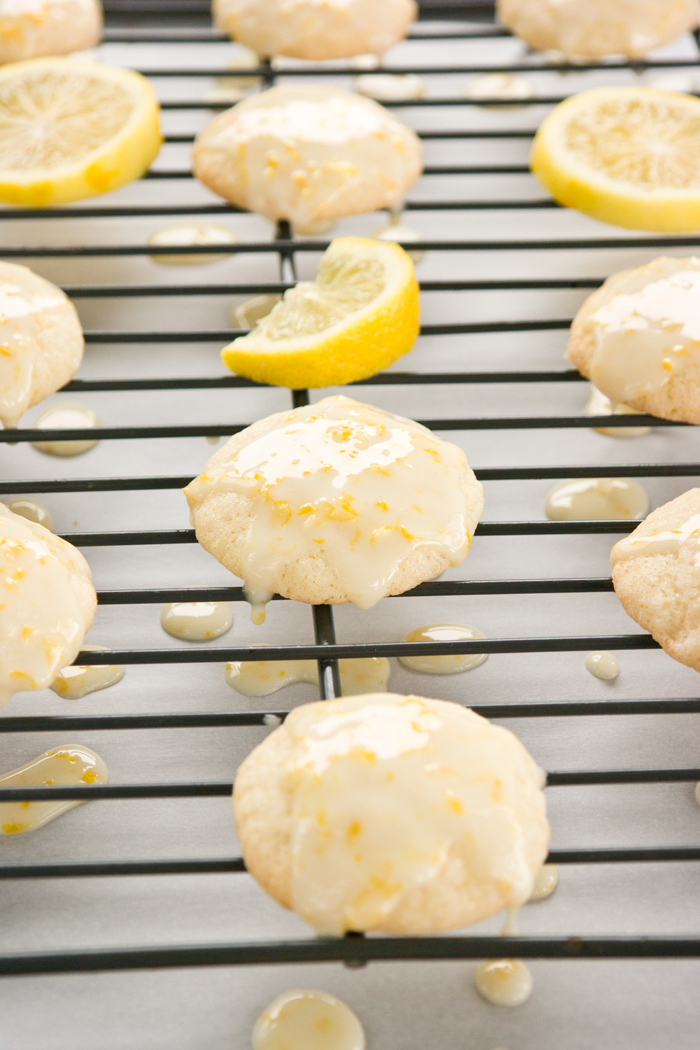 [social_share/]Yum

I love a good sugar cookie but there are different varieties of sugar cookies. You have the ones you cut out with cookie cutters and decorate. Then theres the ones you roll in a ball and drop on a cookie sheet and bake, these tend to be a little crumbly and lighter in texture. I chose the drop style sugar cookie for these as I wanted a really light texture to compliment to vibrance of the citrus. Adding the meyer lemon juice and zest was exciting, I knew I had a winner coming. I measured each dough ball by using a heaping 1/2 tablespoon measuring spoon. I rolled each dough ball in granulated sugar. The dough for these cookies is soft so I would run my hands under cold water every so many cookies, this will helped keep the dough from melting in my palms. I arranged on the baking sheet, about 2-3 inches apart and baked. While these were baking I was eagerly anticipating their fully baked arrival but I had to be sure they weren't overly baked. Too baked and they become harder and crunchier. Remember, I was going for light and crumbly. I watched the first batch like a hawk and voila! Perfection, light, airy, crisp around the edges, pillowy centered sugar cookies. Did I mention the perfectly light golden brown edges?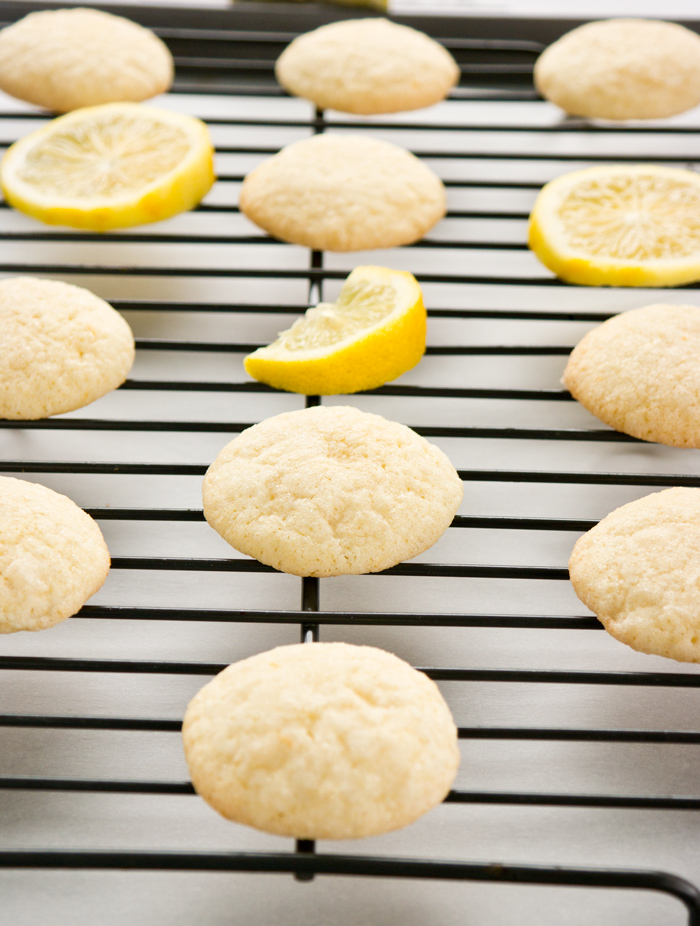 [social_share/]Yum

Ahhh, the glaze! It takes these cookies from great to awesome! I took meyer lemon juice, zest and powdered sugar and mixed until fully combined. I couldn't wait to blanket the cookies in the delightful glaze. It just poured on like silk. You can actually see all the meyer lemon zest in the glaze, no skimping here. Now the hard part, I had to wait for the glaze to set before eating. Tick, tock, tick, tock…..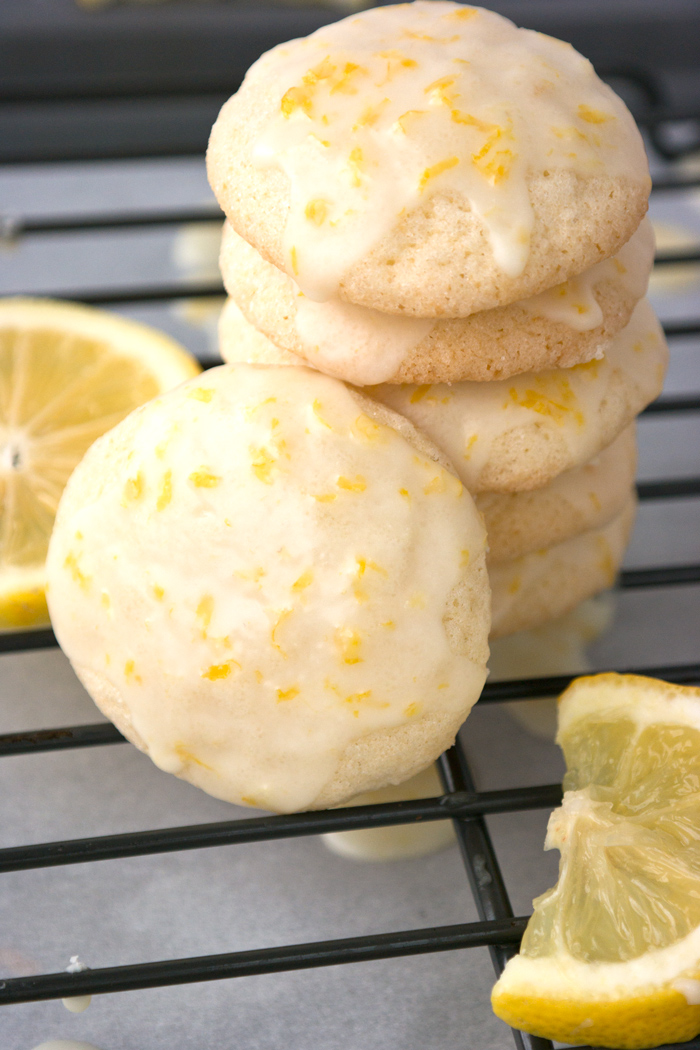 [social_share/]Yum

Time to eat them. The first word that comes to mind is beautiful, can a cookie be beautiful? In my world it can be. I'm not just talking from a looks perspective. This cookie is beautiful because it has a light and airy texture. A wonderful citrusy, bright, vibrant flavor and to top it all off melt in your mouth velvety meyer lemon glaze. The Meyer Lemon Glace Cookie is a delightful treat anytime.
Enjoy!
Stacey
Forgot to PIN IT? Here's your chance!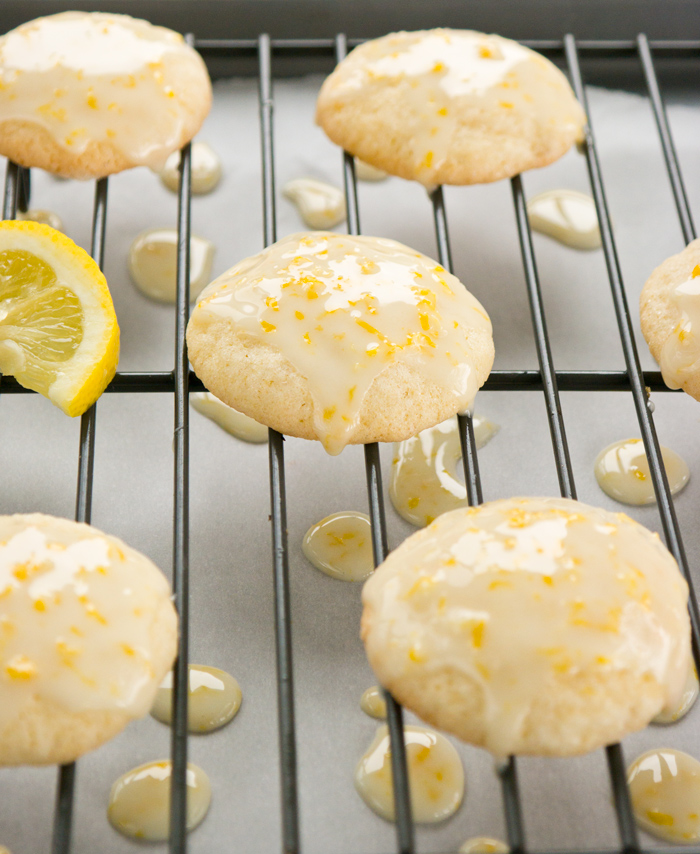 Meyer Lemon Glace Cookie
Meyer Lemon Glace Cookie. Pillowy sweet, crisp around the edges, meyer lemon infused sugar cookies blanketed in a velvety meyer lemon glaze. Sweet, citrusy heaven.
Ingredients
MEYER LEMON SUGAR COOKIE:

1/2

cup

butter

room temperature

1/2

cup

sugar

1

egg

2

Tbsp

meyer lemon juice

2

Tbsp

meyer lemon zest

1

and 1/4 cup all purpose flour

1/4

tsp

baking powder

1/4

tsp

baking soda

Extra sugar for rolling

MEYER LEMON GLAZE:

1

and 1/2 cups powdered sugar

3

Tbsp

meyer lemon juice

2

Tbsp

meyer lemon zest
Instructions
Pre heat oven to 325 degrees F

Line cookie sheets with parchment paper

Add extra sugar to shallow dish for rolling

COOKIES:

With mixer on medium cream butter and sugar until light and fluffy.

Add in the egg, meyer lemon juice and zest, mix to combine.

In separate bowl put flour, baking powder, baking soda, stir to combine.

With mixer on low slowly add the flour mixture to butter mixture, mix until well combined.

Roll into 1 in balls and roll in sugar.

Place on baking sheet about 2 inches apart.

Bake for 7-9 minutes until edges are lightly browned.

Let cool.

GLAZE:

Mix all ingredients until completely combined.
Notes
1. This is a soft dough, if making up next cookie sheet while first one is baking place second cookie sheet with rolled cookies into refrigerator until ready for the oven.
2. If you find the dough is too soft you can refrigerate for 10 minutes to firm up.
3. If you need to store the glaze lay plastic wrap directly on the surface so it does not crust over.
4. Store cookies in airtight container
5. Watch cookies closely while baking, as soon as the edges are a light golden brown remove from oven. Press top of cookie lightly, if firm they are done. If top is soft then put in oven for 1 minute intervals until done.