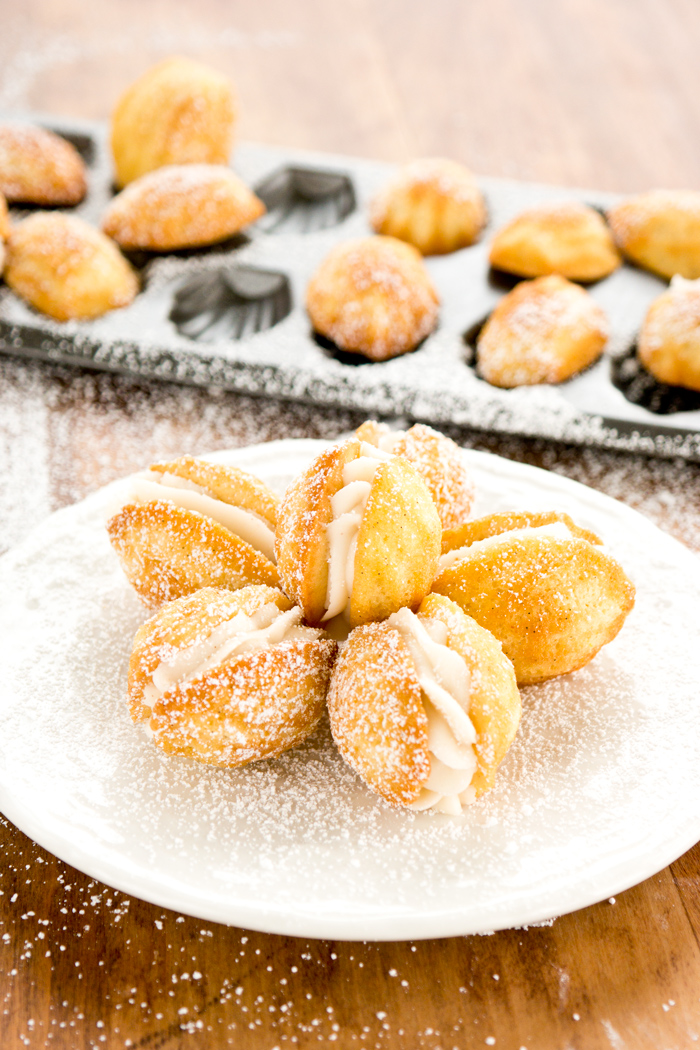 Brown Butter Madeline Sandwich Cookies. A new take on a french classic. Rich, creamy, brown butter buttercream sandwiched between two madeline cookies.
[social_share/]Yum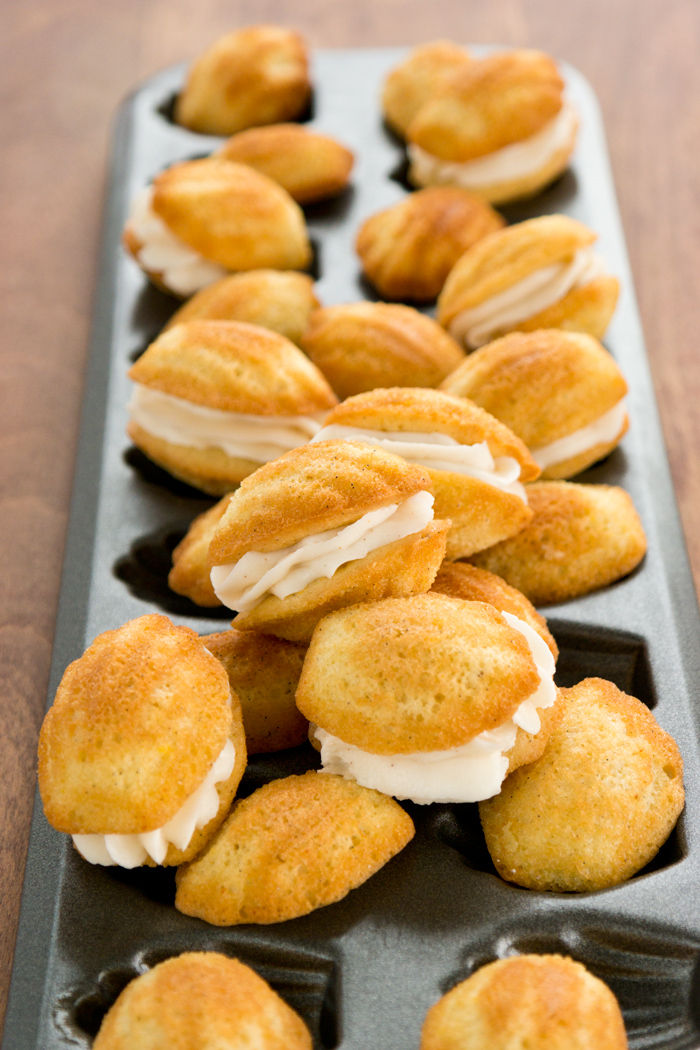 [social_share/]Yum

So I went to an estate sale…. some of you just thought, "this is getting good, keep going, I love estate sales…" and another group of you are thinking, "oh no, what did you buy?" The question isn't what did I buy, the question is what didn't I buy? So a little history before I continue. This house was in our old neighborhood, a neighborhood that I loved and adored. It's made up of many early 1900 era homes that were once cottages and weekend homes turned into full-time homes, so it's quaint, sweet and beautiful. At the time we needed to move there was nothing for sale that fit our needs so we said goodbye to this fabulous neighborhood. From time to time I still drive by and see how the old house is doing, I get attached that way. On my most recent drive by I stumbled across this estate sale. It was at one of the houses I always admired and loved. To be honest I just wanted to see the inside of the house so in I went. The house was not a disappointment, even better than I had imagined, it was true to its era and renovated so beautifully. As I entered the dining room there was a fabulous collection of fine china, all different patterns and beneath everyones feet was a persian rug valued at $30,000.00. NO I did not buy it, could not buy it, I'm just painting a picture for you here. So what did I buy your are wondering? I entered the breakfast nook and kitchen area. It was a foodies/kitchen lovers dream, so many top of the line cookbooks, one of them signed by the author and they were all $2.00 each, I could barely carry them all, we're talking $50-60 cookbooks selling for nothing. Add to that tart pans for $.50 cents, a collection of copper pans for $60, seriously, can you believe it and two lovely little madeline pans for a mere $.50 each. Then there were the other rooms in the house from which I got 2 chairs, 2 dressers and a copper basin, I know I'm forgetting something but you get the picture. It was the last day so everything was 50% off and I stocked up on some much needed items and some not so needed items according to my husband.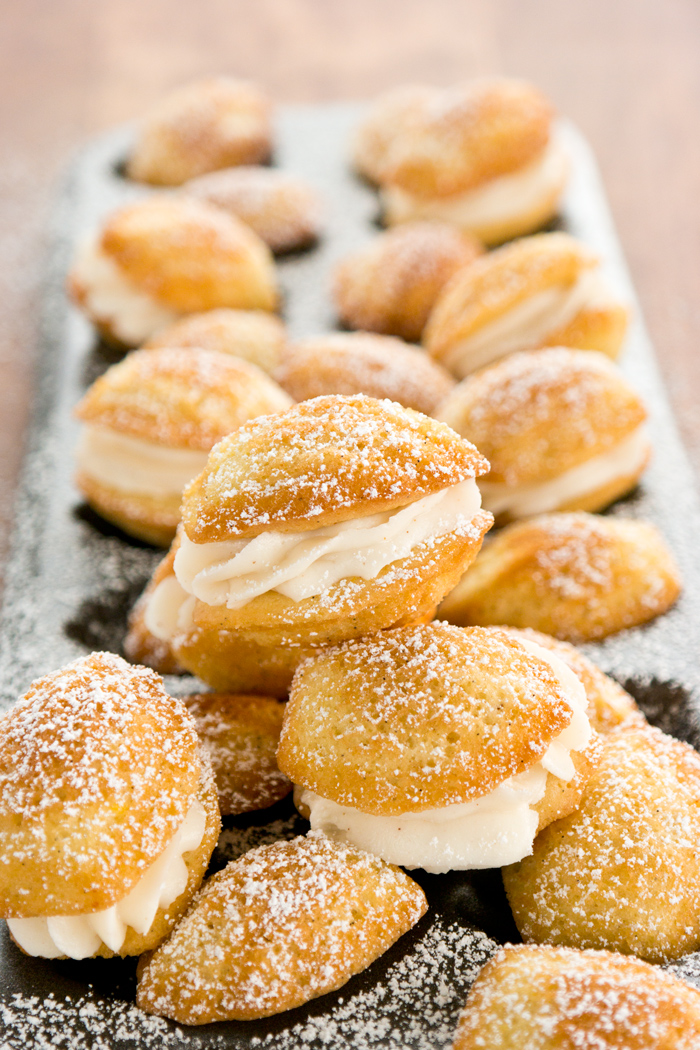 [social_share/]Yum

When I got home I couldn't help but be a bit sad. All these wonderful collections and beautiful things being pillaged off as if no one ever even loved or cared for them. It's a good lesson to enjoy each day and use and appreciate all your treasured items because you really "can't take it with you" as the old saying goes and no one else will want it when you're gone unless it's $.50. I couldn't help but think I wish I had somehow gotten to know this woman when I lived here, just by her china, kitchen and cookbooks I know we would've hit it off at the very least had some good food to share. Now it's my turn to love and cherish some of the items she did.
In light of the above it was time to use some of my new found treasures and I decided to make Madeline's, to be more specific Brown Butter Madeline Sandwich Cookies. For those of you that don't know a madeline is a french, cake like cookie that is delicate and sweet. It bakes soft and spongy and the edges get a tiny bit crispy as they brown ever so lightly. They are quite simplistic and very delicious. They pair very well with many flavorings from citrus to chocolate but for these I decided to pair them with brown butter. Brown butter gives a hint of a nutty flavor to this cookie recipe. Of course I couldn't forget the vanilla beans, all those hundreds of little black seeds of deliciousness baked right in. I'm getting so excited and I'm not even to the best part, hint, hint, buttercream…woo hoo! Keep reading…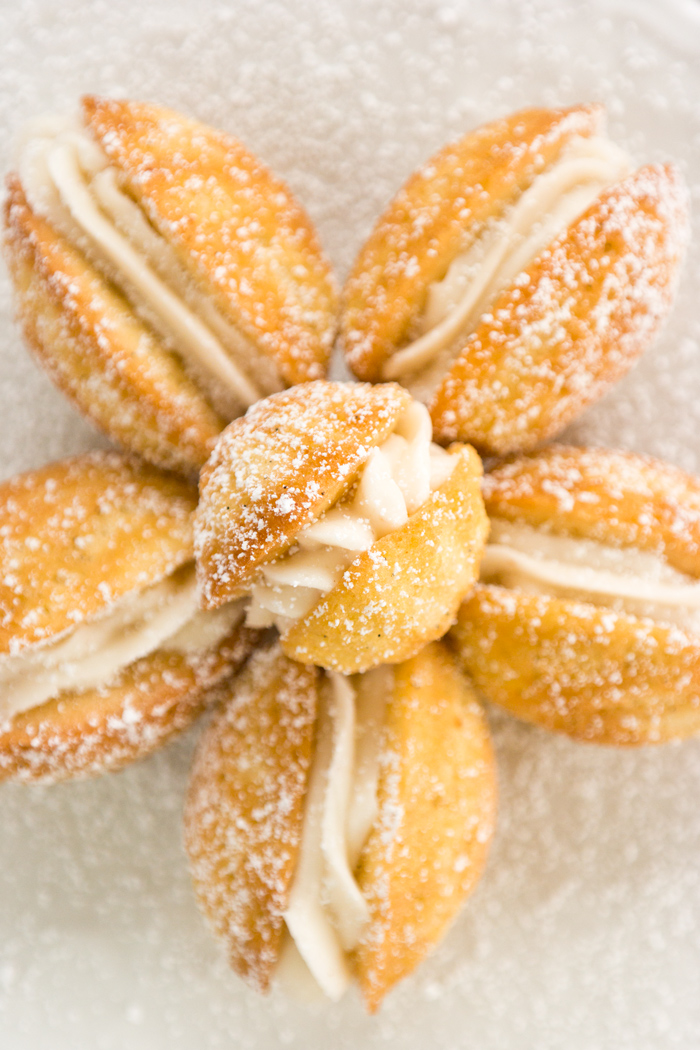 [social_share/]Yum

Now the delightful thing about a madeline is that the cookies all by themselves are wonderful and no embellishment is required. But since they resemble cake I just had to indulge in a bit of frosting and decided to make a brown butter buttercream (try saying that 5 times fast, lol, I tripped on my own tongue). Told you it was good, aren't you glad you kept reading. Again the brown butter is going to add a bit of nuttiness to the frosting but I also got slight hints of caramel. Seriously this frosting is awesome and it makes the Brown Butter Madeline Sandwich Cookies amazing!
Now madeline's usually bake with a small hump on the flat side or top. I didn't want this because I wanted a sandwich, to fix this I baked these 25 degrees F lower than usual. It allows for the batter to warm a bit slower and more evenly thus eliminating the hump. If you aren't making the sandwiches the hump is perfectly normal and fine. One more thing to keep in mind is that these are essentially cake. So handle them as you would a cake, meaning the sooner you eat them the fresher they will taste, they will dry out if left exposed for too long so store in air tight container.
Thanks for indulging me and listening to my estate sale story. It's always fun to share those moments with others. Has anyone out there found anything really cool at an estate or garage sale you just couldn't pass up? If so let us know in the comments, I'd love to hear about it.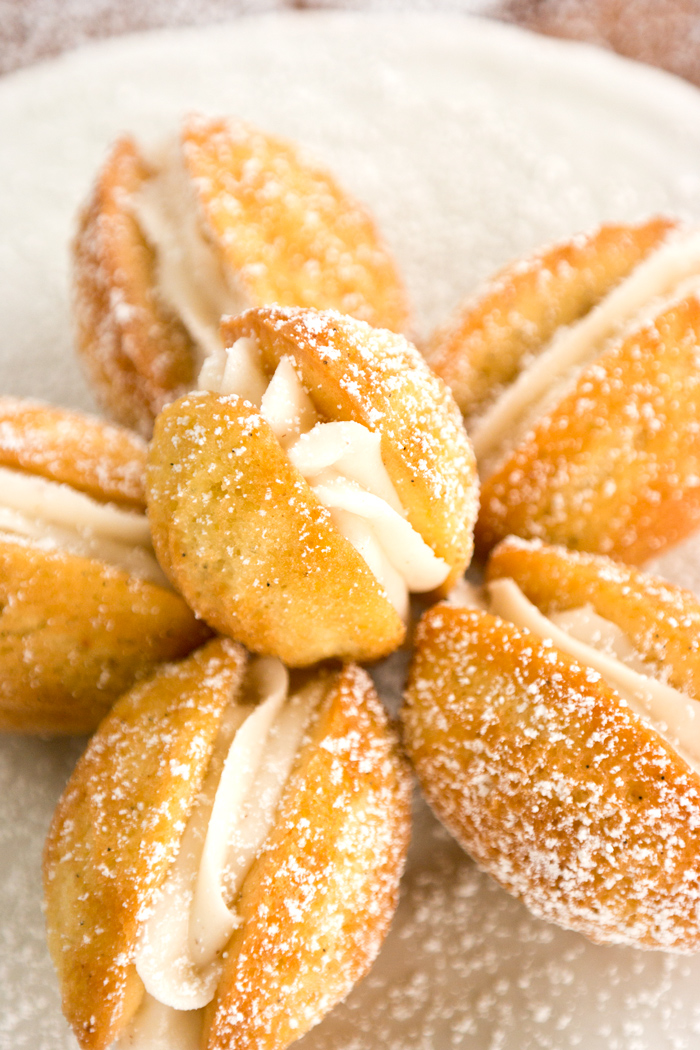 [social_share/]Yum

In the mean time enjoy these light, golden, brown buttery cookie sandwiches.
Enjoy!
Stacey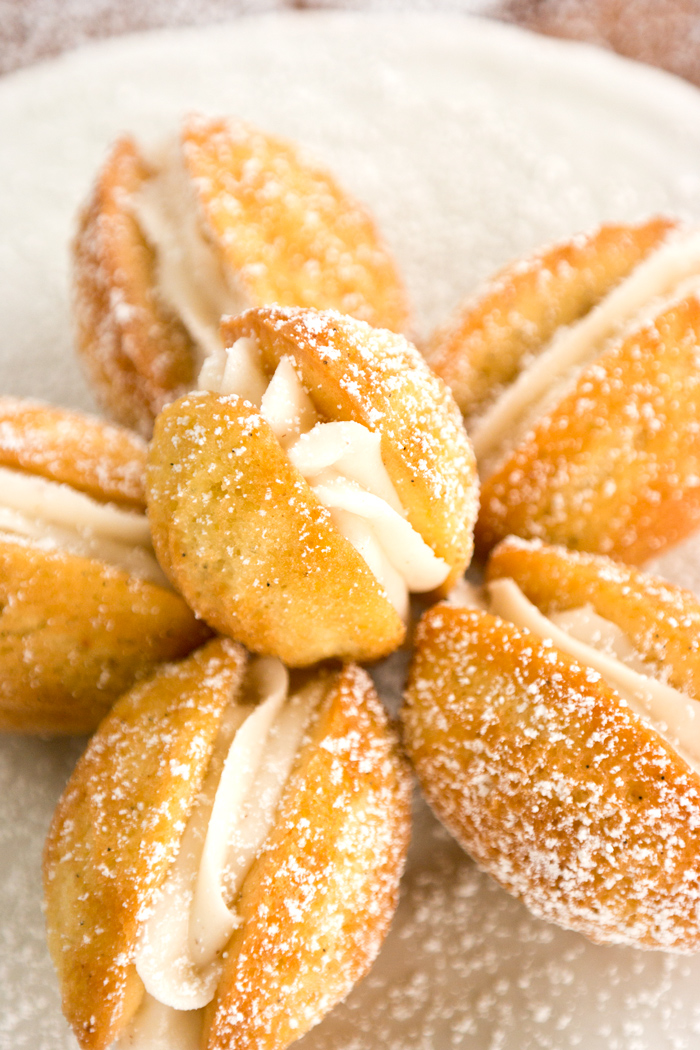 Brown Butter Madeline Sandwich Cookies
Brown Butter Madeline Sandwich Cookies. A new take on a french classic. Rich, creamy, brown butter buttercream sandwiched between two madeline cookies.
Ingredients
MADELINES:

3/4

cup

flour

plus more for dusting

1/3

cup

sugar

6

Tbsp

butter

browned and warm

2

large eggs

2

Tbsp

light brown sugar

1

tsp

baking powder

1/4

tsp

salt

Vanilla seeds from one vanilla bean

Powdered sugar for garnish

oil for pan

BROWN BUTTER BUTTERCREAM:

1 1/2

cups

powdered sugar

4

Tbsp

browned butter at room temperature

2

Tbsp

milk

1

tsp

vanilla extract
Instructions
MADELINES:

Lightly oil and flour the mini madeline pan(s)

Combine flour, salt and baking powder in small bowl

In a mixing bowl combine the sugars, eggs and vanilla seeds.

Mix on medium until well combined.

Add the flour mixture and mix to combine.

With the mixer on low/medium slowly stream the butter into the mixing bowl until all combined.

Transfer batter to a piping bag and refrigerate for at least 1 hour.

Once batter is chilled pre-heat oven to 350 Degrees F.

Cut a small hole in the piping bag and fill each madeline cavity 1/2 full.

Bake in the oven for 7-8 minutes or until edges turn golden brown.

Transfer to rack to cool completely.

BROWN BUTTER BUTTERCREAM:

Put powdered sugar in mixing bowl.

Stream butter into sugar with mixture running at low speed.

Mixture will be a bit gloppy looking.

Add vanilla and mix.

Add 1 Tbsp milk and mix. If needed add additional 1 Tbsp milk. Mixture should be soft and spreadable.
Notes
*If only using one mini madeline tray keep batter in refrigerator between batches.
** To make browned butter, cook butter on medium heat until it turns brown. When using in recipe leave any dark brown settlement in the pan. If a little escapes thats fine.