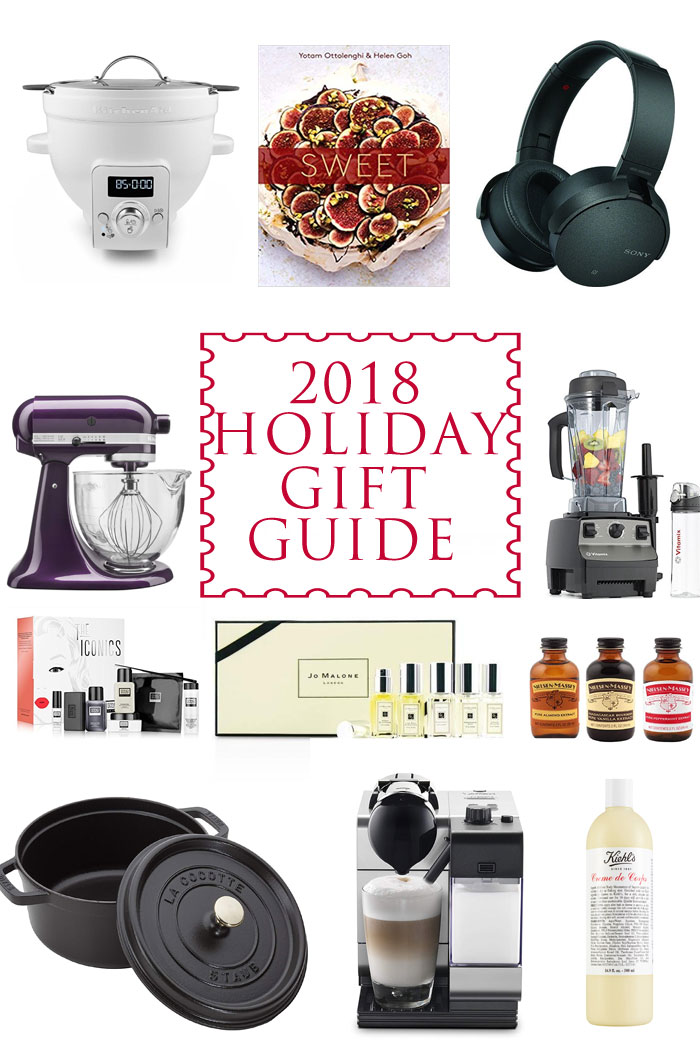 Holiday Gift Guide 2018.
This is my first ever Holiday Gift Guide and I'm not going to lie I'm kind of excited. I wanted to do a fun post and I feel just like a kid again making out my Christmas list. Some of the items I already love, some are new ones I want (hint, hint hubby 😉 ) and I hope they help you find something for someone on your list as well!
You'll see I have a lot of splurge worthy items. I don't like jewelry so when Christmas, birthday's, anniversaries, etc. come around I go for the perfume, skin care and kitchen tools, and the occasional techie item, lol. So instead of diamonds and rubies I ask for items like the ones listed below 😉 .
Here we go….
Holiday Gift Guide 2018:
Beauty Gifts:
Jo Malone Perfume Set – I cannot say enough about Jo Malone perfumes. They are all I wear, I like more natural smelling perfumes which is why I love these. I wear the the Orange Blossom daily, Grapefruit when I'm not in the mood for sweet (btw – Grapefruit makes for a great shower gel as well because the scent is neutral). Pomegranate Noir when it's date night (Red Rose is great for date night as well but is not in this set). And last but not least in the summer I like Nectarine Blossom and Honey (not in this set.) I linked this set because you get 5 smaller bottles for whatever your mood. But if you are still not convinced go to Nordstrom and they will give you a sample of whatever you want to try.
Kiehls Creme De Corps Lotion – On my wish list because I am almost out, lol. I have the worst dry skin especially in the winter, the kind where I'm afraid to shave my legs cuz I know they will just itch more (sorry if that is TMI). This is the one and only lotion I have found to work!! Use it for 10 days and it helps create a barrier on your skin that soothes it and stops it from itching, its a miracle lotion!! It's the scrape every last bit out of the bottle kind of lotion!! Even better, it drys quickly so I can get dressed without being all sticky. Note – this is too heavy for a face lotion.
Erno Lazlo Skin Care – For my facial skin care, I was introduced to Erno Lazlo years ago because of my super dry skin. It's the brand that Marilyn Monroe, Jackie O, Audrey Hepburn and Princess Stephanie used. It has helped my dry skin ten fold. I love this icon set because it allows you to try samples of their most iconic products. Because of my ultra dry skin I use this soap, this toner, this oil and this night cream , these items last me close to a year if you are wondering, a little goes a long way. Make sure you follow the "ritual" of steps Erno Lazlo is known for to get the best results.
My Favorite Baking Book:
Sweet : Desserts from London's Ottolenghi – This is one of the prettiest baking books I've seen in a long time. The cover is beautiful making it perfect for the coffee table. Open it up and the photos inside are just as enticing. One of my favorites!!
Kitchen Gifts:
Techie Gift:
Sony Extra Base Earphones – On my wish list, I have these in the corded headphone and they are my favorite, the sound is phenomenal and they are super comfy. Now I want the cordless so I can be a little more free as I move about the kitchen and the rest of the house.
I hope this list helps you with your holiday shopping this year!!
Enjoy!
Stacey
Please note none of the above items are sponsored. However the links above are Amazon affiliate links which means if you choose to purchase these items from the links I get a small commission. I stand behind the products I use 100%, all opinions on them are my own. Thank you!!
PIN IT FOR LATER!! Thanks.