Salted Kentucky Bourbon Caramels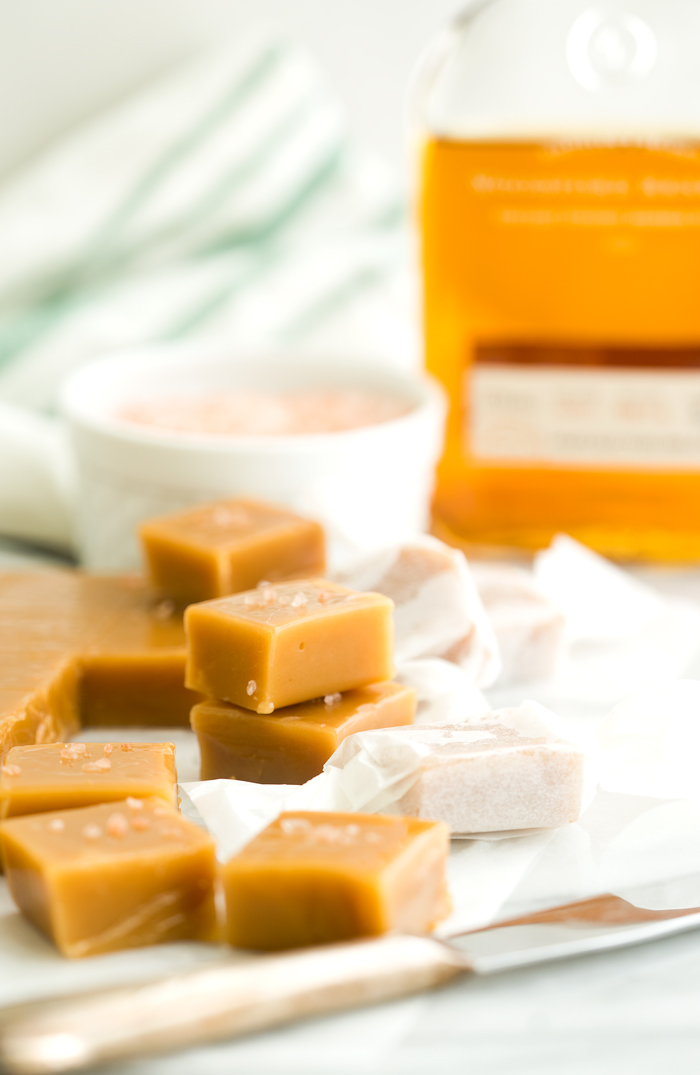 Author:
Stacey - The Sugar Coated Cottage
2 cups heavy cream
1 cup light corn syrup
2 cups sugar
6 tbsp unsalted butter
½ cup good quality bourbon (I used Woodford Reserve)
Salt for sprinkling (I used himalayan sea salt but any flaked sea salt will do)
Grease an 8x8 pan and line with parchment, keep some over hang so you can easily lift the caramel out of pan for cutting.
In large sauce pan with high sides add the cream, corn syrup, sugar, butter and bourbon.
Bring to boil over high heat, stir until sugar is dissolved.
Bring heat down to med/high heat and let cook without stirring. Make sure you attach your candy thermometer at this time.
Continue to cook until mixture reaches 248 degrees F. This took about 25-30 minutes for me. But start checking thermometer sooner as every pan and cook top is different.
Pour mixture into prepared pan and let cool completely.
When ready cut into 1 inch squares, sprinkle with a little salt and wrap each piece in parchment or wax paper.
Recipe by
The Sugar Coated Cottage
at https://www.thesugarcoatedcottage.com/salted-kentucky-bourbon-caramels/